Meet with Grace Kutney, the dedicated advisor for the business and entrepreneurship community.
Become part of the BE community via Voyager to receive the most current resources and news.
Already joined the BE career community? Go to the BE Resource Portal. You'll also find career-specific resources related to business and entrepreneurship, such as consulting, finance, sports administration, investment banking, human resources, marketing and more!
Career Development Resources 
Don't know how to start looking for an internship or job? Need help writing a resume or cover letter? Check out these useful guides.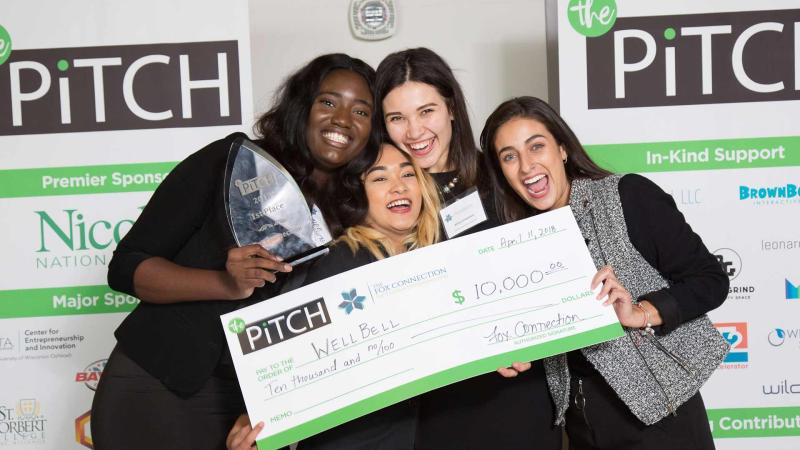 Workshops and Programs
Upcoming events pulled directly from Handshake will appear below. 
When: Thursday, November 17th 2022, 5:00 pm EST - Thursday, April 13th 2023, 7:00 pm EDT Are you interested in learning more about JPMorgan and a career in Financial Services? The Corporate and Investment Bank (CIB) is hosting a virtual Inside the Industry event series for freshman and sophomore students throughout the school year. During this series, you will take a deep dive into JPMorgan and the Corporate and Investment Bank, learn what it's like to work on the trading floor, gain insight into our recruiting process, and so much more! Take a look at our monthly topics below: Inside the Industry Event Series: November: What is JPMorgan Chase? December: An Insight into the CIB January: What is an IPO? February: Lifecycle of a Trade March: Tips for Internship Recruitment April: Business Resource Groups https://careers.jpmorgan.com/us/en/students/events?search=inside%20the%20industry&tags=country__NorthAmericaNAMR__UnitedStates If you're interested in any of these virtual events, click the link above to register! The deadline to register for the first event is November 14. We hope to see you there!

When: Monday, January 30th 2023, 5:00 pm - 6:00 pm EST Please register here: https://morganstanley.tal.net/vx/brand-2/candidate/so/pm/1/pl/2/opp/15159-2023-Sales-Trading-Overview-Tap-Into-the-Trading-Floor/en-GB Event Date: Monday, January 30th, 2023 Event Time: 5:00PM - 6:00PM ET Location: Virtual *Deadline to Register: Thursday, January 26th at 11:59pm ET* Please join us for the Sales & Trading Presentation Morgan Stanley's Sales & Trading will be hosting a virtual presentation for first-years and sophomores interested in pursuing a summer internship in financial services. We invite you to join and hear from our business representatives to gain valuable career advice and insight to these types of roles. At the end of the presentation there will be an opportunity to ask any questions you may have about Morgan Stanley, Sales & Trading, or the industry in general.

When: Tuesday, January 31st 2023, 1:00 pm - 2:00 pm EST Come join us to learn more about EY, our service lines, practices and overall culture. This session will also host a client-serving professional Q&A, with EY staff from Assurance, Consulting, Strategy and Transactions, and Tax. Bring your questions!  Our EY campus recruiters will close out with recruiting reminders and resources.
Internship Spotlight 
Lawrence has existing partnerships with local and national arts organizations, such as: 

Breakthrough is a strategic transportation partner empowering shippers with data, technology, and market knowledge to reduce cost, create fair partnerships, and improve transportation network efficiency and sustainability. They've hired interns from Lawrence multiple times over the past several summers. 
Explore more internship opportunities with existing partners.
Get funding for internships
As a Lawrence student, you're eligible to apply for funding to support summer internships. Funding can help defray transportation costs, living expenses, and more so you can pursue opportunities that will expand your classroom learning and help you acquire important transferrable skills for future success.
Relevant Student Organizations 
Joining a student organization can connect you with peers with similar interests and goals. Get involved, learn, experience, and give back. 
Alumni Connections
Alumni can offer invaluable insights into your fields of interest and provide career advice to help you reach your goals.  
These Lawrence alumni are currently working in the visual or performing arts:
Connect with them on Viking Connect for an informational interview. (PS. Viking Connect is our new online alumni mentoring platform giving you quick access to connect directly with alumni!)
Not sure where or how to start with an informational interview? We've got your back!
Professional Associations
Professional associations are a great source of field-specific information, career path ideas, and networking contacts. Examples of associations for visual and performing artists: