Meet with Grace Kutney, the dedicated advisor for the business and entrepreneurship community.
Become part of the BE community via Voyager to receive the most current resources and news.
Already joined the BE career community? Go to the BE Resource Portal. You'll also find career-specific resources related to business and entrepreneurship, such as consulting, finance, sports administration, investment banking, human resources, marketing and more!
Career Development Resources 
Don't know how to start looking for an internship or job? Need help writing a resume or cover letter? Check out these useful guides.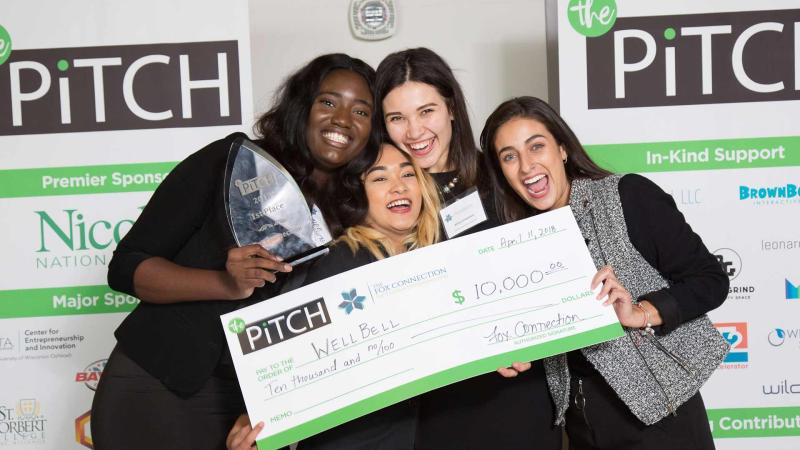 Workshops and Programs
Upcoming events pulled directly from Handshake will appear below. 
When: Wednesday, November 1st 2023, 12:00 am EDT - Sunday, December 31st 2023, 12:00 am EST Morgan Stanley's Institutional Equity Division (IED) is a world leader in the origination, distribution and trading of equity, equity-linked and equity-derivative securities. The Division services a global Institutional client base, providing clients with innovative product solutions that help to generate alpha within their portfolios. Please join us for virtual coffee chats with the Institutional Equity Division. These informational coffee chats are for first years and sophomores interested in pursuing a summer internship in financial services. Students will meet with business representatives to gain valuable career advice and mentorship. This will be a great opportunity to polish your resume, rehearse for interviews, and ask any questions you may have about Morgan Stanley, Institutional Equities, or the industry in general. As space is limited, we will notify you once your participation is confirmed. If selected, you will receive further details and instructions on how to sign up for a timeslot. Please register here: https://morganstanley.tal.net/vx/brand-2/candidate/so/pm/1/pl/2/opp/16619-Institutional-Equity-Sales-Trading-Virtual-Coffee-Chats/en-GB

When: Monday, January 1st 2024, 9:00 am EST - Friday, May 31st 2024, 5:00 pm EDT Our programs are open to students of all majors and provide robust professional development, transparency into the recruitment process, and engagement with our people and leaders. 2024 Possibilities Summits Application Deadline: 11:59p.m. ET, November 7, 2023 Eligibility: Graduation Dates: Between December 2024 - June 2027 Possibilities Summits: • Black Possibilities Summit • CUNY Possibilities Summit • Diverse Abilities • HBCU Possibilities Summit • Hispanic/Latinx Possibilities Summit • Pride Summit • Veteran's Possibilities Summit • Women's Possibilities Summit 2024 Virtual Insight Series Application Deadline: 11:59p.m. ET, March 24, 2024 Eligibility: Graduation Dates: Between May 2024 - June 2027 2024 Goldman Sachs Market Madness: HBCU Possibilities Program Application Deadline: 11:59p.m. ET, November 7, 2023 Eligibility: Graduation Dates: Between December 2025 - June 2027 Participating HBCUs Alcorn State University, Delaware State University, Fisk University, Florida A&M University, Hampton University, Howard University, Morehouse College, Morgan State University, North Carolina A&T State University, Prairie View A&M University, Spelman College, Texas Southern University
Internship Spotlight 
Lawrence has existing partnerships with local and national arts organizations, such as: 

Breakthrough is a strategic transportation partner empowering shippers with data, technology, and market knowledge to reduce cost, create fair partnerships, and improve transportation network efficiency and sustainability. They've hired interns from Lawrence multiple times over the past several summers. 
Explore more internship opportunities with existing partners.
Get funding for internships
As a Lawrence student, you're eligible to apply for funding to support summer internships. Funding can help defray transportation costs, living expenses, and more so you can pursue opportunities that will expand your classroom learning and help you acquire important transferrable skills for future success.
Relevant Student Organizations 
Joining a student organization can connect you with peers with similar interests and goals. Get involved, learn, experience, and give back. 
Alumni Connections
Alumni can offer invaluable insights into your fields of interest and provide career advice to help you reach your goals.  
These Lawrence alumni are currently working in the visual or performing arts:
Connect with them on Viking Connect for an informational interview. (PS. Viking Connect is our new online alumni mentoring platform giving you quick access to connect directly with alumni!)
Not sure where or how to start with an informational interview? We've got your back!
Professional Associations
Professional associations are a great source of field-specific information, career path ideas, and networking contacts. Examples of associations for visual and performing artists: