2023-2023 Application Deadlines
---
November 8, 2022 - Japan Study and Oxford applications due
January 25, 2023 - All affiliated program applications due (except Japan Study and Oxford)
March 1, 2023 - London Centre and Senegal applications due
April 5, 2023 - OCP Scholarship application due
Application for 2023-2024 Now Open!
The Lawrence OCP Application is completely online! Just log in with your LU credentials.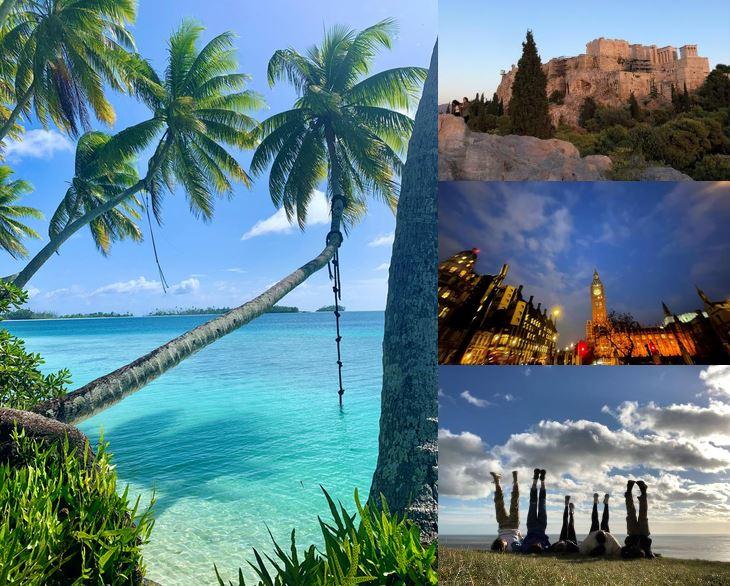 Eligibility
Any student who will have sophomore status at the time of their off-campus program is invited to apply. Please note that some programs may impose their own class standing requirements, however.
Students must be in good academic standing and able to pass a conduct review. Some programs may have GPA requirements.
Student's proposed off-campus program must not stand in the way of student's degree progression.
Student must show academic preparedness for program; any pre-requisites must be met.
LU Application Requirements
The Lawrence application will be completed entirely online. Go to the Off-Campus Programs Application System to log in and start your application. Components of the application include:
Waiver forms and agreements
An academic plan - Where you will enter the classes your intend to take
Request a transcript
Academic essay
Goals essay
Faculty advisor recommendation
Academic recommendation
Program Application Requirements
If you are applying for an affiliated program, you will be required to complete a second, separate program provider application once you are approved to study off-campus through Lawrence. You can find those application requirements on the respective program page. Most program applications will require a transcript and a home school approval. Off-Campus Programs will forward those documents once you have been approved to study off-campus. If you have any questions, please contact OffCampusPrograms@lawrence.edu.
Program Costs
Tuition
Program costs vary by program. At the minimum, tuition for a term-length program (12 weeks or less) will be billed at an amount equal to the regular Lawrence University tuition for a term on campus. For programs longer than 12 weeks, at the minimum, you will be billed Lawrence's off-campus semester tuition rate.
2022-2023 Tuition Rates:
Term tuition rate - $17,889

Semester tuition rate - $19,678.
Please note that if the program tuition is higher than the applicable Lawrence term or semester tuition rate, you will be billed the difference.
Program Fee
In addition to tuition, and in lieu of on-campus room and board, Lawrence University students will be billed the program fee assessed by the program they are attending. This program fee typically covers all or a portion of housing and food expenses and may include costs for local transportation, excursions, etc.
Financial Aid Applies
If you are eligible for financial aid when on campus, your financial aid (other than student employment) will be applied toward the cost of an approved off-campus program. This includes federal, state, and institutional scholarships, grants, and loans.  Exceptions to how financial aid may apply to off-campus program costs include students who receive ACM Tuition Remission (TREP) and Lawrence University Tuition Remission (LUTR). (See below.)
Other Cost Considerations
The cost for some off-campus study programs may be greater than the cost of studying for the same period of time on-campus.  You should consider out-of-pocket expenses when selecting a program.  Comprehensive cost estimates for all Lawrence-approved programs are available from the Financial Aid office.  Students considering off-campus study should meet with the Financial Aid office. 
Students are encouraged to pursue outside scholarship opportunities to assist with the incremental cost of off-campus programs. See the Off-Campus Study Funding page for more information about scholarships and funding options for off-campus study. Additional scholarships (LU dedicated funding for study abroad, scholarships from program providers, and outside scholarships) will be supplemental to your Lawrence financial aid award.
Any student who will need financial assistance to fund an off-campus study program should submit the Free Application for Federal Student Aid (FAFSA) as early as possible during the year preceding their proposed program. Even those not qualifying for need-based aid may wish to investigate ways to offset the  expense through either an unsubsidized Stafford Student Loan or a parental PLUS loan; students considering these options should also submit the FAFSA.
Billing, Deposits, & Refunds
Billing
Students participating in LU-sponsored or -affiliated off-campus programs are invoiced through their Lawrence student account for tuition and billable program fees.
Confirmation Deposit
Most programs require a confirmation deposit from students to officially accept their offer of admission. For affiliated programs, students pay this deposit directly to the program provider.  Students accepted to a Lawrence sponsored program will receive more information about this confirmation deposit upon acceptance. The deposit for an affiliated or sponsored program cannot be billed to a student's Lawrence student account.
Refunds
Lawrence honors the refund, cancellation, and withdrawal policies of our partner institutions.  Once a student accepts placement in a program, the program provider begins preparations for their participation.  If, after a student commits to a program, they withdraw or do not participate for any reason, most program providers hold the individual student accountable for some to all of the costs incurred on their behalf.  Students should make themselves aware of these policies of the organization providing their program.