Managing Your Image
Web Presence
It is important to maintain a professional presence on all social media you are a part of, including photos, posts and personal information.
Enable privacy settings on your social media profiles to ensure that employers see a professional image of you, while still allowing you to be candid on social media profiles.
Make sure you have an appropriate email address. Employers may delete an email from partychic@yahoo.com or cooldude@gmail.com before even opening it.
Do an internet search for your name to find out what is out there for everyone to see.
LinkedIn
LinkedIn is a valuable resource to market yourself to potential employers, expand your professional network, reconnect with professionals you've met in person and establish a professional online presence.
Be sure to add your skills and experience to your profile. LinkedIn is like a virtual résumé - what would you like potential employers to learn about you?
Top 5 Profile Tips:
Fill in your employment history.
Add your education.
Add a photo.
Add at least three skills.
Create your own vanity URL (and include it on your résumé, business cards, etc.)
Here are some more LinkedIn resources to get you started:
Get more information on LinkedIn.
Personal Branding
Personal branding is the message or presence you are known for by your classmates, professors, coworkers, friends and family. If you are not careful in sending or projecting the message you want, others will develop one for you.
By having a strong personal brand, you will be able to market your knowledge, skills and abilities to the employers you are looking to impress.
Developing your brand
Know yourself. Do some self-assessment. What are your values, unique skills and abilities?
Find out what others are saying about you (e.g. google your name).
Utilize the three C's: clarity, consistency and constancy. Convey a clear message on a consistent basis as often as you can.
Ask others for feedback and then use it to mold your message.
How a personal brand can help
By having a clear personal brand you can:
Effectively market yourself to employers.
Leave positive impressions on new people you meet.
Generate buy-in to who you are and what you can do.
Differentiate yourself from others competing for jobs, grades, promotions and more.
Develop credibility.
Encourage trust from others due to your consistency.
Leverage your value.
Gain stronger self-confidence.
Business Cards
Business cards are a valuable networking tool that assist in making connections with potential employers. The convenience of a business card maintains a professional presence when networking, where pulling out a piece of paper and a pen can seem unprepared and unprofessional.
As a student, your business card should look something like this: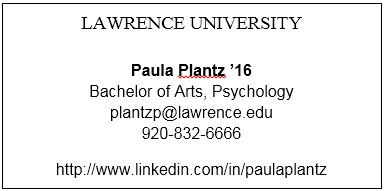 Photographs
Photographs should be taken professionally. Sign up on the Communications web page for a free headshot.
Headshots should portray you as you are, not as you were five years ago or as you wish you were.
Your photo should "say" something (you are happy, fun, warm, friendly, strong, professional, creative, etc.), giving the viewer various feelings/impressions about you.
Your hair should be as you regularly wear it. Do not "do it up" in some exotic manner that you will never be able to duplicate. A picture should be realistic, giving the prospective employer a correct image of who you are.
Press Kits
Press kits are usually used for two purposes:
By the press in the city in which a musician or artist is about to perform
As a complete promotional package used in securing concerts or showings
They may also be used in accompanying application materials for a teaching position, demonstrating the performance level and notoriety achieved by the artist.
Press kits should be versatile. Individual materials which might be found in a press kit include pictures (formal, information, solo, ensemble), bios, samples of your work, repertoire lists, sample programs, reviews, as well as any other information which will give the reader a more in-depth view of your background.
Dress
Dress professionally when networking, participating in a mock interview, informational interview or a job interview. This may mean different things for different employers, but it is safer to dress up than to dress down. If in doubt, ask an advisor in Career Services.
A good go-to professional outfit might be a pair of slacks, a button up shirt and modest shoes. Before an interview, do your research to determine the appropriate dress. If it is unclear after checking the website and talking to your connections, it is always okay to ask Career Services for advice about what to wear.