Get to know our team.
Our Vision 
Our vision is that every Lawrentian is empowered to experience success throughout life.
Our Mission
Our mission is to guide Lawrentians in exploring, discovering, and designing their future.
Our Core Values
Student-centered: Students and their success are our priority.
DEI+A: We foster a learning environment that honors diversity, equity, inclusion, and accessibility.
Collaboration: We believe collaboration and networking are essential for student success.
Innovation: We value innovation because it allows us to continuously adapt and improve our services.
Discernment: We value discernment because it promotes self-exploration, discovery, and life design.
Community: We believe community is the foundation for engagement and belonging.
Career Center Professional Staff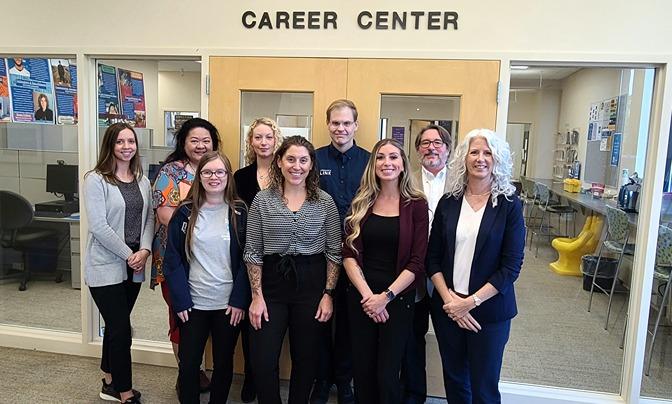 Community Engagement and Social Change (CCE) Professional Staff
Rachel Flom, Director of the Center for Community Engagement and Social Change
Michelle Buchinger, Coordinator for Career Center & Center for Community Engagement and Social Change
Career Center Student Staff
Career Peer Educators
Oliver De Croock '24 - Curates for #BE and #TD Career Communities
Midushi Ghimire '24 - Curates for #HMP and #PHN Career Communities
Camara White '25 - Curates for #VPA and NES Career Communities
Marketing and Media Assistants
Maya Alberts '26
Spencer Brown '24
Lauren James-Spielman '24
Angelina Larrea '27
Front Desk Assistants
Daniel Godoy '24
Brook Schara '27
Blair Vandehey '26