Wellness Services appointments available!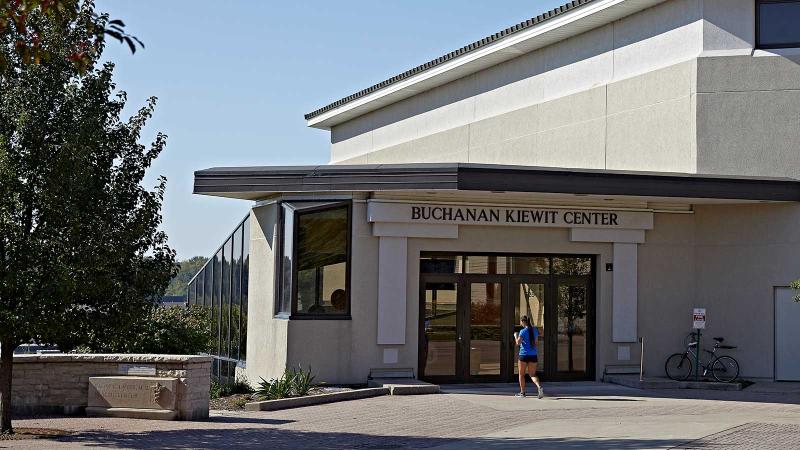 Our Mission
Empower the community to thrive by providing holistic wellness services and opportunities in alignment with the Lawrence University mission.
Our Vision
Strengthen a culture of holistic well being.
Our Services
We take COVID-19 seriously.
Learn more about the protocols in place to limit the spread of the virus on the Lawrence campus.
About the Buchanan Kiewit Wellness Center
The wellness center is open seven days a week, providing more than 100 hours of access. The building is open to students, employees, retirees, emeriti, dependents and alumni with a valid LU ID. Guest Policy: Must be accompanied by Lawrence university member, the sponsor, for the duration of their visit. *Only one guest per member per visit.
Facilities
The following facilities are available at Buchanan Kiewit Wellness Center:
Cardiovascular exercise room
2 weight rooms
Racquetball court
Gymnasium with an elevated, four-lane jogging track
25-meter swimming pool 
Multipurpose room
Locker rooms
Sauna
Finals Week and Summer
June 4th 10am-9pm, June 5th and 6th 7am-9pm, June 7th 7am-7pm, June 8th and 9th 8am-6pm. Pool open June 4th 2-4pm and June 5th 11am-1pm
Closed June 10th and 11th. 
Summer Hours Monday- Friday 7am-7:30pm. Saturday June 17th 9am-4pm
Closed Saturdays and Sundays and closed July 3rd and 4th
Building Hours - Academic
Monday - Thursday: 6:30 a.m. - 10:30 p.m.
Friday: 6:30 a.m. - 9:00 p.m.
Saturday: 9:00 a.m. - 9:00 p.m.
Sunday: 10:00 a.m. - 10:30 p.m.
Pool Hours
Monday - Friday: 11:15 a.m. - 1:15 p.m.
Monday - Thursday: 6:30 p.m. - 9:00 p.m.
Saturday: 10:00 a.m. - 3:00 p.m.
Sunday: 2:00 p.m. - 4:00 p.m.