Schedule an appointment or ask a question
Whether you're ready to delve into your family genealogy and its ties to Lawrence or are simply curious to know when an academic department was created, the Archives staff is here to help. Fill out our contact form to schedule an appointment for in person research or explain what you're looking for so someone can assist you remotely.
Collections overview
The Archives currently holds about 2,000 linear feet of collections. These collections represent a wide variety of unpublished materials from both Lawrence and Milwaukee-Downer College, including presidential papers; records from University offices and departments; papers of faculty and alumni; and a number of scrapbooks, photographs, and artifacts.
The Archives also houses collections of published materials such as yearbooks, student newspapers, and other campus publications. Collections date back as far as the founding of Lawrence in the mid-1840s, and new materials are continually acquired.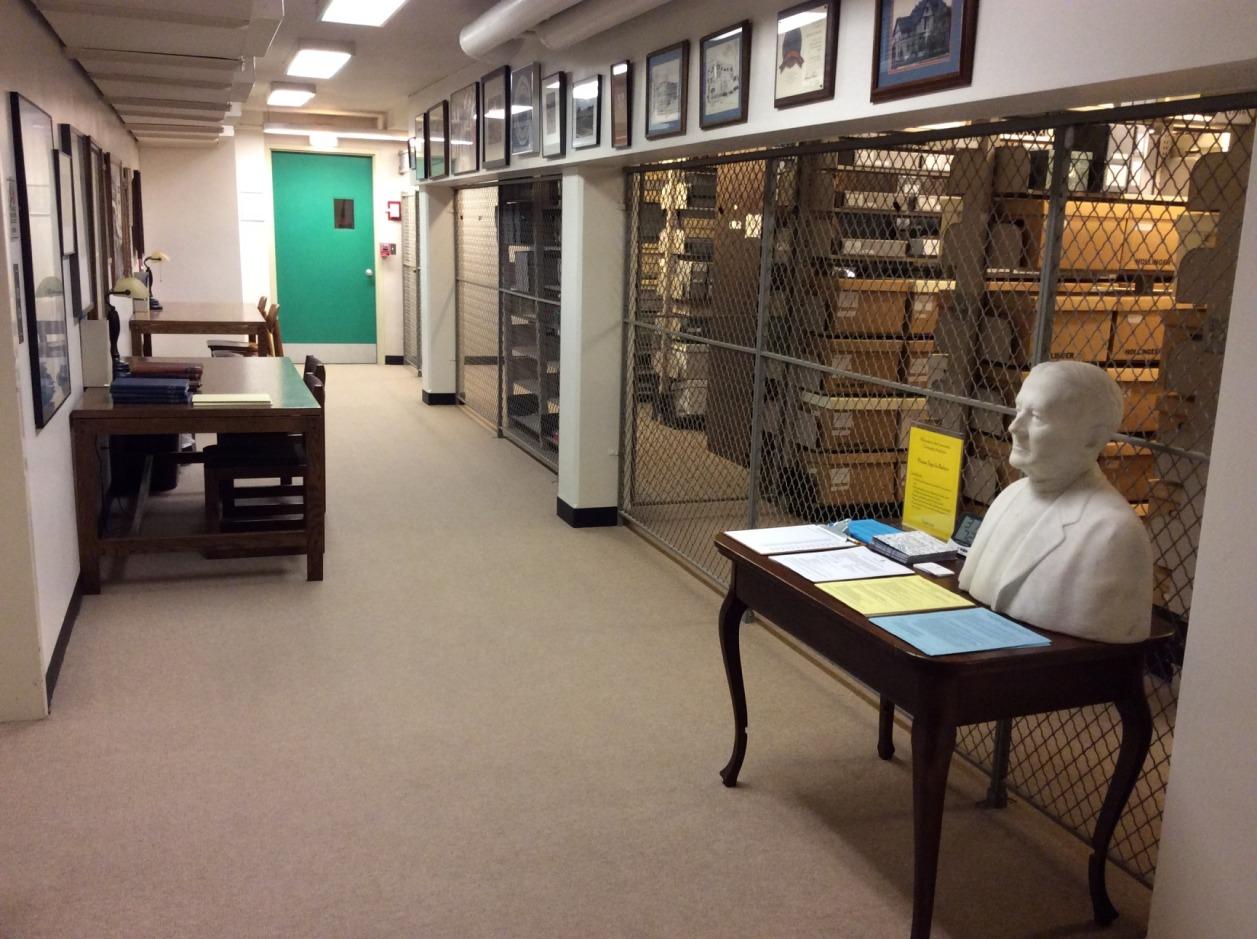 Remote research and digital collections
In some cases research may be conducted using Lawrence University Archives materials outside of the Archives. Circumstances dictate the feasibility of this research and to what extent an archivist can assist.
Past remote research has included simple family genealogy questions and interest in small quantities of materials. In these cases an archivist may be able to assist in answering your question or scanning resources for researchers to use remotely.
The Archives is continually digitizing materials, and it is recommended to begin your search by looking through our digital collections.
Use our database to search or browse descriptions of all Archives collections, also called finding aids. Need help navigating the Archives Catalog? This how-to guide can help!
The Lawrentian, selected yearbooks, oral histories, and more from Lawrence and Milwaukee-Downer history.
Preparing for your visit
Due to the nature of our collections and size of our staff, access to the Archives is conducted by appointment only. The Archives staff is here to help you find the information you're looking for and make your visit successful. Here are some tips for what to expect.
Before you arrive
All are welcome to conduct research in the Archives, regardless of Lawrence University affiliation.
There is no fee to conduct research in our facility.
Bring a form of ID with you in order to complete our researcher registration process.
Allow enough time to finish your research during your visit so schedule your appointment accordingly.
Prepare for your research - search our collections online before you visit to gain an idea of what you want to look at when you arrive.
Archival collection materials are non-circulating and may not be removed from the reading room. Requested materials will be retrieved for researchers by archives staff.
During your visit
An official copy of researcher procedures will be provided at the time of registration, which researchers must agree to abide by during their visit.
Backpacks, coats, and other personal property will need to be stored away in the designated area.
Food and drink are not permitted in the Archives.
The Archives maintain closed stacks, meaning that requested materials will be brought to you by a staff member.
Archival materials must be maintained in the order they are provided, including the order of folders in boxes and items within folders. To facilitate this, researchers are asked to only remove one folder at a time from a box.
Pencils and electronic devices (laptops, phones) may be used for note taking but pens and other permanent marking implements are prohibited.
Archival items may be photographed using a personal camera or cell phone, or requests may be submitted for digitization or photocopies.
You may be asked to wear gloves while handling photographs or other fragile materials.
Researching Lawrence history?
For an introduction to sources available for researching the history of Lawrence University or Milwaukee-Downer College, check out our Researching Lawrence History guide.