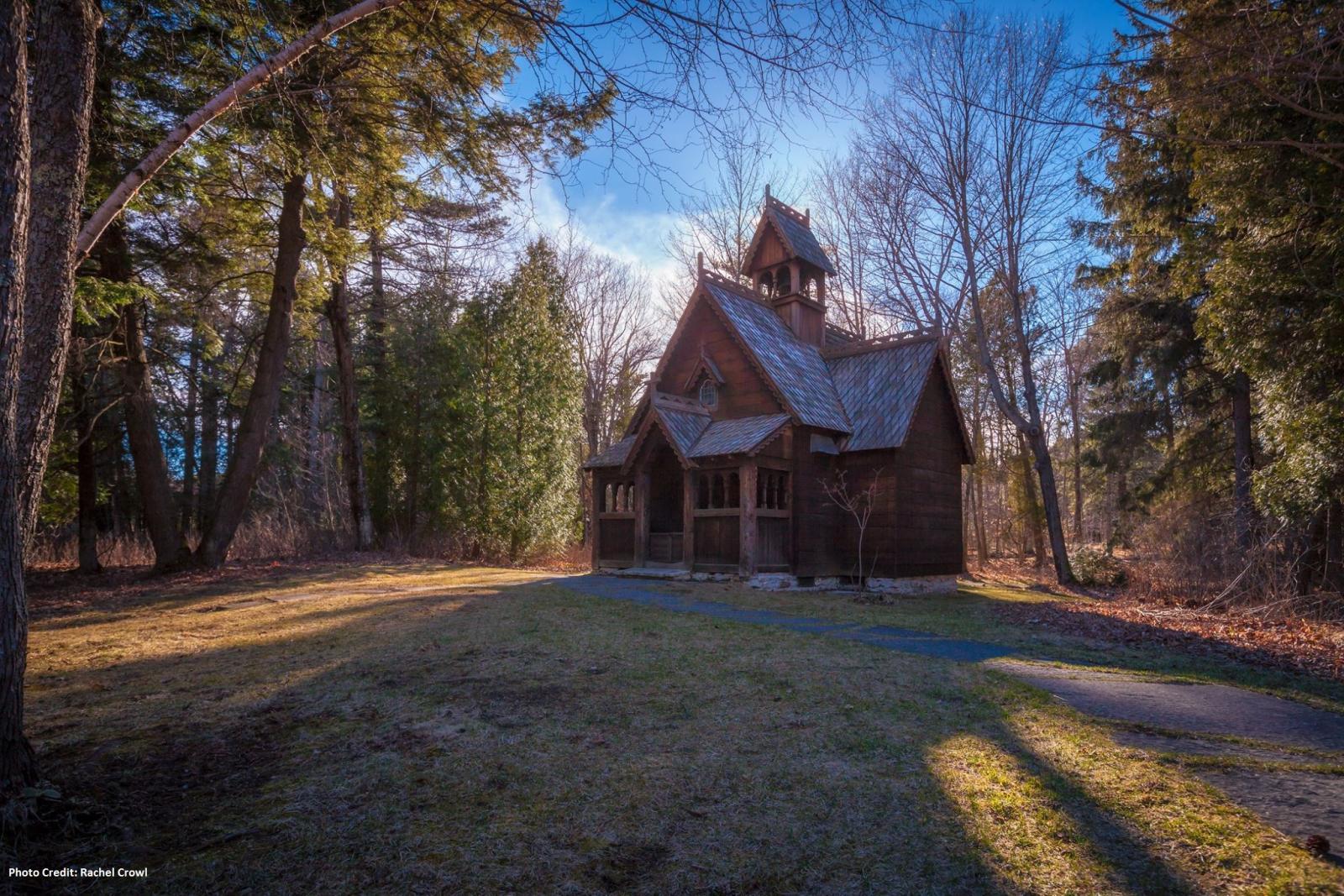 Chapel Tours
Chapel tours are given twice weekly during the summer season, and bus tours are always welcome. The chapel is open for tours from mid-June to late August, Monday and Wednesday afternoons, from 1:00-4:00 p.m. The tour fee is $5 per person.  No reservation is necessary.
Boynton Chapel Weddings
Located on 425 wooded acres along Lake Michigan, the chapel at Björklunden is a picturesque setting for a wedding, baptism, or family service. The staff at Björklunden wishes to help you make this special service a memorable experience, not just for you, but also for your family and friends.
Please note that you are responsible for obtaining the marriage license and for hiring the person to perform the ceremony. Also, the chapel is a seasonal building, so although it is available year-round, the temperature inside the building is the same as the temperature outside. The chapel accommodates 36 people sitting in pews. The lighting of candles or use of electric equipment (i.e. space heaters) is not allowed in the chapel. Fireworks are prohibited.  Battery-operated candles and/or lighting displays and boom boxes are permitted.
Lawrence University's fee for the use of the Boynton Chapel is $500. This fee is for use of the chapel only; there are no facilities for dressing, handling groups if it rains, or public restrooms. There is a two-hour time limit that must be strictly adhered to, as we often have multiple services on the same day.
Reservation Info
If you have questions, please contact Kim Eckstein, or use this form to begin the reservation process for your chapel wedding.
Phone: 920-839-2216.
Email: kim.a.eckstein@lawrence.edu
Fax: 920-839-2688.
Mailing address: Björklunden, P.O. Box 10, Baileys Harbor, WI 54202