Two Lawrence University students have been named 2022 Fulbright scholars, continuing a string of success over four decades for Lawrence students in the Fulbright U.S. Student Program.
Alex Chand, a senior from Southlake, Texas, majoring in English and physics, received a Fulbright award to support her pursuit of a master's degree in English literature at the University of Leeds in the U.K.
Marion Hermitanio, a senior from De Pere majoring in Spanish and linguistics, is the recipient of a Fulbright award that will take her to Mexico to teach for a year.
The awards for Chand and Hermitanio mark the 58th and 59th time Lawrence students or recent graduates have been so honored over the past four-plus decades.
Theatre professor Timothy X. Troy heading to Ireland on a Fulbright
Claire Kervin, assistant professor of English and director of fellowships advising, said the Lawrence experience prepares students such as Chand and Hermitanio to be strong candidates for national awards.
"Lawrence students are well-poised to compete for major fellowships like the Fulbright because of their strong liberal arts education, which prepares them to write a thoughtful, compelling story in their application," Kervin said. "LU students also benefit from the many available extracurricular and co-curricular opportunities, including student leadership, internships, research and independent study opportunities, and senior capstones."
Chand: Heading to England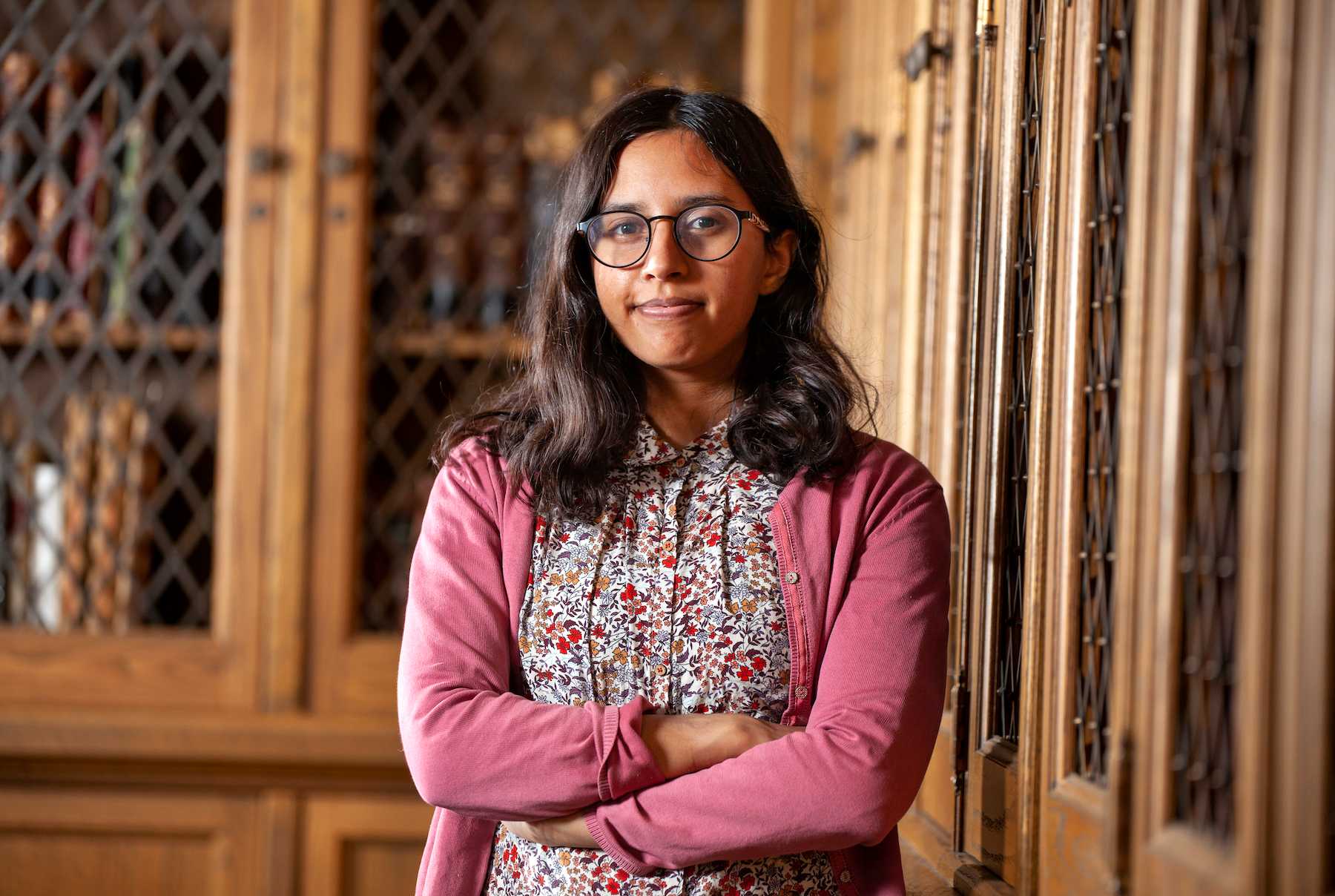 Chand will apply her interdisciplinary background in graduate school at Leeds, writing a thesis that examines representations of autistic and cognitively disabled voices in literature.
"I'm thrilled," she said of landing the Fulbright.
While abroad, Chand plans to continue her work in disability advocacy, something she has been passionate about at Lawrence, and will transition from competing in cross country at Lawrence to competing in triathlons in England.
Her award is particularly notable considering there is only one Fulbright position at the University of Leeds, and competition for it is always robust, Kervin said.
Chand said it was work done at Lawrence that prepared her for this opportunity, both in science labs and in the expansion of her writing. Her master's thesis, she said, will in many ways be an extension of her undergraduate honors thesis, Charting Autistic Voices.
"I'm grateful for the flexibility, independence, and adventures I've had in undergrad," she said. "I came into undergrad convinced that I wanted to do biophysics—which is funny in hindsight, because I spent a year between high school and college writing. Through a summer of research at the NIH (National Institutes of Health) in a biophysics lab and another summer of virtual research through a physics REU (Research Experiences for Undergraduates) at the University of New Mexico, as well as a virtual biomedical optics summer institute run by the Wellman Center for Photomedicine, I learned loads of valuable skills I've been able to carry with me back to Lawrence and use in my science classes. But at the end of each day, I found myself wanting to read and write. Of course, I do a bit of writing as a scientist, too. It's just not where my heart is, though."
Chand credited professor Doug Martin in Physics and professors Celia Barnes, Karen Hoffmann, Melissa Range, and Timothy Spurgin in English with helping her find that balance between science and literature. And she praised Kervin for helping her make sense of all that in the Fulbright application process.
"Professor Range is my honors thesis advisor, has always been supportive of my work, and encouraged me to apply to Ole Miss for my MFA in creative writing, where I'll be heading after my Fulbright," Chand said.
Hermitanio: Heading to Mexico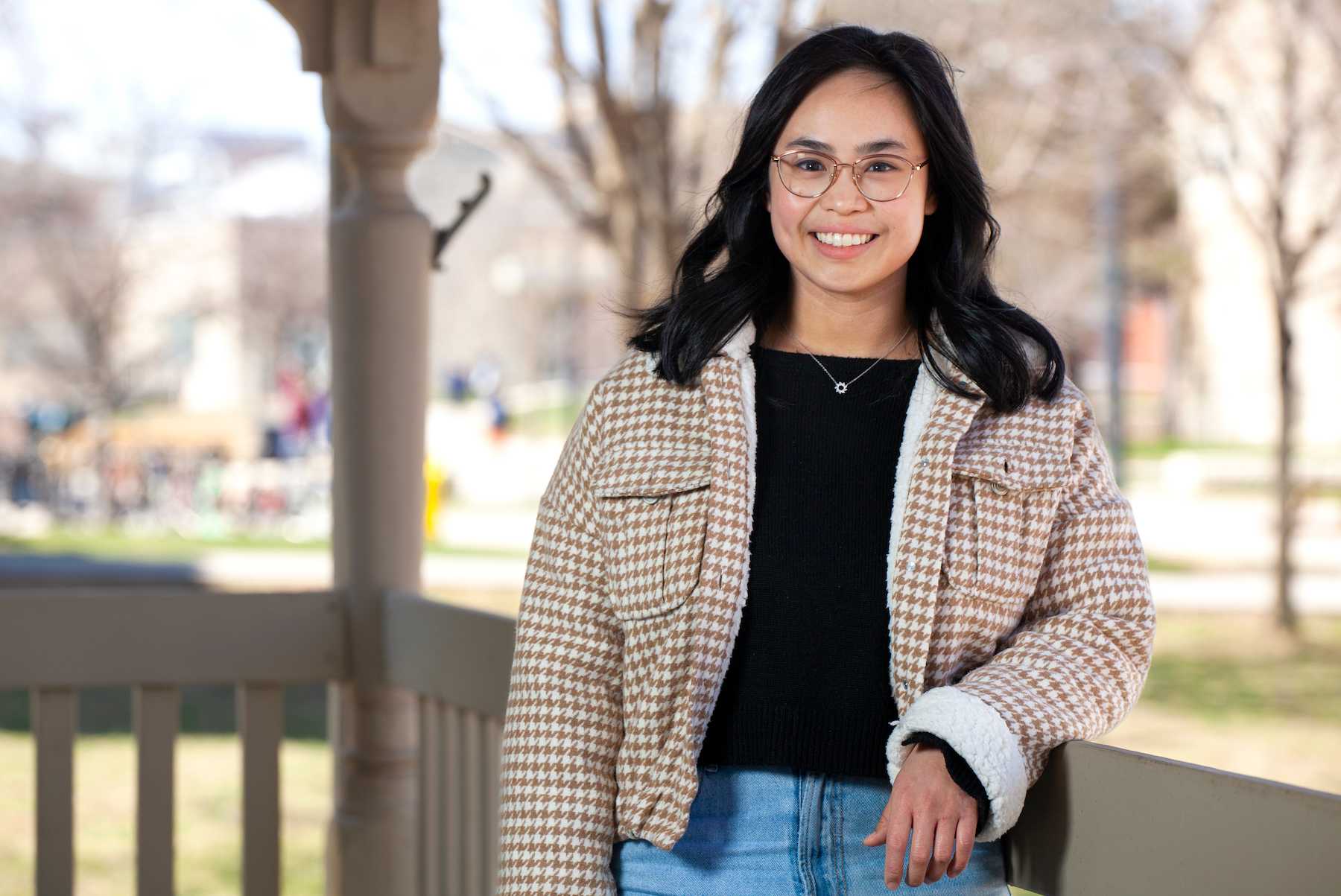 Hermitanio applied to the Fulbright program to be an English teaching assistant (ETA) in Mexico.
"It felt so surreal," Hermitanio said of getting the news that she received the award. "I applied for the Fulbright not thinking at all that I would get it."
Hermitanio said she viewed the Fulbright as an opportunity to engage more deeply with Mexico and Latin America.
"My previous engagements with the Latin-American and particularly the Mexican-American community inspired me to apply to teach in the country that many of my peers first called home," she said. "Through volunteering at the Appleton Bilingual School and working as a Spanish interpreter and teaching assistant for an English learner program, I had the opportunity to build relationships with Latinxs and Spanish speakers in the Appleton area. However, I know that staying in my Wisconsin bubble can only do so much to expose me to Latin-American culture."
Hermitanio is planning to pursue a career in speech-language pathology.
"I want to work with Spanish-speaking populations and advocate for more linguistic and cultural awareness within the field, and I think that there's no better way to learn about the Latin American identity than living and working in a Latin American country," she said
Learn about Pre-Professional Advising & Major Fellowships at Lawrence, including applications for a Fulbright
Kervin helped guide Hermitanio through the application process. And she got an assist from Rosa Tapia, professor of Spanish, in preparing for an interview in Spanish.
"I feel like I have a unique perspective having studied linguistics at Lawrence," Hermitanio said. "My classes have helped me realize that as much as language is a powerful tool for human connection, standard linguistic practices are often rooted in perspectives that uphold one community while denying others visibility. I want to teach students to own their language and find new ways to communicate who they are. I'm excited to bring this perspective and what I've learned at Lawrence to my English teaching assistantship in Mexico."
The selections for Fulbright honors came from the U.S. Department of State and the J. William Fulbright Foreign Scholarship Board. 
Lawrence students interested in applying in the future for a Fulbright award or other fellowships should reach out to Kervin.