Shaun Brown '21, a fourth-year psychology and cultural anthropology double major from St. Louis, is midway through a summer internship that looks a lot different than what it might have in a pandemic-free world.
The internship with Healing Minds NOLA, a New Orleans nonprofit focused on mental health resources, was supposed to be based in the Crescent City. It shifted to a remote internship as COVID-19 became a global pandemic.
Brown, who hopes to eventually go to graduate school in pursuit of a Master in Public Health degree, took the changes in stride. His work as a mental health and justice intern is proving to be substantial, even if face-to-face work is off the table.
"I'm learning about the intersection of mental health and incarceration," he said. "I get to attend themed webinars and Zoom meetings with various professionals like judges, researchers, mental health professionals, and community activists, all discussing various information that I knew nothing about. There are a lot of things going on and COVID-19 is not making them better, so I am taking projects off other people's plates and assisting where I can."
Brown is one of nearly 90 Lawrence University students who are in the midst of remote, project-based internships this summer facilitated by or funded through the school's Center for Career, Life and Community Engagement (CLC).
We salute them and all Lawrence students doing internships on National Intern Day, celebrated this year on July 30.
Much of the work happening this summer is the result of rapid adjustments made in the spring as COVID-19 concerns shut down many internship and research opportunities.
"When the pandemic hit, we had to move fast to meet evolving student needs," said Mandy Netzel, assistant director of employer and alumni relations in the CLC. "While some internship sites were adjusting to remote work, others were being canceled completely."
The CLC and other offices on campus quickly adapted to the shut-downs, identifying remote internship possibilities, adjusting the process for students to apply, and widening the funding structure to include more students in lieu of monies no longer being needed to cover housing and transportation costs.
The Employer and Alumni Relations team, in tandem with the Center for Community Engagement and Social Change (CCE), also launched the Hire a Viking Campaign, soliciting new remote opportunities from alumni and community partners. Alumni and friends of the University rose to the challenge, and in just two weeks, Hire a Viking resulted in 31 new internship and full-time opportunities. 
"We were able to grant $162,650 in funds for 87 different projects," Netzel said. "Throughout the project, donors were even compelled to give additional funding for internships. Overall, it was a great success."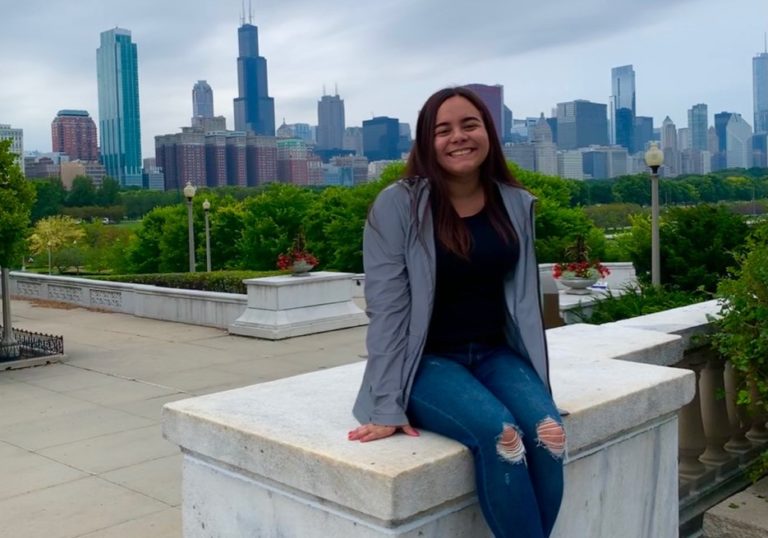 Stephany Pichola '21 of Highland Park, Illinois, a triple major in economics, global studies, and Spanish, landed one of those remote internships, working in project management for The Commons, a Milwaukee nonprofit initiative aimed at enhancing work and play opportunities in the region.
The work, Pichola said, connects with her innovation and entrepreneurship interests.
"In the process of each project, there is a lot of research and data analysis involved, as well as creating real-world solutions to certain issues found within the Milwaukee area," she said.
Doing the work remotely brings significant hurdles. Navigating a Zoom call with 100 participants, for example, is daunting, Pichola said. But she said she's using the internship to build skills and connections that will pay off as she prepares for life after Lawrence.
Meanwhile, Emilia Ciotti Hernández '22 of New York, a government major with a focus on international relations, and Eli Ferrell '22 of Mill Valley, California, a government major with plans to pursue law school, both landed remote internships with Safe Passage Project, a national nonprofit that provides free legal counsel to immigrant children facing deportation.
They've helped to screen families for representation, served as interpreters for attorneys who are working pro bono, translated birth certificates and other documents, helped young people apply for work permits, and assisted in the drafting of affidavits, all done remotely.
"I got to hear the stories of these young people and see all they went through in their lives, and often it was heartbreaking," Hernández said. "When they would tell me these stories, it was hard because I would want to comfort them, but that's not an easy task over Zoom."
Ferrell called the work important preparation for law school and said it has helped focus his attention on immigration issues. If federal policies rolled out during the Trump Administration continue, "lawyers trained in immigration law will be more important than ever," Ferrell said.
For each of the students, the shift to remote internships hasn't been ideal. But to still be able to work with these organizations, to be able to do important work in a summer internship while in the throes of a global pandemic, has been a huge positive.
"I know that after Lawrence, I want to work as a community health worker," Brown said. "I would primarily work in various underserved communities to educate, coach, and empower people, as well as connect individuals and families to community-based resources."
Healing Minds NOLA, he said, is giving him a taste of that this summer.
"I'm getting a preview of some of the work that I'll be doing very soon once I graduate from Lawrence," Brown said.