The old adage is time flies when you're having fun.
    The 2022 season must seem like an absolute blur to the Lawrence University baseball team because these guys are having a great time. From their epic home run celebrations to their record-setting win total to their first Midwest Conference championship since 1980, the Vikings have made this spring one to remember.
    "I think it helped that we played some really good teams in Florida early in the season," senior shortstop Spenser Ross said. "That just helped us prepare, whether we won or not, we realized we could play at a really high level. Once we came back, we kind of put things together."
    Lawrence (23-11) hosts the four-team, double-elimination Midwest Conference Tournament on Friday and Saturday with an automatic berth in the NCAA Division III Tournament on the line. Lawrence faces Illinois College in the opening game, with the University of Chicago taking on Ripon College in the other opener. Friday's games are split between Whiting Field and Don Hawkins Field with all games at Whiting Field on Saturday.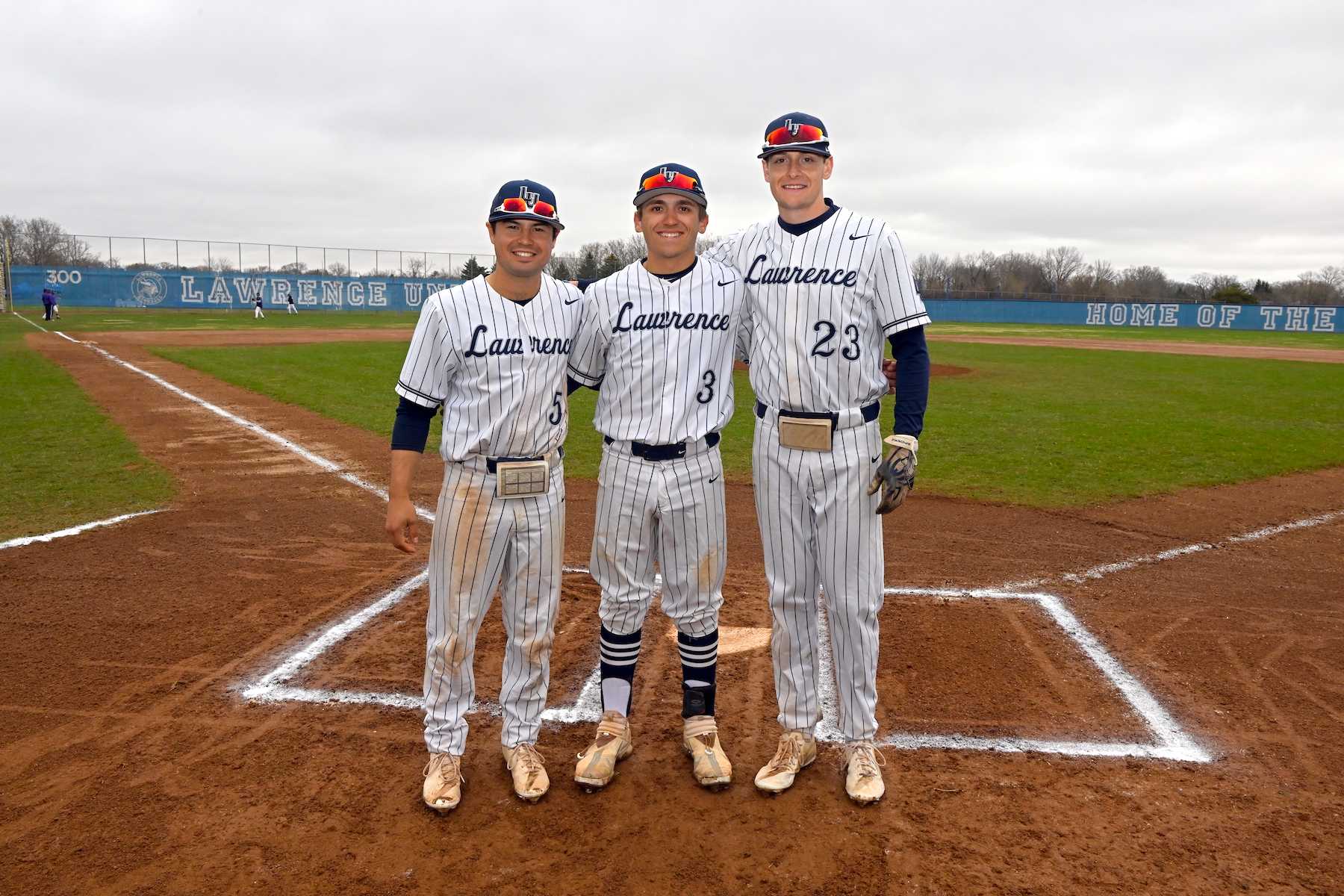 The Vikings were 5-5 when they opened league play upon their return from the spring break trip to Florida. Lawrence rattled off a 12-2 record over the next 14 games.
    "After that first doubleheader (at Grinnell College), we showed ourselves we were a good team and could really do something. We've really carried that momentum," said senior right fielder Jacob Charon. "I think we're very confident in each other. The thing that we've been saying throughout the year is we're never out of a game. Leading into the tournament, we want to carry that momentum."
    Charon was at the heart of the April surge that put the Vikings in contention for the league title. He went on a home-run binge that had him leading the nation in homers and runs batted in per game. Charon, who set Lawrence season and career homer records this season, is batting .410 with six doubles, one triple, 17 homers, 51 RBIs and 44 runs scored. 
    With Charon leading an offense that is hitting .330 as a team, the Vikings set the Lawrence record with 23 victories, two more than the 1977 squad that played in the NCAA Tournament. Sophomore Quinn Berglin leads a pitching staff that continues to improve daily. Berglin is 6-1 with a 1.32 earned run average and a .190 opponent batting average. Junior Michael Duttlinger (3-1, 4.30 ERA) and sophomore Elden Santana (2-2, 4.75 ERA) complete the core of Lawrence's starting pitching staff.
    "Really, one through nine, any guy can do damage. I never count us out of a game until that 27th out is made," senior catcher Colin Wieska said. "The pitching has been phenomenal. They've been there for us, and we've (the offense) been there for them. We work so well together."
    Lawrence has posted nine come-from-behind wins this season, and that winning attitude is part of the rise of the program under fourth-year head coach Chris Krepline.
    "The progression over the last couple of years has made the guys work a little harder, showed the guys what we really could do," Krepline said.
    His first team in 2019 went 5-23, nearly all of the 2020 season was wiped out by the pandemic, but the 2021 team closed in on .500 at 15-19.
     "I think they saw that last year we were close to getting it, but we weren't quite there yet," Krepline said. "I think they looked at this year and thought that this was going to be their year."
    The three seniors on the squad could see the team was improving, getting more talented, gaining depth. Did they think a title would come during their tenure at Lawrence?
    "No way," Charon said with a chuckle. "When I first came in, it was a different culture for sure. We kind of flipped that switch, and the expectation is to win. Things have shifted in a great way."
    Wieksa said Krepline articulated his plan for the program, and the players quickly ran with those ideas.      
    "Once coach Krep came in, he gave us his vision of what he wanted the program to look like, and we really embraced that," Wieska said. "We have a great culture on this team. He's done a great job recruiting and brought in a lot of great talent. ... We just really bought into this championship mentality."
    Ross, a native of Canada who has been a stalwart at shortstop throughout his career, said, "I could see the direction. It was heading in the right direction with the new momentum gained by coach. I didn't think it would be this fast. I didn't thing we'd be this good this fast."
    Krepline's ability to attract talented players is paying off in spades as young players dominate the lineup. Lawrence, which won the league's regular season title with an 18-6 record, has five first-year players starting to go with sophomore first baseman Zach Leslie (.348) and junior catcher Mitchell Sandleback (.295).
    Rookie and Appleton native Parker Knoll has been a revelation in center field. Batting at the top of the order, Knoll leads the team with a .430 batting average. He has 12 doubles, four triples, two homers, 26 RBIs, 49 runs scored and 32 stolen bases. Fellow rookies Jeffery Cambra (.370), Taylor Freeman (.344), Edan Perez (.291) and Nick Heerde (.321) have all had big moments this season.
    "Every player who has come here and looked at the records board and looked at the (championships) banner (in the gym) and said, 'That's going to be us,' " Krepline said.
    Winning the regular season title has made this season special but winning the conference tournament and reaching the NCAA Tournament would make it extraordinary.
    "We're looking to take care of business," Wieska said of the league tournament. "We have our eyes on winning the tournament and going to the regional. That's our goal."
    Charon echoed Krepline's mantra of taking small steps to a big goal. Win each inning, Charon said, and you win the game and move on to the next challenge.
    "It's sort of a silent confidence," said Ross, who has shrugged off a slow start to bat .255 with 26 RBIs and 26 runs scored. "We all believe we can put together another good weekend. We don't want to talk about it too much, but we believe we can get the job done."