One of the icons of the jazz world returns to the stage of Lawrence Memorial Chapel on Feb. 3.
Jazz at Lincoln Center Orchestra with Wynton Marsalis featuring Naseer Shamma on oud will be in concert at 8 p.m., part of Lawrence University's 2022-23 Performing Arts Series. Tickets are $25-$30 and available at the Lawrence Box Office or by emailing boxoffice@lawrence.edu or calling 920-832-6749.
Marsalis has led the Jazz at Lincoln Center Orchestra since the late 1980s, building on a resume that has seen him win nine Grammy Awards and a Pulitzer Prize in music.
Friday's concert will mark Marsalis' third visit to Lawrence. The legendary trumpeter was 27 when he came to Lawrence in 1988 to perform at Jazz Celebration Weekend. He returned for a Convocation address in October 2001.
Wynton Marsalis was among the visitors to Lawrence we applauded in this Black History Month remembrance during the 175th anniversary celebration.
The New Orleans native studied at The Juilliard School before debuting with Art Blakey and the Jazz Messengers. He has released more than 60 jazz and classical recordings since 1982 and has been widely recognized for his support of music education. In 1997, he became the first jazz artist to be awarded a Pulitzer Prize in music, for his composition Blood on the Fields. In 2001, he was awarded the United Nations designation "Messenger of Peace" by Kofi Annan, secretary-general of the United Nations.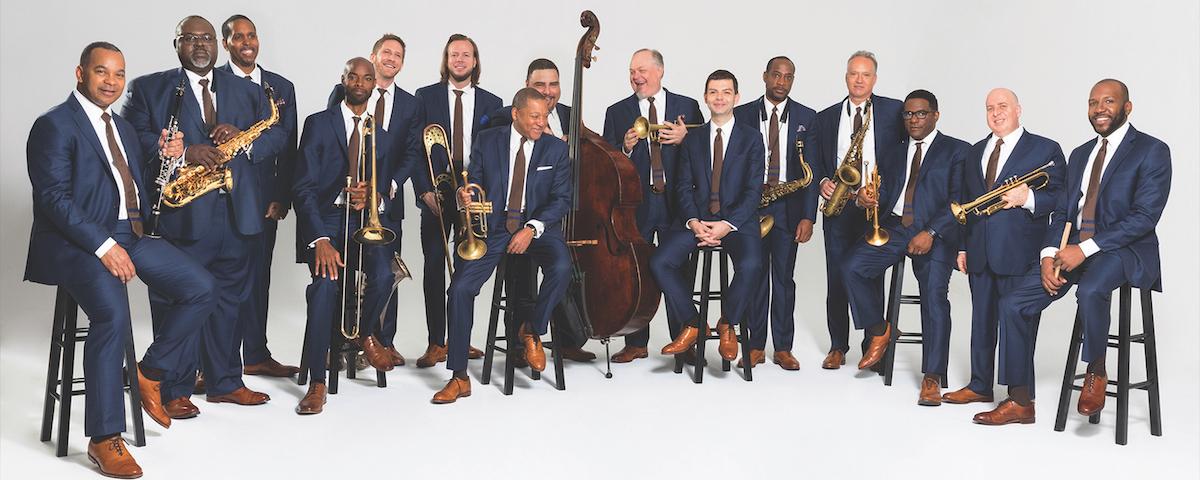 Jazz at Lincoln Center Orchestra (JLCO) features 15 top jazz soloists and ensemble players. Under the direction of Marsalis, they perform a vast repertoire, from rare historic compositions to Jazz at Lincoln Center-commissioned works, including compositions and arrangements by Duke Ellington, Thelonious Monk, Mary Lou Williams, Benny Goodman, and others.
The orchestra will be joined by internationally renowned musician and humanitarian Naseer Shamma. Known for being one of the world's greatest oud (an ancient Middle Eastern stringed instrument) virtuosos, he has received numerous awards for his contributions to promoting and advancing the oud and Arabic music all over the world. This tour is the first collaboration for JLCO and oud and will feature new works arranged by Marsalis, Shamma, and JLCO members. Shamma joins the tour in partnership with the Abu Dhabi Festival.
Friday's concert is the latest in Lawrence's ongoing Performing Arts Series. Other upcoming performances include:
Feb. 6, 8 p.m.: LADAMA, Harper Hall. LADAMA is a group of four virtuosic musicians and educators from different countries and cultures of the Americas who are sisters in song, rhythm, and spirit.
March 3, 8 p.m.: Adam Sadberry, flutist, Memorial Chapel. The Memphis Symphony Orchestra acting principal flutist and Concert Artists Guild roster member is known for his radiant, lyrical playing.
March 5, 2 p.m.: LU Gamelan concert, Memorial Chapel. This beloved performance of traditional Indonesian percussion instruments returns.
April 3, 8 p.m.: A Moving Sound, Harper Hall. Fusing traditional influences with a global sensibility, this award-winning Taiwanese ensemble has built a worldwide following through their joyous mix of original music and dance. 
April 14, 8 p.m.: Anderson and Roe Piano Duo, Memorial Chapel. Known for their adrenaline-fueled performances, original compositions, and music videos, Greg Anderson and Elizabeth Joy Roe are revolutionizing the piano duo experience.
April 22, 8 p.m.: Calmus Vocal Ensemble, Memorial Chapel. Founded by former members of the St. Thomas Boys Choir in Germany 23 years ago, they have become one of the world's most renowned vocal ensembles.
May 12, 8 p.m., Melissa Aldana, saxophone, Memorial Chapel. A Grammy-nominated saxophonist and composer, Aldana has garnered international recognition for her visionary work as a band leader, as well as her deeply meditative interpretation of language and vocabulary.
See details of the Artist Series, New Music Series, Jazz Series, World Music Series, Dance Series, Opera performances, and Theatre Arts under the umbrella of the Performing Arts @ Lawrence.
The Jazz Series, which includes the Jazz at Lincoln Center Orchestra with Wynton Marsalis, is being sponsored by Wisconsin Public Radio.