2 Minutes With … is a series of short features to introduce us to the passions and interests of Lawrence students on and off campus.
Have you enjoyed recent Lawrence theater productions such as Mass and Pippin? Perhaps you've wondered how those amazing costumes are created.
Mads Layton '22 works in the costume shop; she's here to take us inside and raise the curtain on the work she does to prepare for the shows we love.
The English major's two greatest passions are fashion and live theater, so she's a great fit for the costume shop. She started working there after Pippin ran its last show in the fall, sorting old costumes for washing and getting ready for an upcoming play on the bill, She Ventures and He Wins.
Theatre Arts is a thriving program at Lawrence.
Initial decisions
Costuming normally begins after the cast has been determined and characters are developed. Before anything new is made, students pull what they can from a stock of costumes in storage. However, some productions like She Ventures and He Wins require large builds of new costumes. This calls for early preparations, such as a tailoring tutorial for waistcoats in winter term. Mads began work on the play shortly after she started working at the costume shop.
"Actually, the first thing I made was in preparation for this show because we knew it would be a really big build," she says. "We didn't have a lot of stuff from that time period, so they had us starting early."
She made a skirt with box pleats, and 10 feet of box trim for one of the lead's dresses.
She Ventures and He Wins, a Restoration-era comedy, will be presented this week. The show — and its spectacular costumes — will be on stage in Stansbury Theater at 8 p.m. Thursday through Saturday.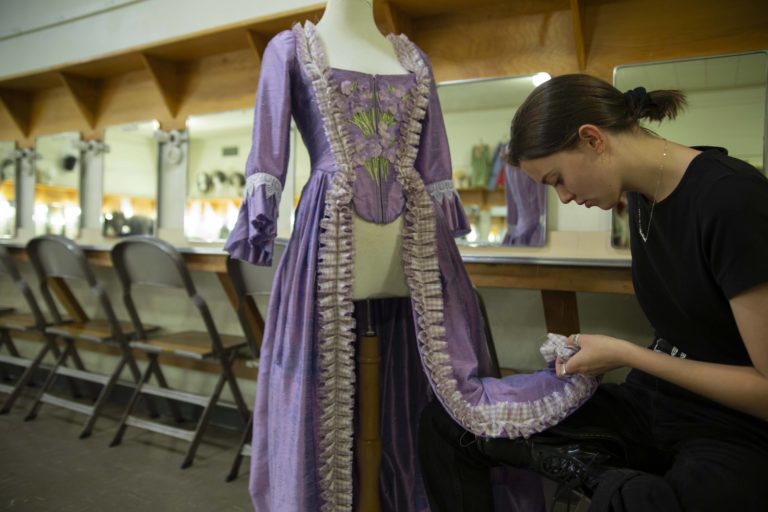 Team effort
Students in the costume shop don't tackle full garments alone. Instead they're assigned tasks based on their skill level, and the garment is pieced together in the end.
Mads, who came to Lawrence from Mesa, Arizona, may be new to costume-making but she's confident in the sewing abilities she learned from her mom, who taught her and her sisters at a young age.
"I really enjoy doing detail work and hand-sewing, so I get a lot of hand-stitching of hems, as well as trims," she says. "Other than that, I've made a lot of skirts this year."
For Mads, learning new ways to create garments is a perk of the job. She had never worked with pleats before, and now that dress is her favorite costume she's worked on.
"I did seven or eight hours of just doing box pleats, and then I had to sew them on," she says. "It's just a beautiful dress. I have a little bit of an attachment to that one because I spent so much time on it."
When the director delivers final notes on the costumes, and last alterations are made, it's showtime. Mads has always supported the art form she loves, and working in the costume shop allows her to see her creative work in action onstage.
"I make sure to go to all the shows because I love live theater," she says. "I think it's important and wonderful."
Mads Layton
Class Year: 2022
Major: English
Hometown: Mesa, Ariz.
Activities: Fashion, Theater, Costume Shop