"Justin took me aside to say he wants to share his studio with students, Lawrence students included. He wants his studio to be a place where budding musicians can experiment with recording and creating music."  
When Grammy nominations were rolled out Wednesday, Bon Iver's i,i snagged three of them, including in the headline-grabbing Album of the Year and Record of the Year categories. The album, released in summer, also is starting to show up on critics' best-of-the-year lists.
That's all of particular note to a Lawrence University music professor who lent his considerable trombone talents to the album.
Tim Albright, a professor in the Lawrence Conservatory of Music, spent four days in recording sessions in Justin Vernon's home studio in Eau Claire, part of a horn section dubbed the Worm Crew.
"The horn section was made up of the unusual combination of trumpet, French horn, two trombones, saxophone and bass harmonica," Albright said. "It was an unconventional assortment of instruments, but the sound was gorgeous."
Vernon, the creative mastermind behind Bon Iver, has carved a deeply respected reputation for collaboration and musical experimentation. His annual Eaux Claires music festival — it took a hiatus for 2019 with an expectation to return in 2020 — and other musical outreach has raised Eau Claire's arts profile considerably. His home studio, 180 miles west of Appleton, has become known as a gathering place for talented musicians.
"We rehearsed and recorded for four days and nights," Albright said of the recording sessions. "When we weren't making music, we shared meals, slept in bunk beds, and listened to music in Vernon's state-of-the art control room. I was struck by his warmth and hospitality. He made us all feel completely at home, which helped the music come alive. 
"I think the album sounds amazing."
Indeed, it does.
The album, Bon Iver's fourth, was one of eight nominated for album of the year. The track "Hey, Ma" (it features Albright's trombone) got a nod for Record of the Year, and the album also was nominated for Best Alternative Music Album. The Grammys will be held Jan. 26.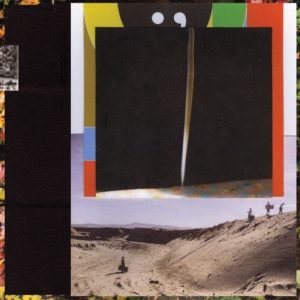 Esquire magazine included the album on its list of 50 Best Albums of 2019 (So Far), posted on Nov. 11.
"Twelve years after the seminal album For Emma, Forever Ago, Wisconsin singer Justin Vernon and his extended band find new ways to break your heart with their unusual indie-folk music," Olivia Ovenden writes. "As on 22, A Million, follow-up i,i is filled with noodling jazz riffs, auto-tuned vocals and glitchy electronic samples." 
Esquire points in particular to the song "Salem," which features Albright. "A patter of soft bleeping notes layer over each other and lift into a euphoric chorus which cries, 'So I won't lead no lie / With our hearts the only matter why.'"
Craig Jenkins of Vulture calls the album one of the best of the year.
"The lyrics are heavy on close inspection, but the music makes them buoyant," he writes.
Making a connection
Albright's connection to Vernon and Bon Iver comes via a trumpet player friend who had hooked him up in the mid-2000s for a recording session with The National, a then-unknown band that was preparing for the release of the album Boxer.
"I've known CJ for about 15 years from my time working in New York City," Albright said. "When the band The National was just getting started, he said, 'I wonder if you could come out to my friend Bryce's house and record for a group called The National. I think they're going to become big.' Not thinking much of it, I took the train out to a tree-lined street in Ditmas Park, Brooklyn, to record a one-minute fanfare in a stranger's living room."
Bryce turned out to be Bryce Dessner, one of the founding members of The National. And the trumpet player friend would prove prophetic. Boxer would indeed put the band on the map.
It was a couple of months later when Albright and his wife were walking through the Atlantic Terminal Shopping Mall in Brooklyn when he heard a new song playing overhead. It caught his ear.
"I nudged her and said, 'Hey, listen, there's trombone on that record,'" Albright said. "A moment later I realized the trombone player was me from the track I had recorded in Ditmas."
That same trumpet player friend reached out to Albright again in 2018 when Vernon was looking for collaborators on his coming album. They needed a trombone.
In a media statement he released just prior to the release of i,i, Vernon noted contributions from a bevy of musicians, some with widely recognized names like Bryce Dessner and Bruce Hornsby, others more under the radar.
"This project began with a single person, but throughout the last 11 years, the identity of Bon Iver has bloomed and can only be defined by the faces in the ever-growing family we are," Vernon said.
Albright, on the Lawrence faculty since 2016 and a member of the Atlantic Brass Quintet, is now part of that extended Bon Iver family. He doesn't know if he'll get to record with the band again, but he knows having that connection with Vernon could build other important bridges, perhaps involving his Lawrence students. 
"Justin took me aside to say he wants to share his studio with students, Lawrence students included," Albright said. "He wants his studio to be a place where budding musicians can experiment with recording and creating music. He cares deeply about giving back to the Wisconsin community that helped shape his musical voice."
In the meantime, Albright will cherish his contributions to an album that will almost certainly be showing up on additional best-of lists between now and the end of the year. His name is all over the credits, which isn't a bad place to be. 
"It's fun to be in that world, to touch a little bit of stardom," Albright said.