2 Minutes With … is a series of short features to introduce us to the passions and interests of Lawrence students on and off campus. 
Lauren Askenazy '23 has long waited for her chance to play college hockey. She didn't know she'd be landing in the record books and doing it at a school with deep family roots.
The sophomore transfer student from Albuquerque, New Mexico, became the first player to score a goal in the newly launched women's hockey program at Lawrence University.
The team faced off against the College of St. Scholastica in its Feb. 13 debut at the Appleton Family Ice Center, fulfilling Askenazy's dream of playing college hockey. With 3:19 left in the game, she fired a wrist shot over the shoulder of the St. Scholastica goaltender, etching her name in Lawrence lore for evermore.
She followed that up by scoring a goal in each of Lawrence's first four games.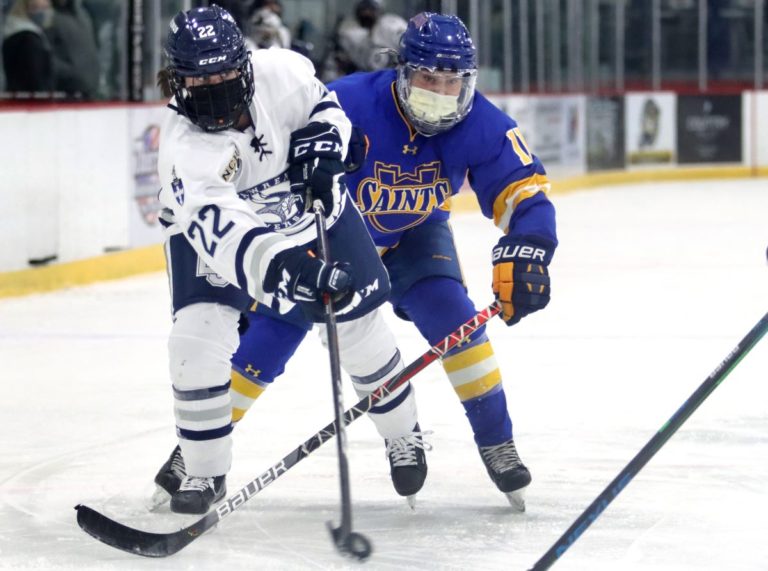 Finding a home
Askenazy was no hockey novice when she arrived at Lawrence. She started playing at 7 years old in her native Albuquerque. From those first shaky steps on the ice, she went on to become a three-year player with the HTI Stars in Canada, from 2016 to 2018.
Askenazy then enrolled at Connecticut College, but she kept her eyes open for a liberal arts school that was the right fit academically and had a women's hockey team.
Everything fell into place. Vikings coach Jocey Kleiber was recruiting former members of the HTI Stars team when she learned of Askenazy's interest in college hockey. The two connected and the recruiting process began.
It didn't take long for her to feel at home on the ice here. She calls hockey a therapeutic outlet.
"I'm so happy every time I can step on the ice," she said. "Especially since we're all sitting in our rooms on our computers 24/7. As soon as everyone is together in the locker room, everyone cheers up."
Family roots at Lawrence
Askenazy didn't choose Lawrence on a whim. She continues a family legacy at Lawrence — her mother, uncle, and grandfather are alumni. When she was recruited for the newly created hockey team, Lawrence quickly became more than just a university she had always heard about.
"My family members are very excited about me coming to Lawrence and they are so happy I get to continue doing what I love while also making history," she said.
It goes without saying that a new hockey team beginning its first season faces unconventional challenges during the COVID-19 pandemic. That's especially true, Askenazy said, in the realm of team relations.
"It's been a lot more difficult, especially because we're a brand-new team," she said. "Usually, teams can hang out and do bonding activities, and we can't do that. But we're willing to do anything we can to be able to play. We're appreciative that we can have games."
Getting wins has been tough early on, but it's a learning process for a new program, one that is filled with promise.
"Everyone on the team is so excited to be a part of a new program," Azkenazy said. "We're building the foundation."
Lauren Askenazy
Class Year: 2023
Hometown: Albuquerque, N.M.
Activities: Hockey