Jim Miller '80 caught the marathon bug while running cross-country for Lawrence University in the late 1970s. What he's done with that passion over the 40-plus years since puts him in very select company.
On Aug. 30, just days before turning 62, Miller ran a marathon in 2 hours, 53 minutes, 59 seconds, making him one of only four runners known to have run marathons in under 3 hours in six different decades, according to data shared at PodiumRunner.com.
That is 26.2 miles of high-level achievement spanning more than 43 years and touching the 1970s, 1980s, 1990s, 2000s, 2010s, and, now, the 2020s.
"I set a goal to get that sixth decade and I was really excited to get it," Miller said.
To do it, he had to get a bit industrious. He initially planned to run a marathon in North Carolina in March, but it was canceled as the COVID-19 pandemic began wreaking havoc on running events across the country. He signed up for a marathon in Fargo, North Dakota, that was scheduled for late August, hoping the pandemic would loosen its grip by then. No such luck.
"At that point it seemed unlikely any marathons were going to be held the rest of this year," Miller said.
He didn't want to wait out the pandemic, knowing his training was on target and the body felt good.
"There's no guarantee I'll be healthy and fit next year," Miller said. "I was very confident I could run a fast time right now. I've been in really good shape for six months, and it's hard to maintain that indefinitely. So, I felt a sense of urgency."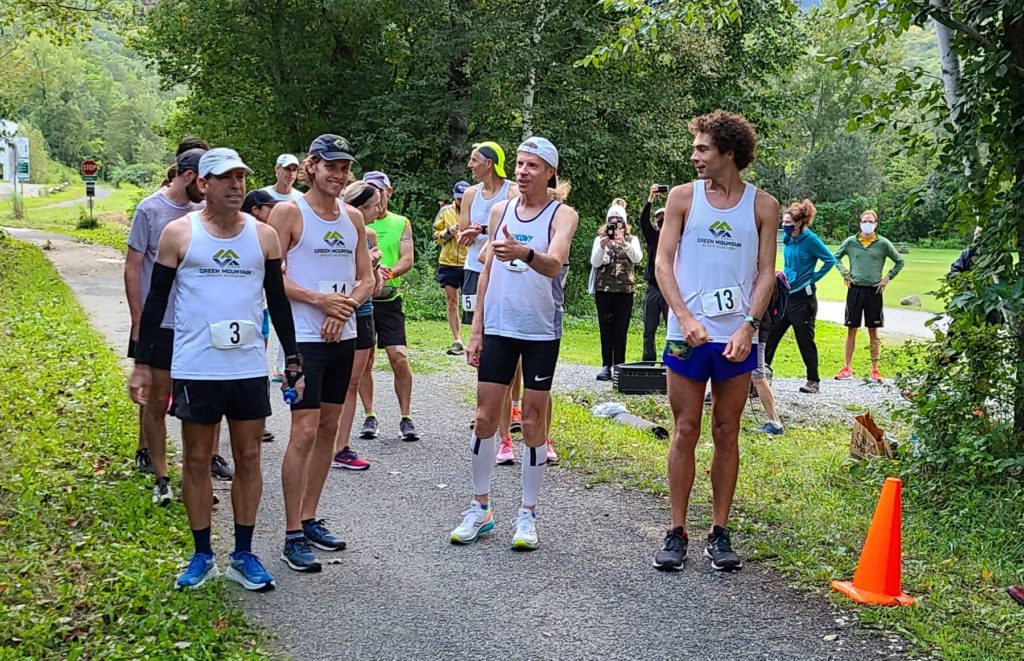 Like Lawrentians are apt to do, he opted for ingenuity. He organized his own marathon near his home in Burlington, Vermont, named it the Old Mill Marathon, got it officially sanctioned, set up a COVID-19 safety plan, and recruited 13 local runners to run it with him.
"It's probably the most fun I've had in any marathon I've run," he said.
And that's saying something. Miller has run 40 marathons through the years. The enthusiasm for it has never waned, despite injury setbacks and that inevitable march of Father Time.  
The Lawrence difference
Miller said he was a decent but not great runner in high school in Grand Forks, North Dakota. He came to Lawrence for the academics, but he opted to run for the Vikings, and that experience lit a fire inside him.
He'd go on to have a Hall of Fame career at Lawrence, earning All-America honors in cross country and track and winning two Midwest Conference (MWC) championships. By the time he graduated with a degree in economics, he held school records in the 2-mile, 3-mile, and 6-mile distances.
It was a longer run Miller took early in his time at Lawrence, though, that set him on a different path. He ran the 1977 North Dakota Marathon, well before marathon running became the widespread boom it is today, and he won, posting a time of 2:34. It felt good. He wanted more. He won in North Dakota again the next year. Then, on the advice of Lawrence alumnus and advocate Chuck Merry '57, he entered Grandma's Marathon in Duluth, Minnesota, and proceeded to run an eye-opening 2:19 that got him noticed nationally.
He quickly set a new goal—the U.S. Olympic Team Trials.
"My senior year at Lawrence I spent training for the Olympic Trials," Miller said. "I got so much support on campus."
Always chasing a goal
He moved to Vermont following Commencement in June of 1980 to continue his training. He took a number of odd jobs while focusing on his running. He worked at a store selling running shoes. He took temp jobs. He began working part-time as a janitor at a bank in Burlington.
"I became a 'running bum'," Miller said. "Not exactly your typical Lawrence post-graduation route."
He set a personal record of 2:18:18 and qualified for the U.S. Olympic Trials in both 1980 and 1984.
He never did make the U.S. Olympic team, but that part-time janitor job led to opportunities at the bank to put his economics degree to work. He would go on to forge a more than 30-year career as a trust officer and financial planner with the Merchants Trust Company.
And the running would continue, always with goals in place. He'd run one or two marathons a year when injuries weren't sidelining him. One decade ran into the next, and while that 2:18:18 time would become a distant memory, the sub 3-hour times would continue.
"One of the key factors is enthusiasm and passion," Miller said. "To run at my best, I need to be excited about a goal. Without that, I won't come close to my potential. It's really setting new goals as I age and trying to find a goal that excites me. It's certainly not to run faster than I've ever run before, but it's pretty easy to find goals that will challenge me."
Does he have his eye on stretching his sub 3-hour brilliance to a seventh decade? That, he said, might be difficult. He'll be 71 when 2030 rolls around.
"Even a year out our bodies change so much at this point," Miller said. "I haven't written it off in my mind, but that would be some challenge."