Homecoming is back.
As Lawrence celebrates the 175th anniversary of its 1847 founding, it is set to reignite an annual homecoming tradition that will bring alumni and families to campus to celebrate with the Lawrence community.
Blue & White Homecoming Weekend will be held Oct. 6-9, featuring events ranging from fun competitions and a Kaleidoscope concert to a Banta Bowl tailgate party and a homecoming dance. It'll all be wrapped around Vikings athletics competitions, with men's and women's cross country at Reid Golf Course at 11 a.m., a football showdown against Cornell at the Banta Bowl at 1 p.m., and women's tennis at 3 p.m.
The parking lot at the Banta Bowl will be transformed into the Viking Zone for a homecoming tailgate party beginning at 11 a.m.

See the full Blue & White Homecoming Weekend schedule here
While Lawrence students have celebrated each fall with Blue & White Weekend, this marks the first time in more than 20 years that alumni and families have been invited to join in a true homecoming weekend. It's expected to again become an annual celebration.
"We are beyond excited to celebrate all things Blue & White with this new Viking tradition," said Matthew Baumler, associate vice president of Alumni and Constituency Engagement. "It will be a celebration of both our success over the past 175 years and the bright future that lies ahead. What excites me most, though, is that it will be an opportunity for our full community to come together. There is something for everyone—students, faculty, staff, alumni, and families—and everyone is invited to join."
The weekend will include the introduction of Lawrence's newest Viking. Watch for details on that shortly.
The four days of events kick off Thursday evening with student competitions, followed by a full slate of activities on Friday—campus tours, a president's reception, outdoor student games, the annual Vikings Athletics Hall of Fame dinner, a choir concert, and a student talent show.
That will be followed by a Saturday packed with events to connect Lawrentians, including a Life at Lawrence panel, the tailgate party at the Banta Bowl in advance of the football game, the Conservatory's Kaleidoscope extravaganza at the Fox Cities Performing Arts Center, and a homecoming dance in Warch Campus Center.
The celebration closes on Sunday with a farewell brunch and a jazz performance at Warch.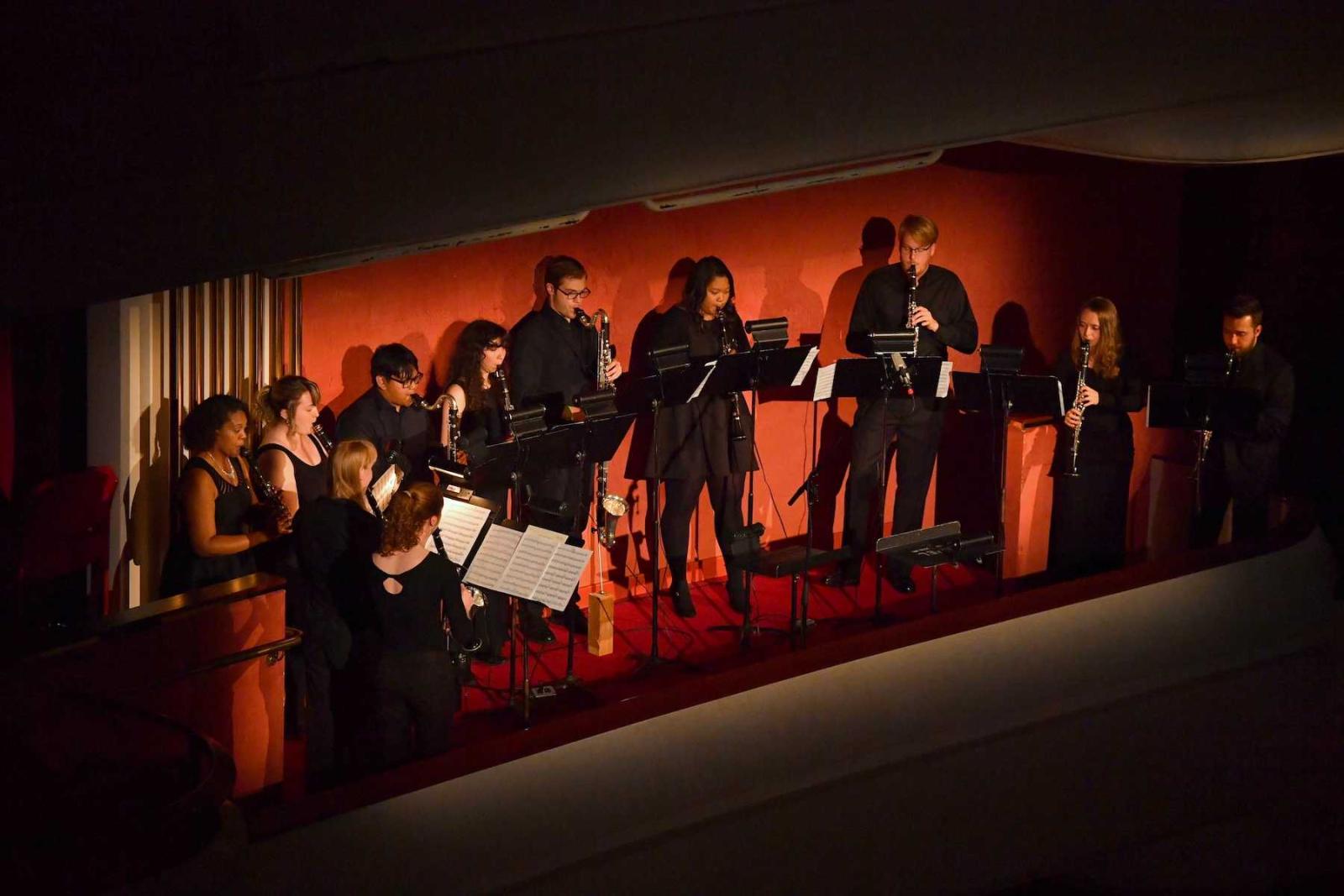 Kaleidoscope will be among the big draws. First introduced in 2006 and held five more times over the next 11 years, it is an all-encompassing Conservatory performance, showcasing ensembles large and small. Held at the Fox Cities PAC in downtown Appleton, the Kaleidoscope's nonstop, 75-minute format provides a rapid-fire musical spectrum showcasing the variety and mastery of students attending the Conservatory. It features a wide array of ensembles, from traditional orchestra and jazz ensembles to less familiar wind octets and clarinet ensembles. Music will come from the stage, the balcony, and other spots throughout the PAC's Thrivent Hall.
Nearly 400 students in 12 ensembles are taking part.
"It's not a real long program, but it's kind of like popcorn," said Mark Dupere, director of orchestral studies. "You have ensembles in different places in the PAC. The large ensembles are on stage and there are groups down in the pit; then we have smaller ensembles in the balconies."
Each ensemble performance will be brief, the music eclectic.
"It's like a taster, which is a fun element and is very different than a normal concert," Dupere said.
The performance is a nod to the university's 175-year history and will be a much-anticipated piece of the Blue & White Homecoming Celebration.
Lawrence has been celebrating its history throughout 2022, with the upcoming Blue & White Homecoming Weekend building on momentum from a Founder's Day celebration held early in the year, a community picnic that was part of inauguration weekend in the spring, the opening of an online 175th merchandise store, and the display of celebratory banners across campus.