This wasn't supposed to happen.
    The record number of victories. Making a splash on the national scene. Winning a Midwest Conference championship. Playing in the NCAA Division III Tournament.
    The Lawrence University baseball team was picked to finish seventh in the Midwest Conference in a poll of league coaches. The Vikings not only proved everyone wrong, but they have taken their play to another level entirely.
    Lawrence (26-11) opens play in the NCAA regional against host UW-Stevens Point on Friday morning at Zimmerman Field. North Central (Ill.) College and Coe College round out the regional field. Lawrence is the fourth seed in this four-team, double-elimination regional, but that doesn't deter the Vikings.
    "Our guys are 100 percent thinking let's show what we've got. Let's show them what we can do," Lawrence coach Chris Krepline said. "We want to turn some heads in the process. The guys are very excited about this, but I don't think any one of our guys thinks we can't be that No. 1 team."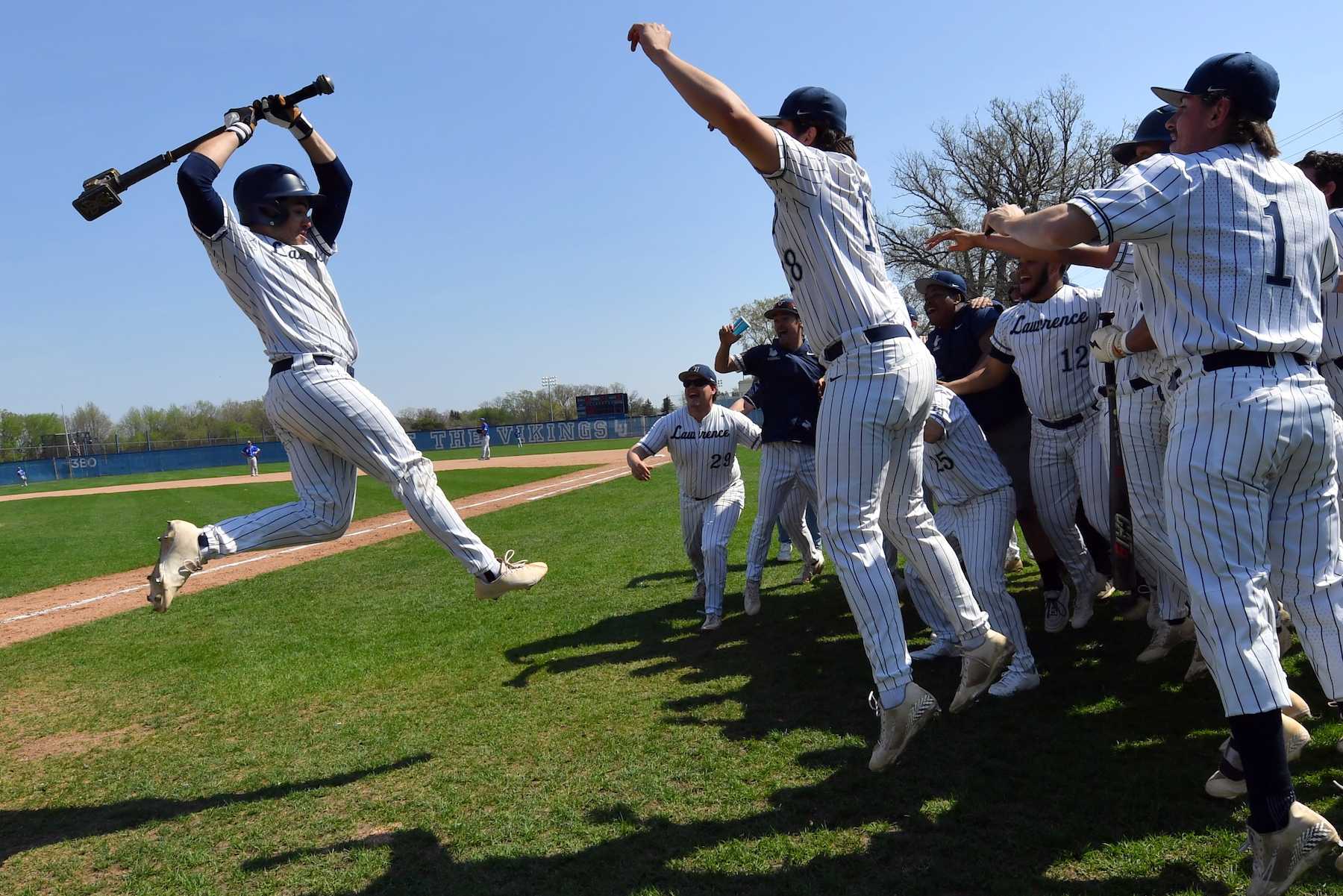 Lawrence entered this season coming off a 15-19 record in 2021 but with a solid core of returning players. What people outside the program didn't know about the 2022 edition of the Vikings was the bevy of newcomers set to contribute to a fine nucleus.
    Lawrence is led by senior outfielder Jacob Charon, who is tops on the team with a .412 batting average to go with seven doubles, one triple, 19 home runs and 59 runs batted in. Charon is in the top five in all of NCAA Division III in home runs and RBIs per game. Rookies Parker Knoll and Jeffery Cambra in the outfield and Taylor Freeman, Edan Perez and Nick Heerde on the infield have played huge roles. Serving as Lawrence's lead-off hitter, Knoll is batting .406 with 52 runs scored, 26 RBIs and 34 stolen bases, which ranks fourth in the nation in steals per game. 
    The pitching staff features ace Quinn Berglin, who is 6-1 with a 1.39 earned run average over 58.1 innings. Berglin has struck out 51 and walked 29 while allowing opponents to hit just .204. Junior Michael Duttlinger is 4-1 with a 3.66 ERA in 46.2 innings and has piled up 30 strikeouts against 13 walks. Newcomer Richie LaCien set a school record with six saves, and fellow rookie Nathaniel Johannes has been critical out of the bullpen with a 2-0 record and 2.86 ERA.
    The Vikings had a wild celebration after defeating the University of Chicago 7-6 in the Midwest Conference Tournament championship game this past Saturday, but they quickly got back to business. 
    "We had Sunday (to celebrate) and enjoyed the selection show on Monday. Then it was back to work. It's now back to business. Our guys are pretty focused our our coaches are pretty focused," Krepline said. "We've got our eyes set on this first regional game at Stevens Point and what we're going to do. We're not focused as much on their team as what we want to do."
    Krepline has the advantage of having played and coached in this scenario before. As a player at Carthage College, his team reached the eight-team finals, commonly known as the Division III World Series, right here in Appleton. As as pitching coach, he guided St. Norbert College through an NCAA regional.
    "It comes down to the execution of your own game, throwing strikes and having good approaches at the plate and playing good defense," Krepline said. "It comes down to the fundamentals of baseball and what you've done to be successful."
    This is Lawrence's third trip to an NCAA regional, but the first one in a long time. Lawrence played in the regional at UW-Oshkosh in 1977 and 1979, but the Vikings went 0-2 on both occasions.
    "That drives us even more to be that team," Krepline said of being the first to win at the regional. "Yes, this team this year has the best record (in school history). If we win a game, we are officially the best team in the history of Lawrence baseball. There's been two teams that have gotten here, but no team has ever won a game at the regional. That fires our guys up."
    UW-Stevens Point (34-7) is the top seed in the regional after winning the Wisconsin Intercollegiate Athletic Conference Tournament. The Pointers, who defeated UW-Oshkosh 10-0 to win the WIAC Tournament, enter the NCAA Tournament having won 10 of their last 11. 
    The Pointers are led offensively by senior outfielder Aaron Simmons, who is batting .371 with 10 doubles, two homers, 18 homers and 54 runs batted in. Stevens Point, which is batting .313 as a team, has five players who have started every game batting better than .300. The aces of the pitching staff are senior Caleb Krommenakker and sophomore Casey Pickering. Krommenakker is 6-2 with a 3.13 earned run average with 29 strikeouts and 11 walks over 54 innings. Pickering is 6-0 with a 4.27 ERA over 53 innings. He has struck out 37 and walked 15.
    Lawrence and Stevens Point have met just six times over the years and haven't played each other since 2010. The teams met in the first season of Lawrence baseball in 1958 but didn't play again until 1969 and then played a pair of games in 1974. The teams didn't play again until a doubleheader in 2010 at Don Hawkins Field. The teams split the doubleheader with the Vikings knocking off the Pointers 10-9 in the second game. Stevens Point was ranked 14th at the time, and that marks the last win for the Vikings over a ranked opponent.  
    North Central (33-12) College received an at-large berth to the NCAA field after dropping a 10-9, 14-inning decision to Augustana (Ill.) College in the title game of the College Conference of Illinois and Wisconsin Tournament. Junior outfielder Dom Listi and senior first baseman Paul Beverly lead the Cardinals with identical .372 batting averages. Beverly has smacked 18 doubles, one triple, four homers and has driven in 55 runs. Listi has scored 67 runs to go with 14 doubles, three triples, five triples and 40 RBIs. 
    Jason Shanner leads the pitching staff with a 4-0 record and a team-best 2.19 ERA. Luke Lamm and Charlie Klemm has claimed seven wins apiece. Lamm has a 3.73 ERA, and Klemm is at 4.42.
    Coe College (21-19) grabbed the automatic bid from the American Rivers Conference after defeating Wartburg College 10-6 in the league tournament title game. The Kohawks finished fifth in the American Rivers Conference but went 4-0 at the league tournament. 
    Coe infielder TJ Johnson leads the team with a .338 batting average and is the only player on the team hitting over .300. The Kohawks are batting .247 as a team. The Coe pitching staff has been solid with a 4.25 team ERA. TJ Deardorff has a team-high five wins and has a 3.28 ERA over 71 innings. He's striking out nearly a batter per inning and has piled up 64 strikeouts against 24 walks. 

Stevens Point Regional Schedule
Zimmerman Field, Stevens Point, Wis.
Friday, May 20
Game 1, 10 am -- UW-Stevens Point vs. Lawrence
Game 2, 1:30 pm -- North Central vs. Coe
Saturday, May 21
Game 3, 8:30 am -- Game 1 loser vs. Game 2 loser (Loser Eliminated)
Game 4, noon -- Game 1 winner vs. Game 2 winner
Game 5, 3:30 pm -- Game 3 winner vs. Game 4 loser (Loser Eliminated) 
Sunday, May 22
Game 6, 11 am -- Game 4 winner vs. Game 5 winner
Game 7 (if necessary), 45 minutes following Game 6

Tickets
Tickets may be purchased at the gate and are $5 per game. The stadium will be cleared following each contest. Only one ticket is necessary if two championship games are played on May 22.
Parking
Parking is available around the facility. Please note that UW-Stevens Point's commencement is taking place on May 21.