Shaun Donnelly '68 says his message to Lawrence University students interested in careers with an international focus is a simple one.
You're in the right place.
"My message is that I think a good liberal arts education is about the best preparation you can have for working internationally," Donnelly said during a break from participating in economics and government class discussions as the Distinguished Visiting Scarff Professor at Lawrence. "The world is constantly changing and you've got to be able to adjust."
Donnelly forged a 36-year career with the U.S. Foreign Service, retiring in 2008. He served as U.S. ambassador to Sri Lanka from 1997 to 2000, appointed by President Bill Clinton, and worked as deputy ambassador in Tunisia and Mali, among other positions. He spent 15 of those 36 years living and working abroad.
He is spending two weeks in October on the Lawrence campus, the latest in a line of distinguished public servants, professional leaders, and scholars who have shared insights and collaborated with students and faculty since the Scarff Professorship was established in 1989 by Edward and Nancy Scarff in memory of their son, Stephen. It is designed to bring civic leaders and scholars to Lawrence to provide broad perspectives on the central issues of the day.
Donnelly, who studied economics at Lawrence, worked on international economics and trade policies during much of his Foreign Service career and continues to work part-time as a consultant for the United States Council for International Business (USCIB). He said students today need to be aware that there will almost certainly be an international component to their work no matter the field they're in.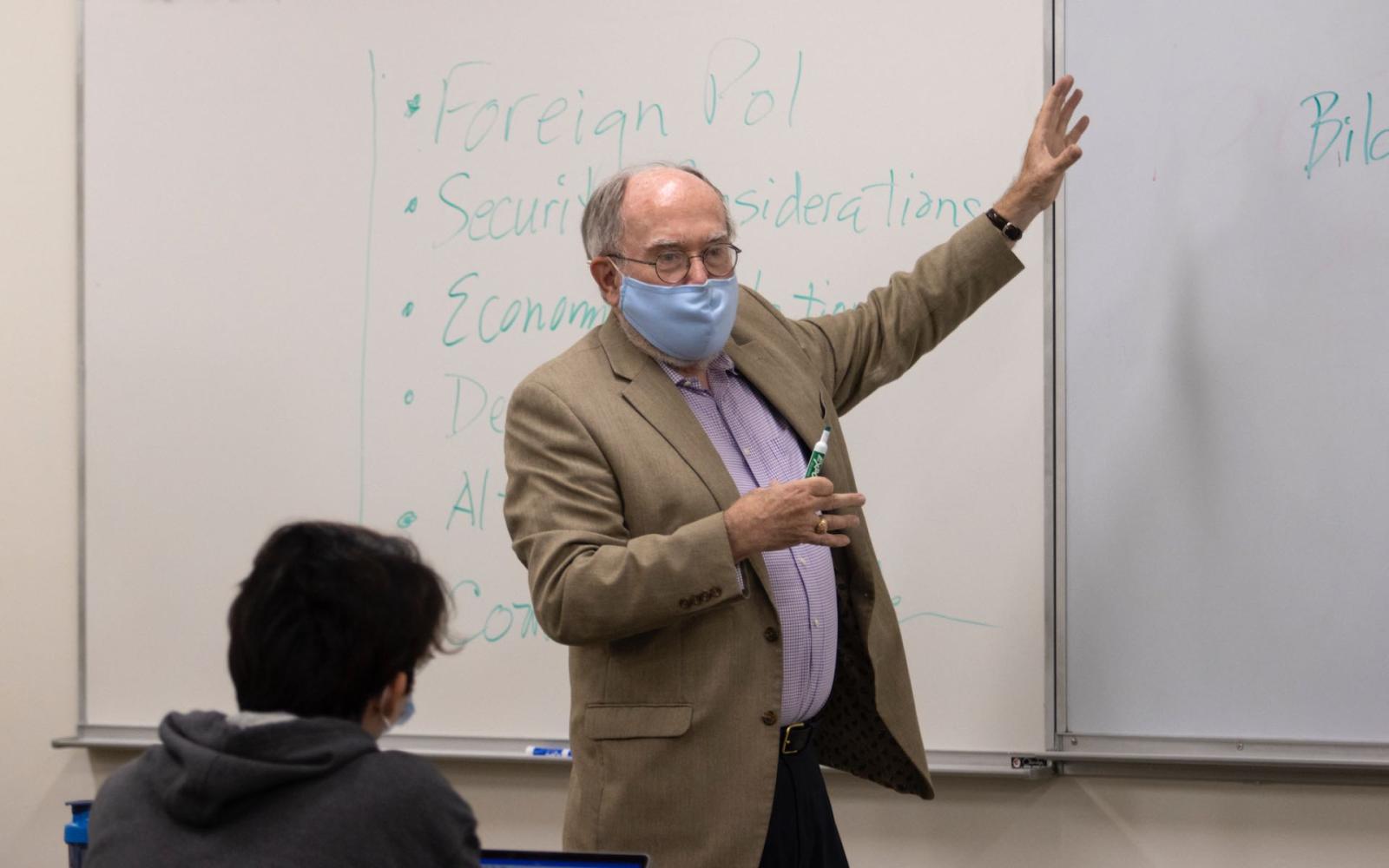 "They are going to be living in a world that's going to be increasingly international," Donnelly said. "They may think, oh, I'm going to work for a company like Kimberly-Clark or Caterpillar or something, but those are international companies. They're competing with international companies and their markets are going to be increasingly outside of the U.S."
He encouraged students to seek out international opportunities while in school, from studying foreign languages, to taking educational trips abroad, to attending events hosted by international students on campus.
Donnelly found his path into the U.S. Foreign Service while volunteering with the Peace Corps in Tunisia shortly after graduating from Lawrence in 1968. He took his first assignment during the administration of Richard Nixon and would work through seven presidents, retiring as George W. Bush was leaving office.
He said he leaned into his Lawrence education each step of the way as he climbed the ranks as a government servant, working in Senegal for two and a half years, Ethiopia for two years, Egypt for two years, Mali for two years, Tunisia for three years, and Sri Lanka for three years.
He quickly learned to navigate the world of government service when elections shuffle the players.
"Ninety percent of American foreign policy doesn't change," Donnelly said. "We're doing visas for people coming, we're out there trying to promote American companies, we're looking for support at the UN for democracy. That doesn't change. But you do see changes when a new administration comes in."
Some administrations he worked through were more idealistic in their foreign policies, he said. Others were more pragmatic. As an employee of the government, you aren't always going to agree with policies, but you have a job to do, he said.
"I quickly realized that I was not elected to make these policies," Donnelly said. "We have a process. Government employees are basically paid to implement them. So, I say to young people all the time, if you are going to go work for the government—internationally or domestic—you need to know enough about yourself to know if you're comfortable being a government servant."
Donnelly is one of four Lawrence alumni who have been appointed U.S. ambassadors by presidents, joining Walter North '72, U.S. ambassador to Papua New Guinea, the Solomon Islands, and the Republic of Vanuatu from 2012 to 2016; Christopher Murray '75, U.S. ambassador to the Republic of the Congo from 2010 to 2013; and David Mulford '59, U.S. ambassador to India from 2004 to 2009.
"All of the traits that make someone successful in business or academia or journalism or whatever it is, you need all of those to succeed in international work," Donnelly said. "But you also need to be culturally sensitive and be understanding and be intellectually curious about other cultures and free from quick value judgments. You have to be willing to try to understand the complexities of the international world.
"And I do think a good liberal arts college like Lawrence does that. It's a good training ground, I would argue."
Jason Brozek, the Stephen Edward Scarff Professor of International Affairs and associate professor of government, has been coordinating Donnelly's visit to Lawrence, bringing him into courses ranging from International Law, to Intro to Political Science, to Effective Altruism. Donnelly also is meeting with students in the Career Center and talking with faculty.
He was initially due to be the Distinguished Visiting Scarff Professor in Spring 2020, but that was postponed due to the pandemic. In Spring 2021, he and Brozek worked to split the duties of the position to accommodate the times. He spent a week with Brozek's remote-synchronous Intro to International Relations class, and in May he delivered a remote public lecture titled "America's Trade Mess: Who Caused it, and Can Biden Fix it?"
"Thanks to the support of the Scarff family over the last three decades, we've been able to connect students with ambassadors, diplomats, leaders of global nonprofits, and other experts in international affairs," Brozek said.
Scarff visiting professors have included, among others, William Sloane Coffin Jr., civil rights and peace activist; Takakazu Kuriyama, former ambassador of Japan to the United States; George Meyer, former secretary of the Wisconsin Department of Natural Resources; Robert Suettinger '68, Intelligence analyst and China policy expert; Russ Feingold, former U.S. senator from Wisconsin; and Nancy Hendry, international attorney fighting sexual exploitation.
"It's been an incredible opportunity to enrich our academic community and to make the work of international politics tangible and hands-on for multiple decades of Lawrentians," Brozek said.