It's almost unfathomable to think what Kenya Earl nearly missed. The Lawrence University women's basketball star has earned numerous accolades, set multiple records, and will go down as one of the greatest players in Lawrence basketball history.
Earl's latest achievement was breaking the career scoring record in Lawrence's 66-48 win over Grinnell College on Jan. 15. She now stands at 1,489 points, two better than Claire Getzoff, a 2006 graduate and Lawrence Hall of Famer.
The alternate reality for Earl was college life without basketball at her hometown school, the University of Iowa, and that was going to be the choice. A big assist goes to former Lawrence coach Ashley Wellman for getting Earl to Appleton.
"I wasn't sure if I wanted to keep playing, but luckily (Wellman) kept reaching out," Earl said.
Wellman said Earl believed she might not be good enough to play college basketball. Wellman, with a knowing smile, assured Earl she could definitely play the game at the next level, and she made the drive from Iowa City to visit. After that, it was basically a done deal.
"I just wanted to get here and play, play basketball," Earl said. "Everyone was so nice. The team was so nice."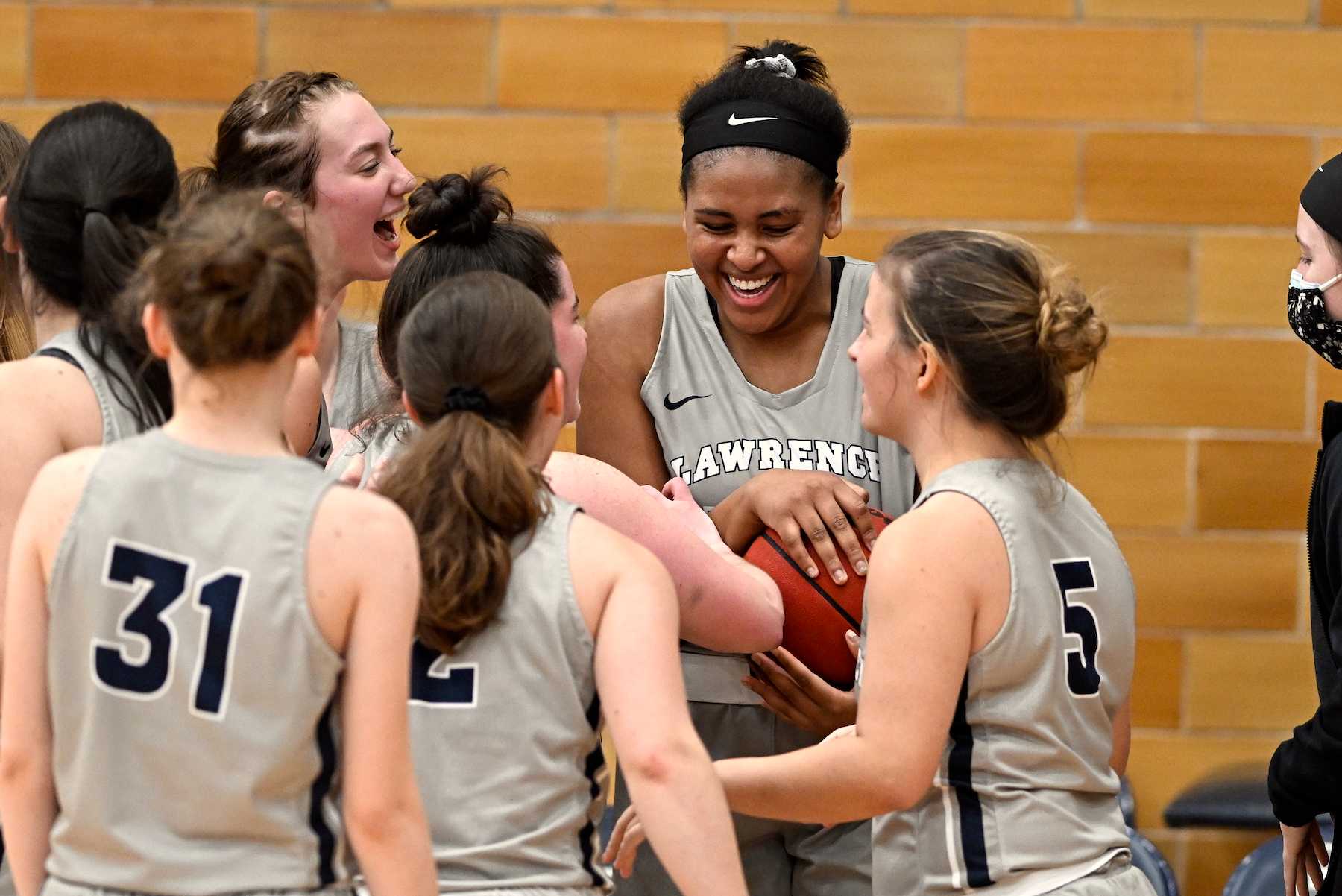 Earl became an instant sensation for the Vikings. She posted a double-double with 23 points and 12 rebounds in her first collegiate game and has piled up 22 more double-doubles in the ensuing seasons. Earl finished her rookie season at 17.3 points and 7.6 rebounds per game and was an All-Midwest Conference selection.
"I was lucky to start and that gave me a lot of confidence," Earl said of her rookie season in 2017-18. "I wasn't expecting a whole lot in the beginning. I gained more confidence from my team."
Head coach Riley Woldt took over the program in 2018, and he knew Earl was a fine player but the appreciation quickly grew.
"Another special thing about Kenya is how versatile she is," Woldt said. "(The coaching staff) quickly realized that if we kept her down (in the post), teams could double- and triple-team her. We needed to open up her role on offense so, one, she could get touches and get more touches, and two, we could have more balance and flow on offense."
Taking advantage of Earl's outside shooting ability (she has knocked down 92 3-pointers in her career) and her knack for getting to the foul line (she's a career 85 percent free-throw shooter), she averaged 16.8 points and 8.4 rebounds as a sophomore in 2018-19. Earl was a first-team all-conference selection that season.
Student profile: 2 Minutes With … Kenya Earl
After two seasons, Earl was well over halfway to Getzoff's career scoring record of 1,487. Her teammates quickly pointed that out.
"When I hit my junior year, people were saying, 'You could break the all-time record,' and I'm thinking what are you talking about," Earl said.
A five-time Midwest Conference Player of the Week, Earl had the best season of her career in 2019-20 as she broke her own season record with 443 points. A first-team all-conference selection again, she averaged 18.5 points and 7.7 rebounds per game.
"Going into my senior year last year, we got canceled due to COVID and that was hard," Earl said. "I wanted to come back just to figure out my academics more and that once-in-a-lifetime chance to break this record."
A biology major, Earl is the only player in the league this year averaging a double-double at 14.9 points and a conference-best 10.4 rebounds per contest. She entered the season just 208 points away from breaking Getzoff's record. 
"I didn't want to put too much pressure on myself and psych myself out," Earl said. "This season I'm just trying to win games for my team and chip away at it."
Earl's low-key demeanor belies the fire that burns inside the player, Woldt said.
"I love what she brings to the table every single day. She's early to practice, goes to her own hoop to get ready for practice. But she's not distant. A total team player. Our humble warrior," Woldt said.
While Earl's offensive exploits draw the attention, she is a good defender and ranks third on Lawrence's career list with 722 rebounds and second with 94 blocks.
"What I've been really impressed with is that Kenya's become a really smart, savvy defender," said Woldt, adding that Earl draws the other team's top post player but also is good on the perimeter and in help defense.
"Her growth that we've seen is that she understands our defense, but she knows how to contest shots, put her body in a place to help."
The Vikings have continued to grow as Earl has matured. Lawrence is 6-8 this season and tied for fourth in the league at 3-3. The top four teams make the MWC Tournament, and the Vikings are eyeing one of those spots. 
"We've been talking all season about what our goal is, and our goal is to reach the top four," said Earl, who has 10 regular-season games left. 
The other individual goal for Earl could be one last record. She stands just 77 points away from breaking Lawrence's all-time scoring record of 1,565 held by three-time All-American Chris Braier.
"I hear a lot about Chris Braier, and I've met him a couple of times. To be put in the same category as him is mind-blowing," Earl said. 
"The team goal is the most important right now. It would be really nice to make (the tournament) and going out with a bang this last year."
Earl is in the twilight of her career, and that brings a harsh reality for Woldt — getting ready for life after Kenya Earl.
"You can't replace a Kenya Earl. It takes multiple players to replace all the things she does," said Woldt. "The Kenya Earls, the Clarie Getzoffs, the Felice Porratas only come around once in a great while."