Crisis has struck. It's the beginning of May, and there are only three meetings left before LUaroo—and the Saturday night headliner just dropped out. The Band Booking Committee (BBC), though, is ready to adapt. They watch video after video of live performances in search of potential replacements. They reach out to even more artists, determined to find someone just as good as (or even better than) the artist they lost.
Band found. Crisis averted. Welcome to life in the BBC.
We're now less than a week out from LUaroo, one of the biggest Lawrence events of the year. On Saturday and Sunday of Memorial Day Weekend, the campus community will gather on Main Hall Green for a two-day student-run music festival, featuring both student bands and off-campus artists. For the BBC, the student organization responsible for planning LUaroo, this is the culmination of a process that began months ago. The payoff is hopefully a smoothly run, well-received festival.
What is the Band Booking Committee?
Per their mission statement, BBC is "a small group of students with a passion for music and the community music brings." Most of their time is dedicated to planning LUaroo, a process that starts early in Fall Term.
And, really, planning LUaroo is simple. They just have to follow the steps in their 50-page Google Doc on "how to do everything."
With so many moving pieces involved in planning the festival, it's all-hands-on-deck. About 15 committee members gather each week for a planning meeting, where they are divided into smaller teams, each focused on a different aspect of the festival: artistic design, student safety, diversity and inclusion, on-campus bands, groundwork, tech, and social media.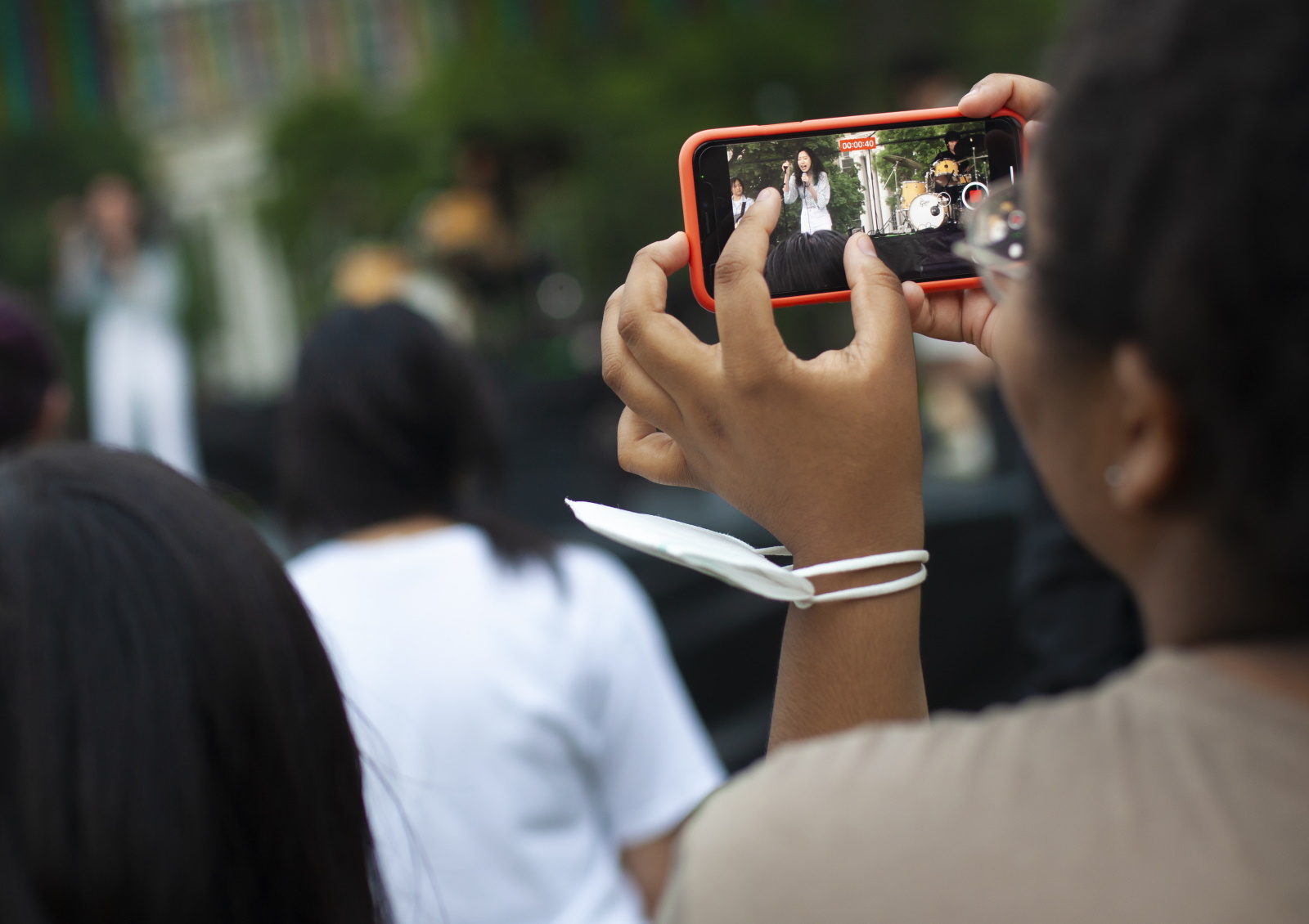 This year's committee is led by two co-chairs, senior Avery Riel from Atlanta and junior Tashi Litch from Orcas Island, Washington, who spend about 15 hours a week taking on the more logistical roles and keeping everything on track.
Although BBC separates into their respective roles, the committee is collaborative at heart—both with each other and with the rest of the Lawrence community. This year, BBC has been working with Student Alliance Against Sexual Harassment & Assault to promote student safety, the Committee on Diversity Affairs to encourage diversity in their artists and to create a pamphlet on cultural appropriation at music festivals, and the Student Welfare Committee to fund food trucks for LUaroo.
"We have to rely on each other so heavily," Riel said. "With it being such a big team, we want to make sure everything is a democratic decision or vote … It requires a lot of communication from every party to make it work."
The Klezmommies are among the student bands performing at LUaroo: Read about their journey
According to Riel, the committee is learning all the time, building skills that they can use to make the festival better and to take with them into their future careers. Committee members have learned how to delegate to a team, negotiate contracts, and coordinate with a variety of different stakeholders to create a large-scale event.
"The reality is a lot of people want a career in music, but there's very few people who can just play music and make that a career," Litch said. "… These types of experiences are something that can really be applied to a lot of different fields, certainly within the music industry but also outside of it. And so just having the chance to have the opportunity to make mistakes but also just learn by doing—that whole experiential learning thing is really valuable."
A frenzied weekend
Ultimately, the months and months of planning culminates in one weekend: LUaroo. Although BBC tries to schedule time for each member to have a break, they're all in for some long days, with Saturday set-up starting as early as 8 a.m. and Sunday clean-up going as late as 2 a.m.
And it's not like they can just lay out in the sun with the rest of the students during the eight hours of performances—they have to be prepared for whatever fires pop up on the day of the event. When an artist is supposed to go on in five and they're nowhere to be seen, BBC members are the ones running around campus to find them. When the golf cart runs out of gas, someone from BBC needs to drive to the station to fill it up. When an artist shows up with 17 extra people and eats all the food in the Green Room, it's BBC that has to make a run to Woodman's to restock for the rest of the artists. (Lesson learned: make sure there's a hospitality clause in the contract.)
"That was definitely the headline 'oops' from last year," Litch said. "There's always those moments."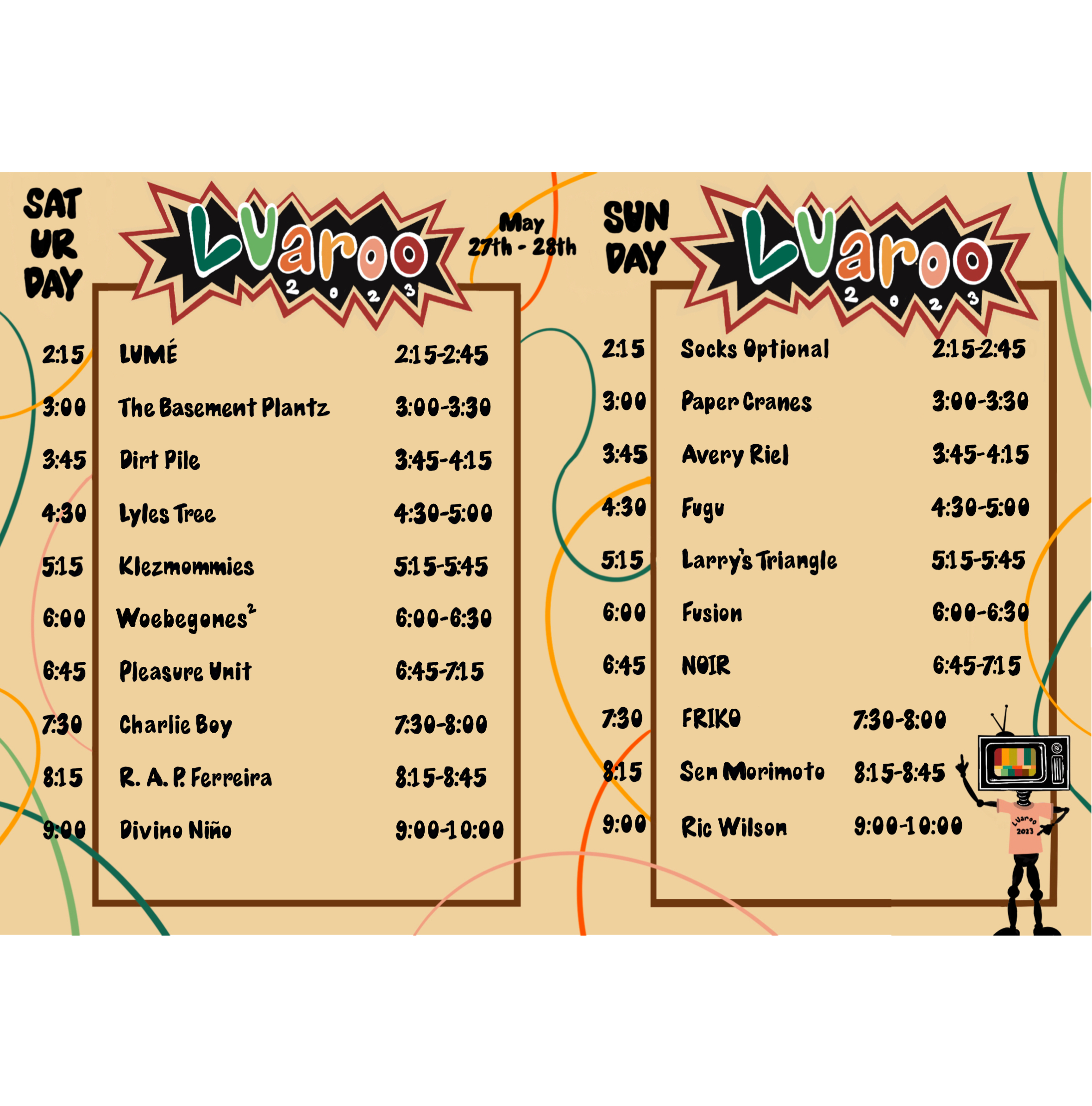 But for the members of BBC, it's all worth it: The energy, the celebration, the community it brings, all specific to Lawrence.
"Playing bluegrass music in a band and having a bunch of college kids mosh to it is just an experience that doesn't happen a lot at other places," said Litch, who plays in the bluegrass band The Woebegones, on the lineup for the third straight year. "It's a really special thing."
And this year will be extra special, with a few surprises for returning students. First, students will see more student bands this year, courtesy of feedback BBC received last year to create more space for the talented musicians on campus. And no one will have to take a break from the festival to run to Andrew Commons for dinner: the Student Welfare Committee is providing free food trucks on Saturday, and Bon Appetit will provide outdoor catering on Sunday.
But at the end of the day, it's still the same old LUaroo—and BBC can't wait for everyone to see it.
"I sit with it for a year and think about it for a year and then create it," Riel said. "It's like a giving back and also a taking of, 'I made this thing and I feel so proud' and 'I get to give this to this community that's given me so much.' It feels really special."