Tickets!
Dance Series events are generally unticketed, however tickets to special ticketed dance events and other events can be purchased online or over the phone at 920-832-6749.
Maree ReMalia + U.F.O.
Wednesday, September 28, 2022, 7:00 p.m.
Esch Studio, Warch Campus Center
Free admission
Maree ReMalia is a director/choreographer, performer, teaching artist, and certified Gaga instructor. An adoptee born in South Korea and raised in Ohio, movement has supported her in an ongoing process of self-discovery, expression, and liberation. In her work as a dance artist she integrates practices from across disciplines and invites others into these unfolding processes with a focus on care and connection. Her collaborative performance projects have been presented at venues such as BAAD! Bronx Academy of Art and Dance, Cleveland Public Theatre, Dance Place, Gibney DoublePlus Festival, Kelly Strayhorn Theater, La MaMa Experimental Theater Club, Mahaney Center for the Arts, Movement Research at the Judson Church, New Hazlett Heater, and Daegu International Dance Festival. She has been a performer in the work of Gabriel Forestieri, Bebe Miller, Michael J. Morris, Blaine Siegel and Jill Stifel, Christopher Williams, Lida Winfield, and Noa Zuk and she was previously a member of MegLouise Dance, MorrisonDance, and STAYCEE PEARL dance project. Since earning her MFA at The Ohio State University, she was selected as the Andrew W. Mellon Interdisciplinary Choreographer for Middlebury College Movement Matters Residency and has had the pleasure of working as faculty and guest artist with institutions and organizations such as Bates Dance Festival, Colorado Conservatory of Dance, Dreams of Hope Queer Youth Arts, Lion's Jaw Performance + Dance Festival, Point Park University, University of Florida, and University of Wisconsin.
---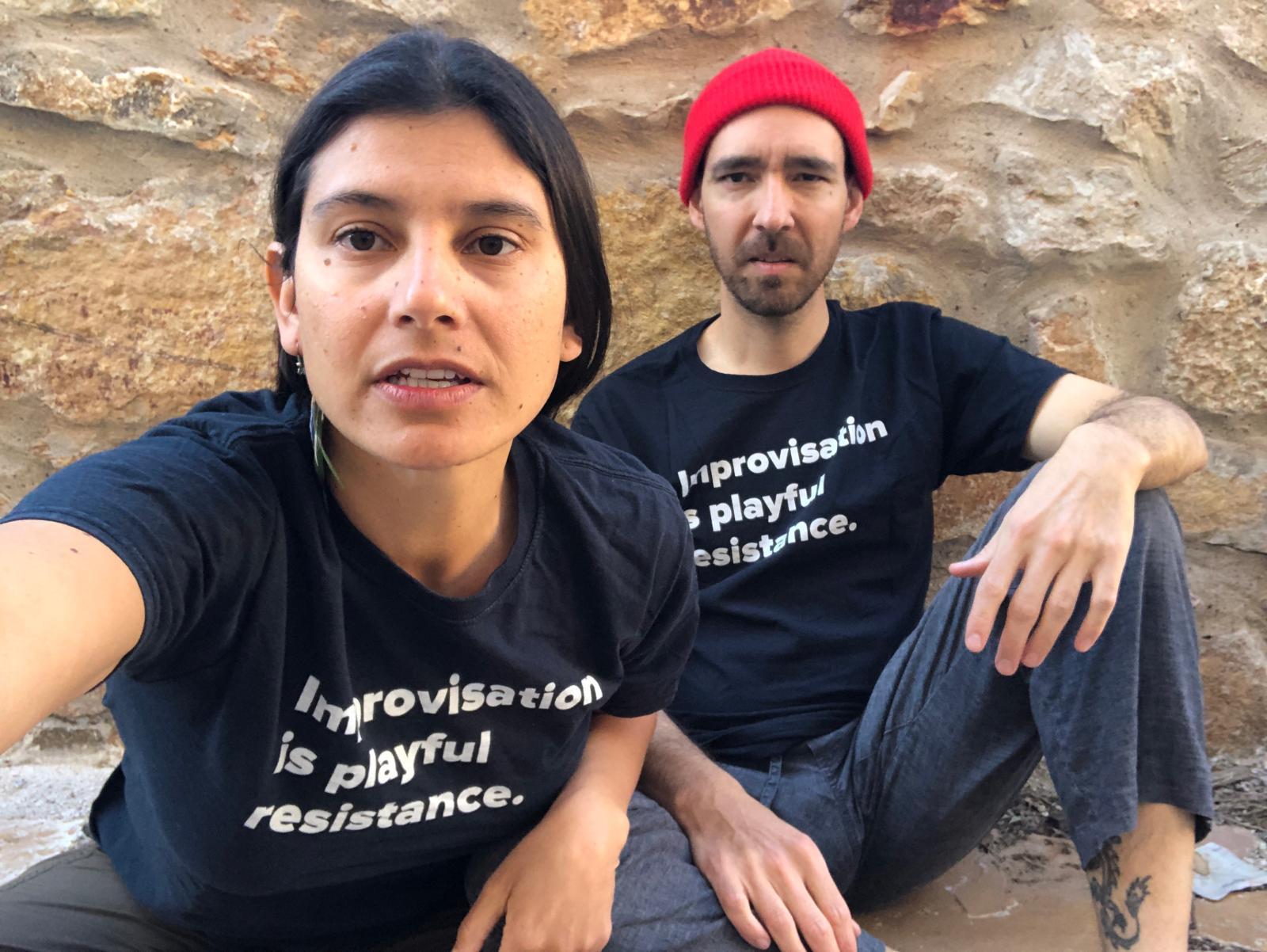 ImprovISA
Sandra Paola López Ramírez (Colombia/U.S.), dancer
Chris Reyman (U.S.), musician
Wednesday, January 11, 2023, 7:00 p.m.
Esch Studio, Warch Campus Center
Free admission
Sandra Paola and Chris began exploring interdisciplinary improvisation as performance practice in 2011 creating in2improv, a research/performance duo that quickly grew into an organization that under its new name, the Institute for Improvisation and Social Action (ImprovISA), has generated a variety of public programs and performances centered at the U.S.-Mexico border in cities of El Paso, TX and Ciudad Juárez, Chihuahua. They have taught and performed as a duo and as part of the Koan ensemble in the United States, Mexico, Colombia, France, Denmark and Germany.
Sandra Paola López Ramírez (MFA-IA, EdM) is an interdisciplinary dancemaker, cultural organizer, improviser and mother. She was born and raised in the luscious Andes mountains in what is currently known as Bogotá, Colombia and her relationship to the Andean landscape, the music and dances from this territory and her mixed heritage deeply influences her artistic work and activism. Sandra Paola now lives in the Chihuahuan desert straddling the U.S.-Mexico border, another beautiful and complex region that has shaped her understanding of the connection between body, ancestral memory and land. In her decades of work, she has developed her practice to radically integrate her creative process and her community organizing efforts creating small and large scale works that activate public spaces, non-traditional and formal performance venues, and natural landscapes. Her commitment to transformation and healing is mostly manifested through the work of the Institute for Improvisation and Social Action (ImprovISA), an organization that she co-founded in 2011. Sandra Paola is currently a Visiting Assistant Professor in interdisciplinary Arts and Community-Engaged Practices at The University of Texas at El Paso.
Chris Reyman (DMA) is a jazz pianist and accordionist with a special interest in interdisciplinary collaboration. Over the past 20 years, he has consistently sought a progressive approach to music making by blurring the boundaries between composed and improvised music, challenging conventional aesthetics and performance practice. He is an Associate Professor of Improvisation and Commercial Composition at the University of Texas at El Paso, where he works with students on creative music practices through performance, composition, and collaborative music making.
---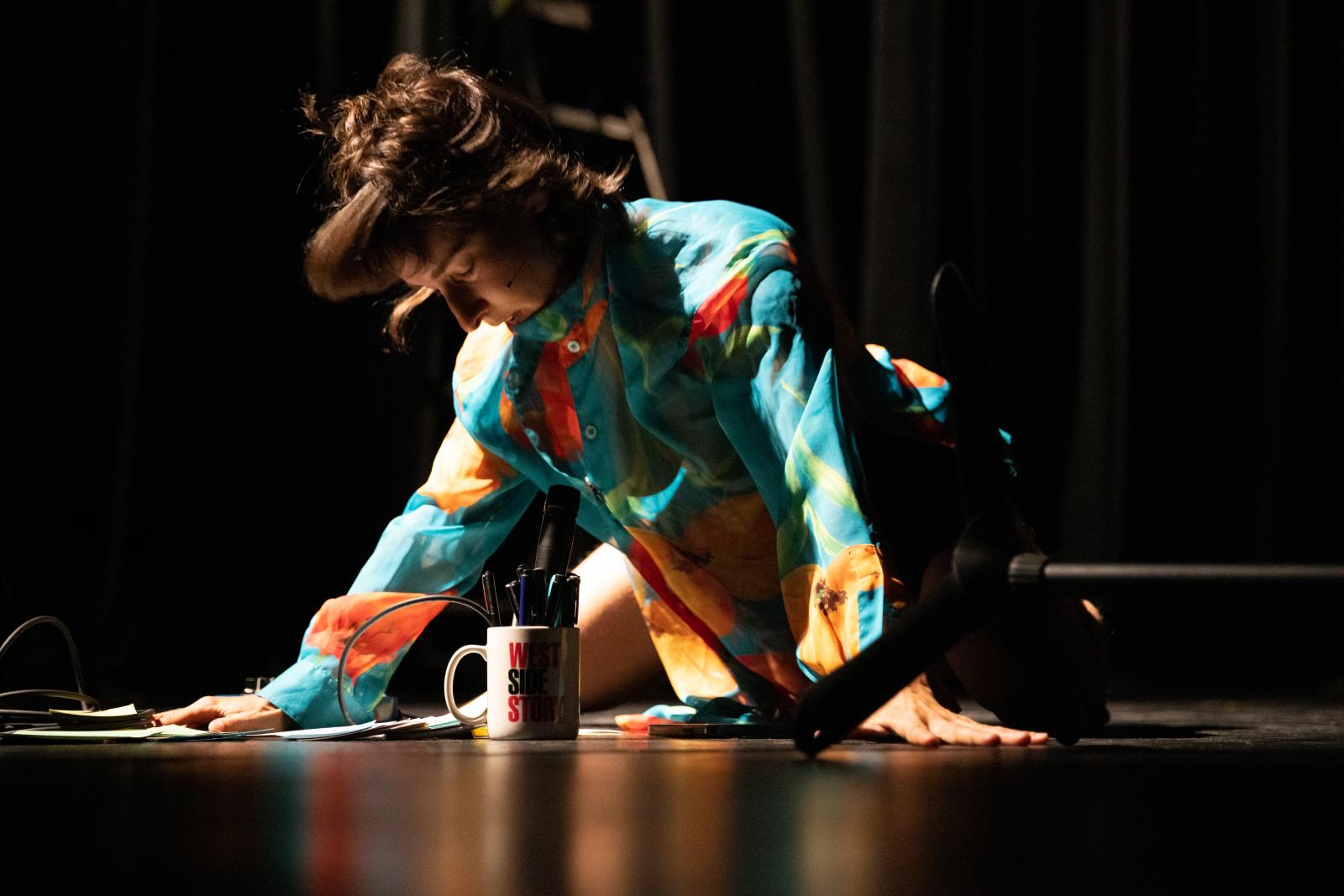 Tatyana Tenenbaum
Thursday, April 6, 2023, 7:00 p.m.
Esch Studio, Warch Campus Center
Free admission
Garment of the Interior is a site responsive work-in-development that builds on a decade of collectively researched voice + movement work.
My practice has emerged over the past decade in response to disconnects in my own body, mind and heart. Well regard each body as its own expert, making room for doubt and interrogation along the way. With the breath at the center of physical practice we will work both alone and with touch from a partner to investigate how vibration moves through our muscles, fascia, bones and ligaments. How can this sensation orchestrate our bodies for a richer experience? We will harness this physical sounding within relational scores and practice being together. The research I share has been influenced by the work and practices of Jonathan Hart Makwaia, Nancy Stark Smith, Daria Faïn, Jennifer Monson, Urban Bush Women, Emily Johnson, Hadar Ahuvia and many others. No experience with the voice is required.
Tatyana Tenebaum (NYC/Lenapehoking) employs breath, voice, fascia and musculature to excavate spaces of memory, power and transformation. Her Jewish ancestors wove their voices into the tuneful stories of the Broadway stage. Her work emerges from this lineage and has been supported by The Chocolate Factory Theater, Danspace Project, Movement Research, Temple University, Brooklyn Arts Council, SCDT and New Jewish Culture Fellowship, among others. She has performed with Yoshiko Chuma & the School of Hard Knocks, Daria Faïn, Jennifer Monson, Levi Gonzalez, Emily Johnson/CATALYST, Hadar Ahuvia, Andy Luo & lily bo shapiro, Juliana May, DOING AND UNDOING COLLECTIVE.
---
From an unconventional water opera to dance workshops hosted by renowned artists, past Dance Series performances explore contemporary and classic work.