Tickets!
Dance Series events are generally unticketed, however tickets to special ticketed dance events and other events can be purchased online or over the phone at 920-832-6749.
Resident Artists
Collaborative Talk
Saturday, October 16, 2021, 4 P.M.
Zoom - registration required
RESIDENT ARTISTS are dancers, makers, mothers, performers, teachers, and friends who build community and creative collaboration. With experience in varied areas, including post-modern dance, Mohiniyatttam, Horton Technique, Ensemble Thinking, dance theatre, film, and in companies such as Bill T. Jones, Ailey II, and their own  companies, these five artists come together to practice valuing movement, joy, and each other. Resident Artists are Dahlia Nayar, Lanette Costas-Stampley, Margaret Sunghe Paek, Roz LeBlanc, and Tami Stronach.
---
Marion

Ramírez
Friday, February 18, 2022, 6:00 P.M.
Esch Studio, Warch Campus Center
Puerto Rican dance improvisation artist Marion Ramírez in her own words:
As a Puerto Rican woman, I am committed to develop my work as a performer, choreographer, and educator through the art of movement improvisation. This practice gives me a vehicle to inhabit the body's sense of agency, to empower self-knowledge, to approach cultural exchange, to resist violence and to engage respectfully with the world. This investigation has deepened through my experiences working in Puerto Rico, Cuba, UK, South Korea, US, and relating to people of different cultures, ages, social environments and diverse artistic inclinations, as well as my experience as a mother in a multicultural family
---
Michelle Ellsworth
Saturday, April 9, 2022, 4:00 P.M. 
Esch Studio, Warch Campus Center
Though not a licensed scientist, technologist, or carpenter, Michelle Ellsworth nevertheless co-mingles these disciplines with dance to create solutions and/or demonstrations of peculiar geopolitical (and personal) phenomena. The pharmaceutical and political potential of dance interests her, as well as the value of broken and labor-intensive ideas. 

Among Ellsworth's honors are a Doris Duke Artist Award (2019), a Guggenheim Fellowship (2016), a Doris Duke Impact Award (2015), a NEFA National Dance Project Grant (2014 and 2017), a Creative Capital Fellowship (2013), and a USA  Artists Knight Fellowship in Dance (2012). She has received three National Performance Network Creation Fund Commissions (2004, 2007, and 2016).

Highlights in her performing career include presenting at On The Boards (2004, 2005, 2012, 2015, 2019), The Fusebox Festival  (2013, 2015, 2019), American Realness (2015, 2018), Bard's Fisher Center (2017), Noorderzon Festival (Netherlands 2016), Made in the U.S.A Festival (Greece 2016), , The Chocolate Factory (2015),  Brown University (2011, 2015), Abandon Normal Devices Festival (Liverpool 2013), Danspace in New York City (2012), Diverseworks in Houston (1996, 1997, 2001, 2005, 2009), and Dance Theatre Workshop in New York City (1992, 1993, 1996, 2007).
Ellsworth is a professor in dance and interim director for the Center for Media Arts and Performance in ATLAS at the University of Colorado Boulder.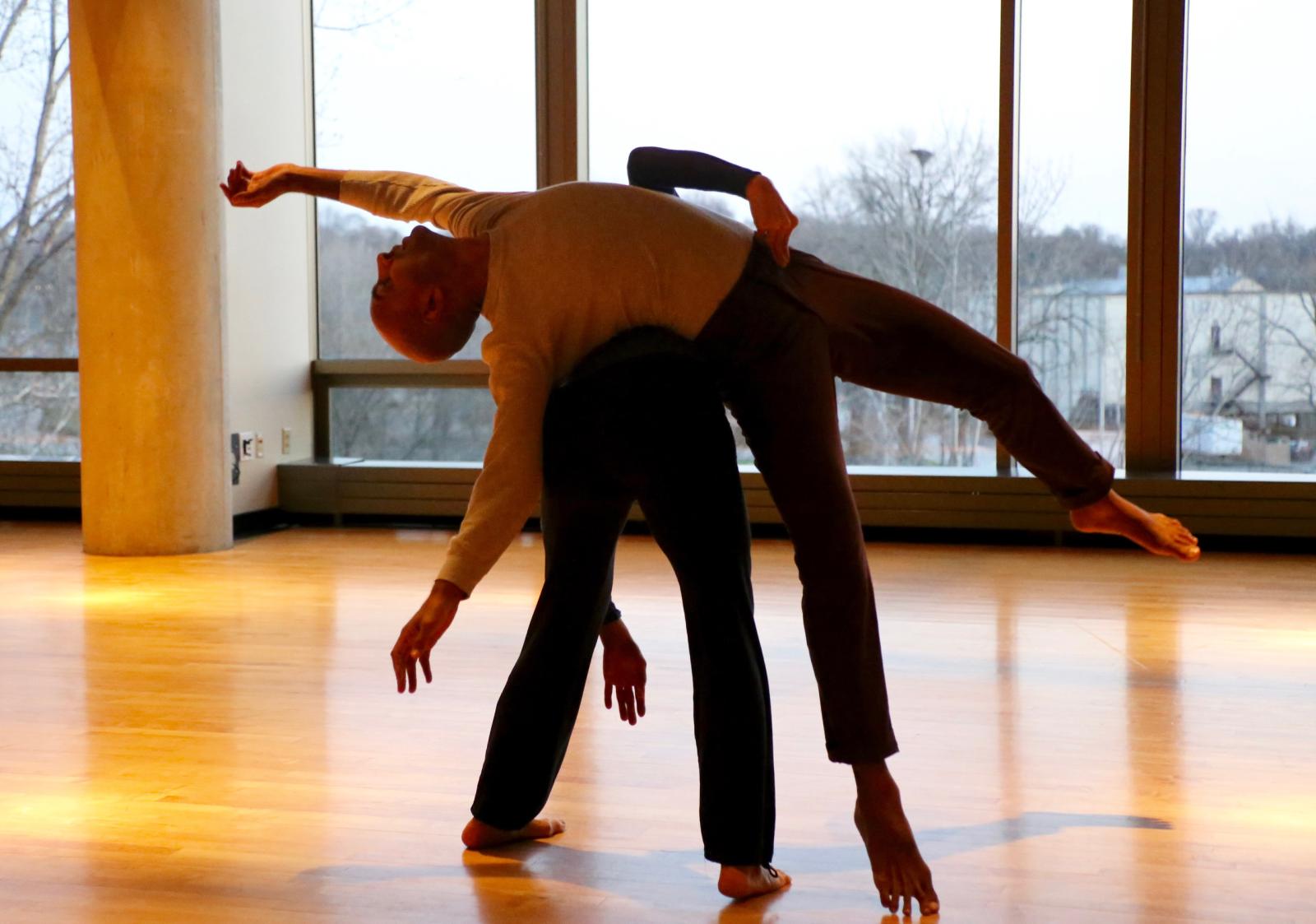 U.F.O. - Uncharted Forms of the Occassion: 
an improvisational performance practice
May 20th, 2022, 7:00 pm
Esch/Hurvis dance studio in Warch Campus Center
free and open to the public
Lawrence's Dance program builds community through the new Dance Series, U.F.O. (Uncharted Forms of the Occassion).  This improvisational performance practice brings together esteemed LU faculty, up-and-coming Lawrence students, and special guest artists to compose music and dance in real-time. Look for a new iteration every term. 
Spring 2022 brings Puerto Rican dance artist and Denison University professor, Marion Ramirez to join Lawrence dance professor, Margaret Sunghe Paek, music professors Matt Turner, Mark Urness, Loren Dempster, Ann Ellsworth, art and dance student Tori Schneider, and other local guests TBA. 
Come experience creativity in action. 
From an unconventional water opera to dance workshops hosted by renowned artists, past Dance Series performances explore contemporary and classic work.