Buy Tickets for the Performing Arts Series!
Tickets can be purchased online or over the phone during the academic year at 920-832-6749.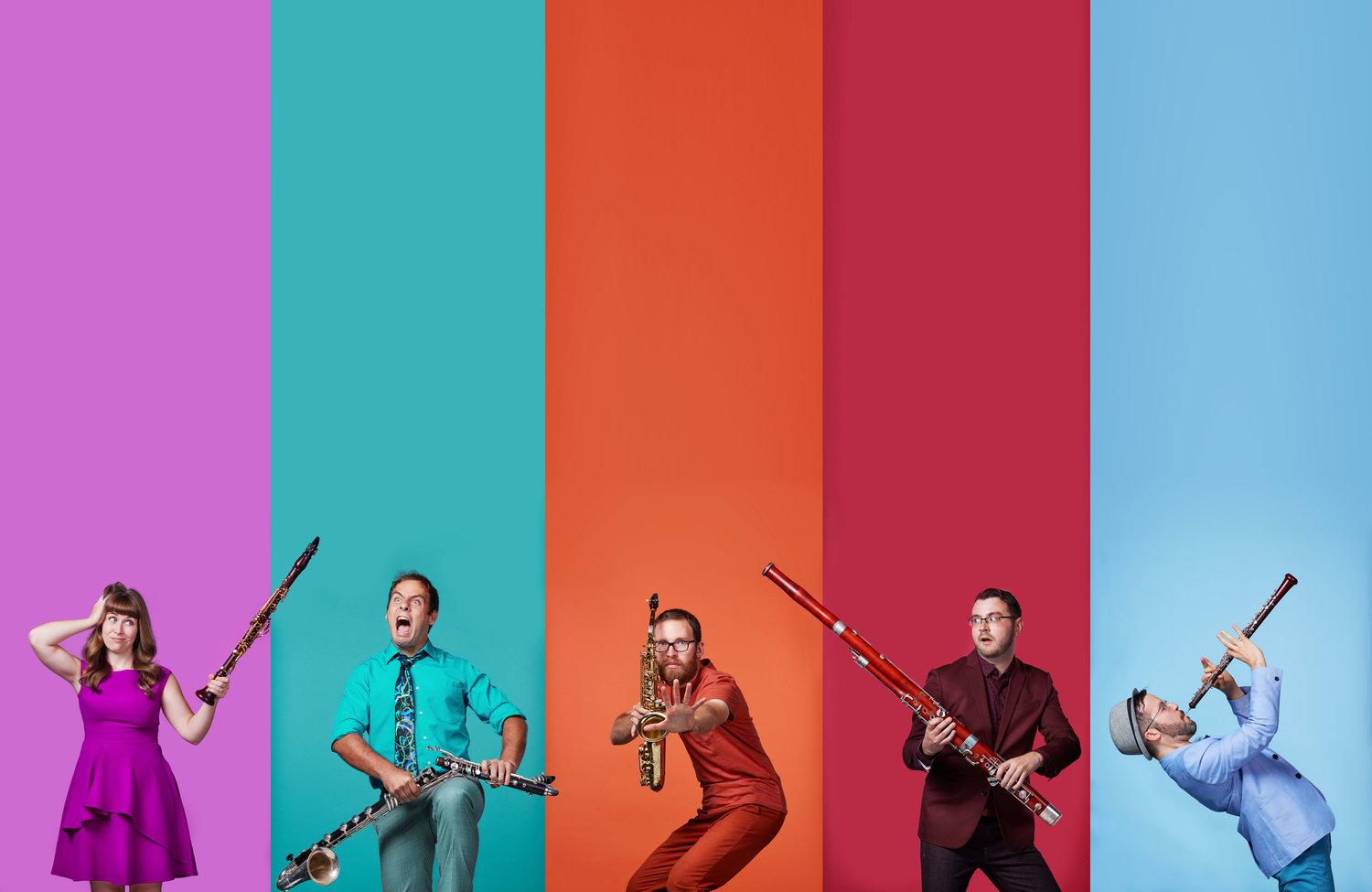 Akropolis Reed Quintet 

Friday, September 30, 2022, 8:00 p.m.
Celebrating their 13th year making music with a "collective voice driven by real excitement and a sense of adventure" (The Wire), Akropolis has "taken the chamber music world by storm" (Fanfare). As the first reed quintet to grace the Billboard Charts (May 2021), the untamed band of five reed players and entrepreneurs are united by a shared passion: to make music that sparks joy and wonder.

Winner of seven national chamber music prizes including the 2014 Fischoff Gold Medal, Akropolis delivers 120 concerts and educational events each year and has premiered over 130 works. They are the first ensemble of their kind to grace the stage on noteworthy series like Oneppo (Yale University), Chamber Music San Antonio, Phillips Collection (Washington, D.C.), Summerwinds Münster (Germany), Flagler Museum (Palm Beach), and many more.

"There's nothing tentative in [Akropolis'] approach, and that extends to their programming of multifariously challenging and imaginative new works" (The Wire). Currently, Akropolis is collaborating with GRAMMY-nominated pianist/composer Pascal Le Boeuf and drummer Christian Euman on their Are We Dreaming the Same Dream? project, an album and touring program drawing classical and jazz idioms together to reflect on American Identity.
---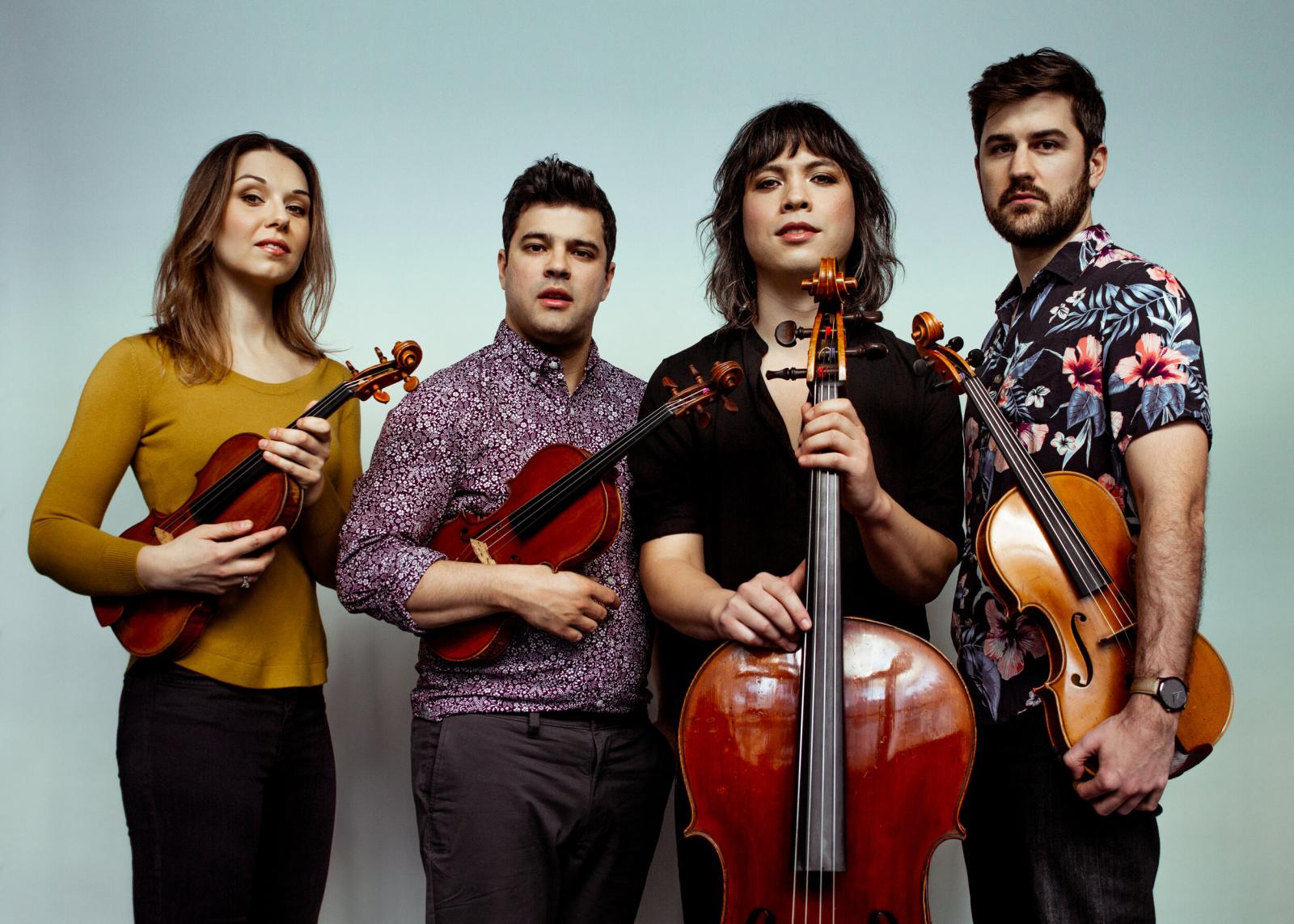 Attacca Quartet
Friday, January 20, 2023, 8:00 p.m.
Grammy award-winning Attacca Quartet, as described by The Nation, "lives in the present aesthetically, without rejecting the virtues of the musical past," and it is this dexterity to glide from the music of the 18th through to the 21st century repertoire that places them as one of the most versatile and outstanding ensembles of the moment—a quartet for modern times.

Touring extensively in the United States, recent highlights include Lincoln Center's White Lights Festival and Miller Theatre, both with Caroline Shaw, Phillips Collection where they have been re-invited this season, Chamber Music Detroit, Red Bank Chamber Music Society, Chamber Music Austin, Isabella Stewart Gardner Museum in Boston, Banff String Quartet Festival and other upcoming engagements at Dumbarton Oaks and Ojai Festival. Attacca Quartet has also served as the Quartet in Residence at the Metropolitan Museum of Art, the Ensemble-in-Residence at the School of Music at Texas State University and Juilliard's Graduate Resident String Quartet, where they premiered the film Plan and Elevation (featuring the music of the same name by Caroline Shaw).
---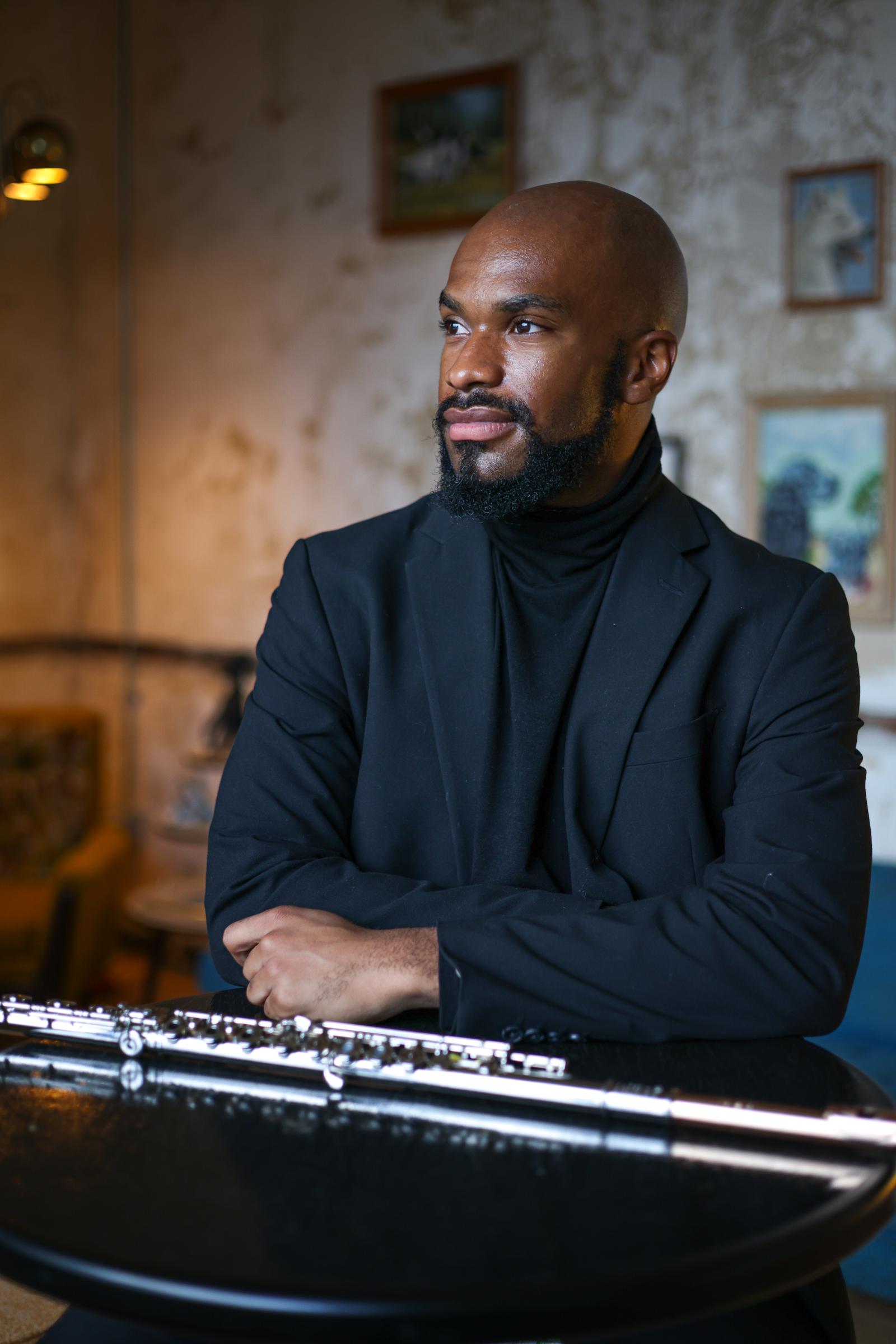 Adam W. Sadberry, flute
Friday, March 3, 2023, 8:00 p.m.
Memphis Symphony Orchestra acting principal flutist and Concert Artists Guild roster member Adam Sadberry is known for his radiant, lyrical playing. He's committed to expanding the Black diaspora in the classical music world through promoting equity, representation, music education, and commissioning music that tells stories of the Black diaspora—in other words, creating musical journalism. Adam is extremely motivated to continue the legacy of his late grandfather L. Alex Wilson, an important journalist and unsung hero of the Civil Rights Movement.
 
As an orchestral player, Adam has performed as principal flute with the St. Louis Symphony Orchestra and Detroit Symphony Orchestra and in the sections of the Minnesota Orchestra, Albany Symphony Orchestra, Omaha Symphony, Sphinx Symphony Orchestra, and the New World Symphony. As a concerto soloist, he has performed with the Clear Lake Symphony, Conroe Symphony Orchestra, Cordancia Chamber Orchestra, and the Detroit Chamber Orchestra, and he has also made guest appearances at Oakland University, University of Memphis, University of South Florida, National Flute Association, and the New York Flute Club to give recitals, masterclasses, and presentations. Adam's presentation Using Your Identity to Create a Relevant Voice in Music lays a foundation for using one's experiences and perspectives as a catalyst for generating change through music.
---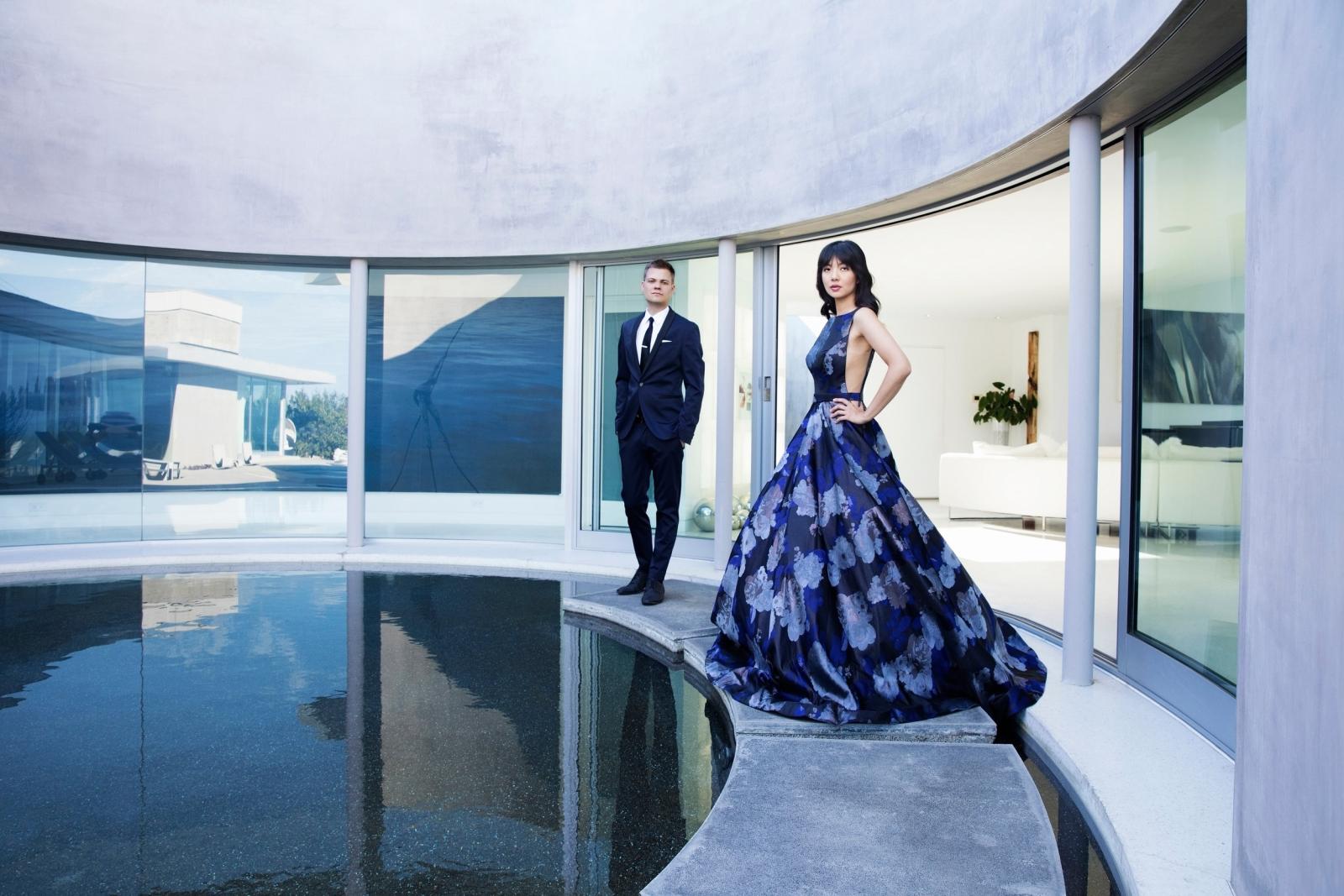 Anderson & Roe Piano Duo 
Friday, April 14, 2023, 8:00 p.m.
Known for their adrenalized performances, original compositions, and notorious music videos, GREG ANDERSON and ELIZABETH JOY ROE are revolutionizing the piano duo experience for the 21st century. Described as "the most dynamic duo of this generation" (San Francisco Classical Voice), "rock stars of the classical music world" (Miami Herald), and "the very model of complete 21st-century musicians" (The Washington Post), the Anderson & Roe Piano Duo aims to make classical music a relevant and powerful force around the world. Their five critically acclaimed albums have spent dozens of weeks at the top of the Billboard Classical Charts, while their Emmy-nominated, self-produced music videos have been viewed by millions on YouTube and at international film festivals. 2022 marks the 20th anniversary of Anderson & Roe's debut. Since forming their dynamic musical partnership as students at The Juilliard School, Anderson & Roe have toured extensively worldwide as recitalists and orchestral soloists; appeared on NPR, MTV, PBS, and the BBC; presented at numerous international leader symposiums; and served as hosts of "From the Top" and the Van Cliburn International Piano Competition. A live performance by Anderson & Roe was handpicked to appear on the Sounds of Juilliard CD celebrating the school's centenary.
---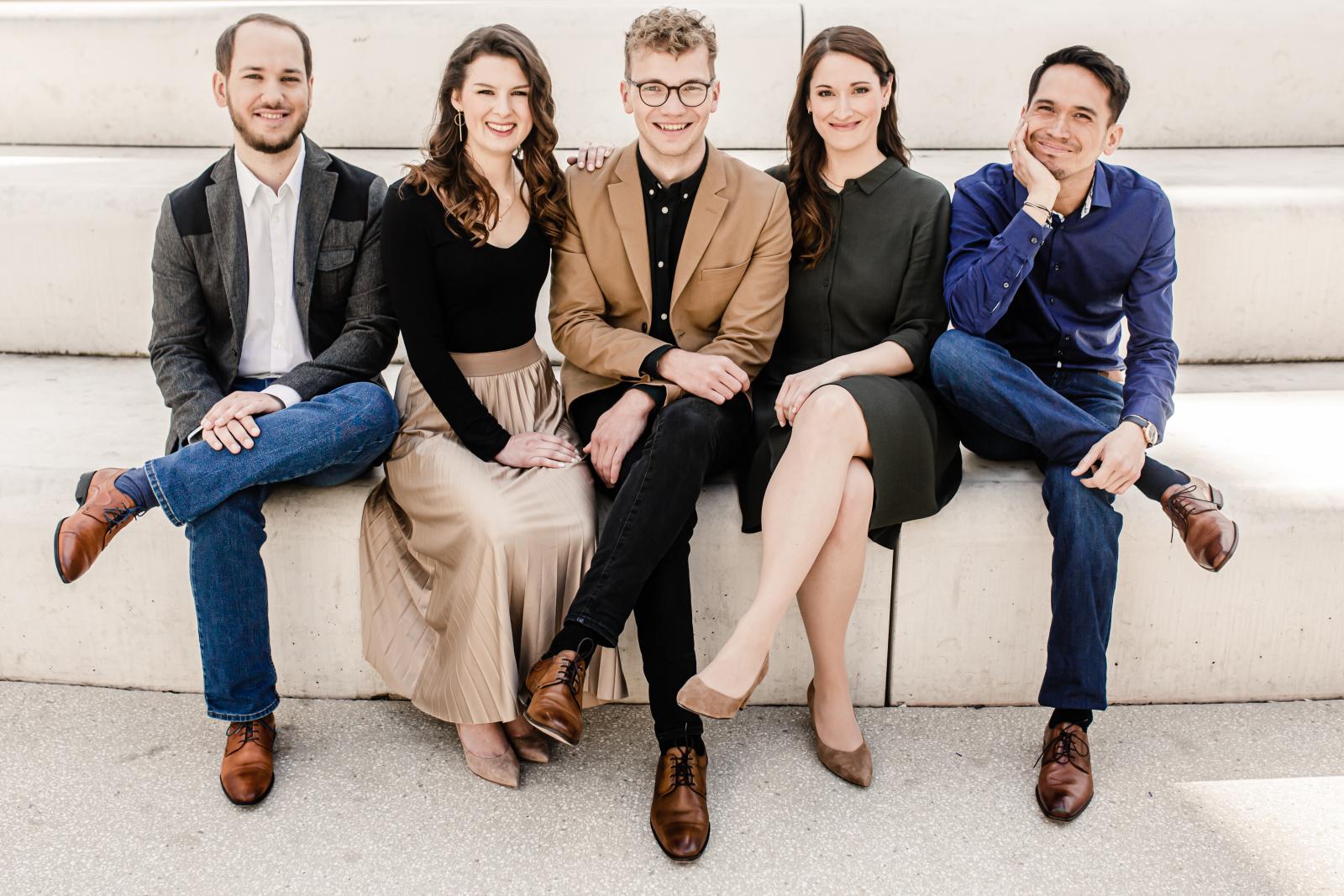 Calmus Ensemble
Saturday, April 22, 2022, 8:00 p.m.
The Calmus Ensemble, founded by former members of the St. Thomas Boys Choir in Leipzig/Germany, celebrated its 20th anniversary in 2019. Raised in the tradition of the music by Bach, Mendelssohn and other great German composers who lived and worked in Leipzig, Calmus is now one of the world's most renowned vocal ensembles. With about 1200 concerts in more than 30 countries these five singers are bringing their passion for vocal music alive. Being at home in all styles of classical vocal music, Calmus loves to go beyond boundaries in their programs which can be heard on more than 20 CDs and in lots of different collaborations with amarcord, the Lautten Compagney Berlin, the Raschèr Saxophone Quartet, the Frankfurt Radio Big Band and others. Part of their work is devoted to encouraging the up-and-coming generation, so teaching, workshops and masterclasses are part of their regular schedule, both at home in Leipzig and on their travels around the world.
---
Kronos Quartet and Audra McDonald are just a few of the amazing Artist Series guests who have shared their music with the Lawrence community.