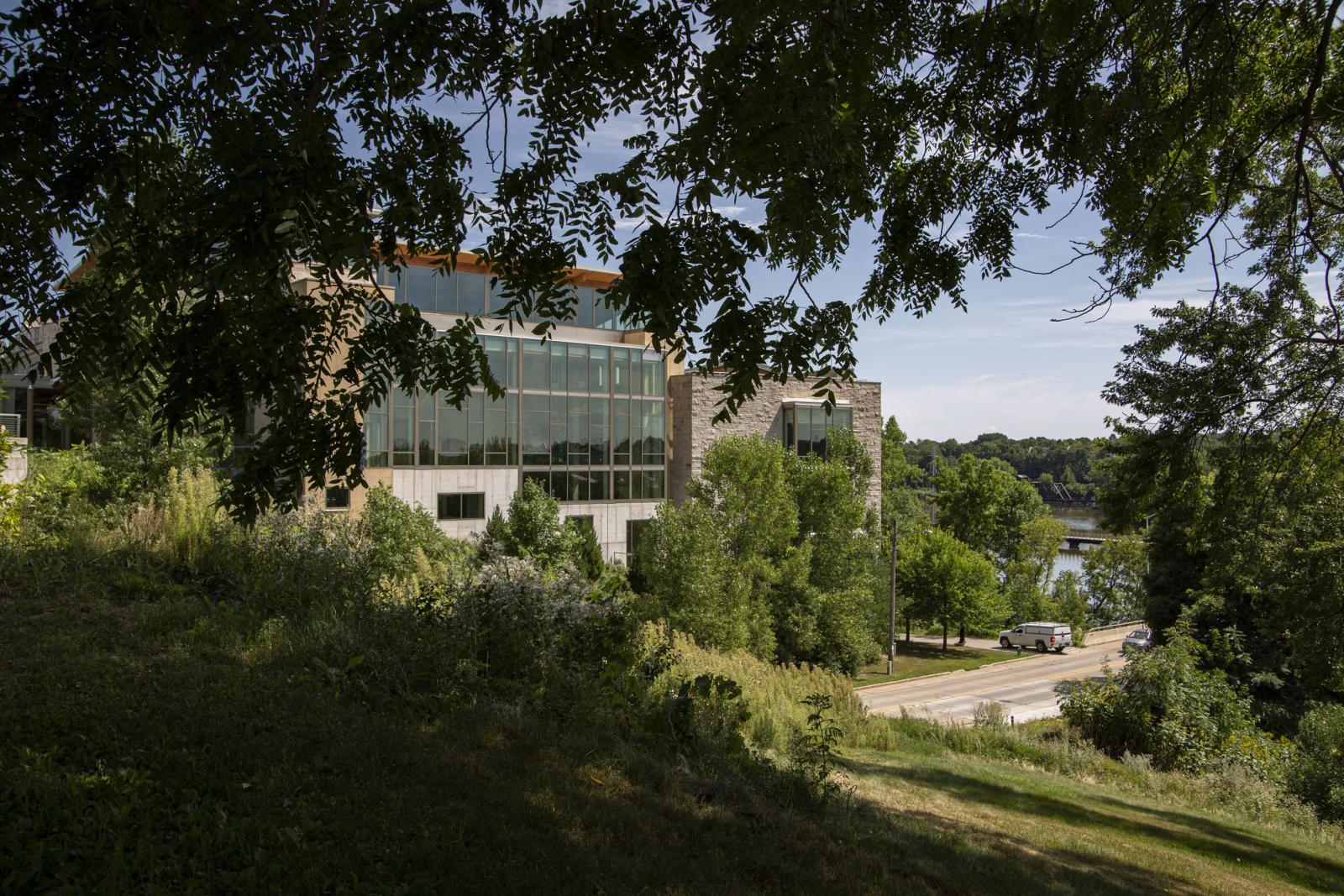 Lawrence standards for construction and renovations include: 

LED lighting 

Motion sensors for lights 

Energy efficient appliances 

Offering donations to local thrift stores 

305 acres of natural area at Björklunden is secure from future development. In 2016, Lawrence entered into a conservation agreement with the Door County Land Trust. Björklunden is a 441-acre estate on Lake Michigan and extension of Lawrence's campus.
---
Composting
SLUG takes in roughly 612 pounds of pre-consumer kitchen waste from Bon Appétit each week to be composted in their garden.

LU Environmental Organization and volunteers manage 50+ compost buckets in all major residence halls and in select academic buildings.
---
Energy
The Net Zero Björklunden project will provide Lawrence with a net-zero carbon emissions educational facility balancing any carbon emissions with equivalent carbon savings on site. Read more about the Net Zero Björklunden project.

A performance contract with Johnson Controls to upgrade Lawrence's lighting, heating, ventilation, and air conditioning equipment will reduce our utility consumption and carbon footprint. Read more about the Johnson Controls Performance Contract.

Solar panels on Hiett Hall and Youngchil Hall generate 30,000 kilowatt-hours of electricity, saving 50,000 pounds of carbon emissions per year.
A 120 foot, 50 kilowatt wind turbine provides 30% of the energy for the lodge at Lawrence's northern campus, Björklunden. It eliminates nearly 75 tons of carbon emissions per year and reduces annual electrical costs by more than $8,400.
---
Food & Dining
Lawrence partners with Bon Appétit Management Company to provide campus dining services. Bon Appétit sources 25% of their ingredients from small, owner-operated farms, ranches and artisan producers within 150 miles of Lawrence.
The Sustainable Lawrence University Garden (SLUG) is a student run organization that sells local, organic food to Bon Appétit to be served in Andrew Commons.
Students started a "Meatless Mondays" campaign and pledge for all Lawrentians. Vegetarian and vegan options have since increased in Andrews Commons!
---
Grounds
University landscape framework prioritizes 12 native and ecologically appropriate plants for WI (examples include mint and peonies).

Minimal and very infrequent use of pesticides on campus.

Conversion to low-mow and no-mow grass in select areas on campus.
Many storm water basins exist on campus, like behind Warch, under Banta Bowl, and the Chapel. 

Ongoing programs for removal and eradication of invasive species.

Lawrence is one of two college campuses to be designated as bee friendly. There is an apiary for honeybees located at SLUG.
---
Student Life
The LUCC Sustainability Committee provides sustainable kits to first-year students. These kits include water bottles, canvas bags, dishclothes, utensils, and guides for living sustainably at Lawrence.

LUCC and student organizations provide educational and meaningful sustainability events to the student body. Past events have included a garbage cleanup, native planting, and an environmental-organization fair.
---
Transportation
Students can ride for free on Valley Transit buses​ using their Lawrence ID.

There is an Electric Vehicle (EV) Charging Station​ located in the Chapel Parking lot. Read more about the EV Charging Station.

A bike repair station next to Warch is available for all bikers to use.

On the day before classes begin and at the end of winter and spring break, students can get a ride to campus from locations like Chicago, Milwaukee, Minneapolis and Wausau for $20 per person. 

Bird Electric Scooters are available for rent through the City of Appleton. 
---
Waste
Reusable clamshells are available to take food to-go from the Warch Campus Center. 

Lawrentians get a drink discount at the Cafe if they bring their own reusable mug.

Trash and recycling compactors​ on campus reduce the space our trash consumes in the landfill and reduce usage of fossil fuels because there are less frequent pickups. 

LU Environmental Organization manages electronics recycling bins for small electronics (like chargers, power cords, etc.) and batteries. You can find their bins in all major residence halls and in the entrance of the library.

Technology Services recycles large electronics (like computers, monitors, etc.) and printer cartridges on campus.​

Plastic bag recycling​ bins are located in the Warch Campus Center entrance, Mudd Library entrance, and Brokaw. All plastic bags are taken to the Habitat for Humanity Restore by volunteers. The plastic bags are then used to make park benches.

Eight hand dryers were installed in the bathrooms of the Warch Campus Center to reduce paper towel waste.

No plastic water bottles are sold in the Warch Campus Center.
---
Water
Trayless dining in the campus center saves on dishwashing 

Lawrence uses native or ecologically appropriate plants in outdoor landscaping that require minimal watering. 

Bathrooms in Ormsby, Colman and Sage include low-flow fixtures 
Each building on campus has its own water meter, which allows for easy usage tracking and detects leaks.