The Welcome Arch, a newly built landmark now serving as a visible entryway to the Lawrence campus, is ready for its official debut.
The arch and patio, transforming the southeast corner of College Avenue and Drew Street, will be celebrated on Tuesday as part of Welcome Week festivities, with members of the Class of 2026 kicking off a new tradition that's expected to be part of the welcoming of first-year students—and the celebrating of graduates at Commencement—every year.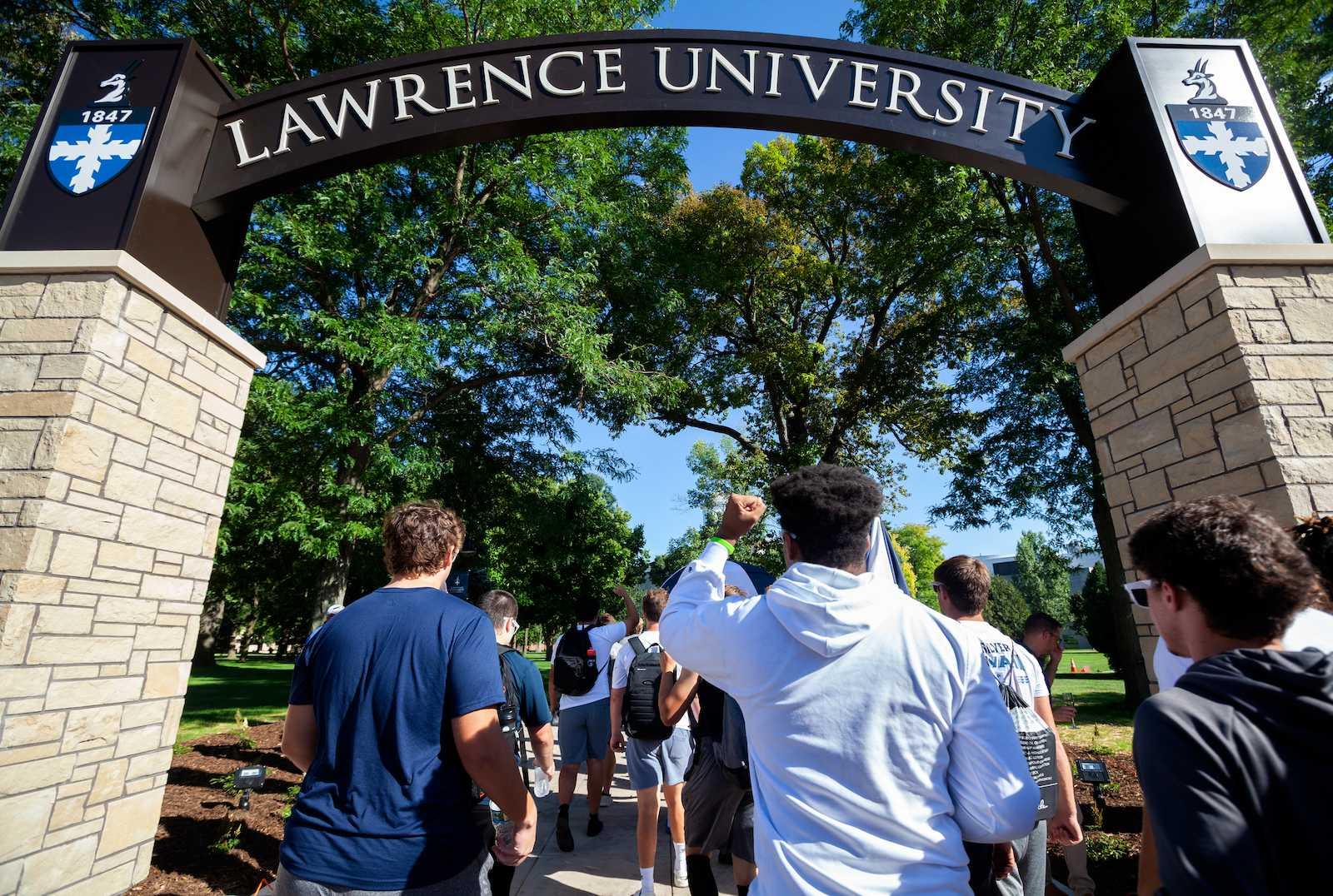 The Lawrence community got a sneak peek on Thursday afternoon, toasting the new landmark as the signage was revealed for the first time.
"As many of you know, this has been talked about for a long, long time," President Laurie Carter told a mix of students, faculty, and staff gathered for the reveal. "Since arriving at Lawrence, I have envisioned a more visible and welcoming entryway to our campus, one that could be incorporated into our traditional welcome to campus for new students and a farewell to our graduates at Commencement."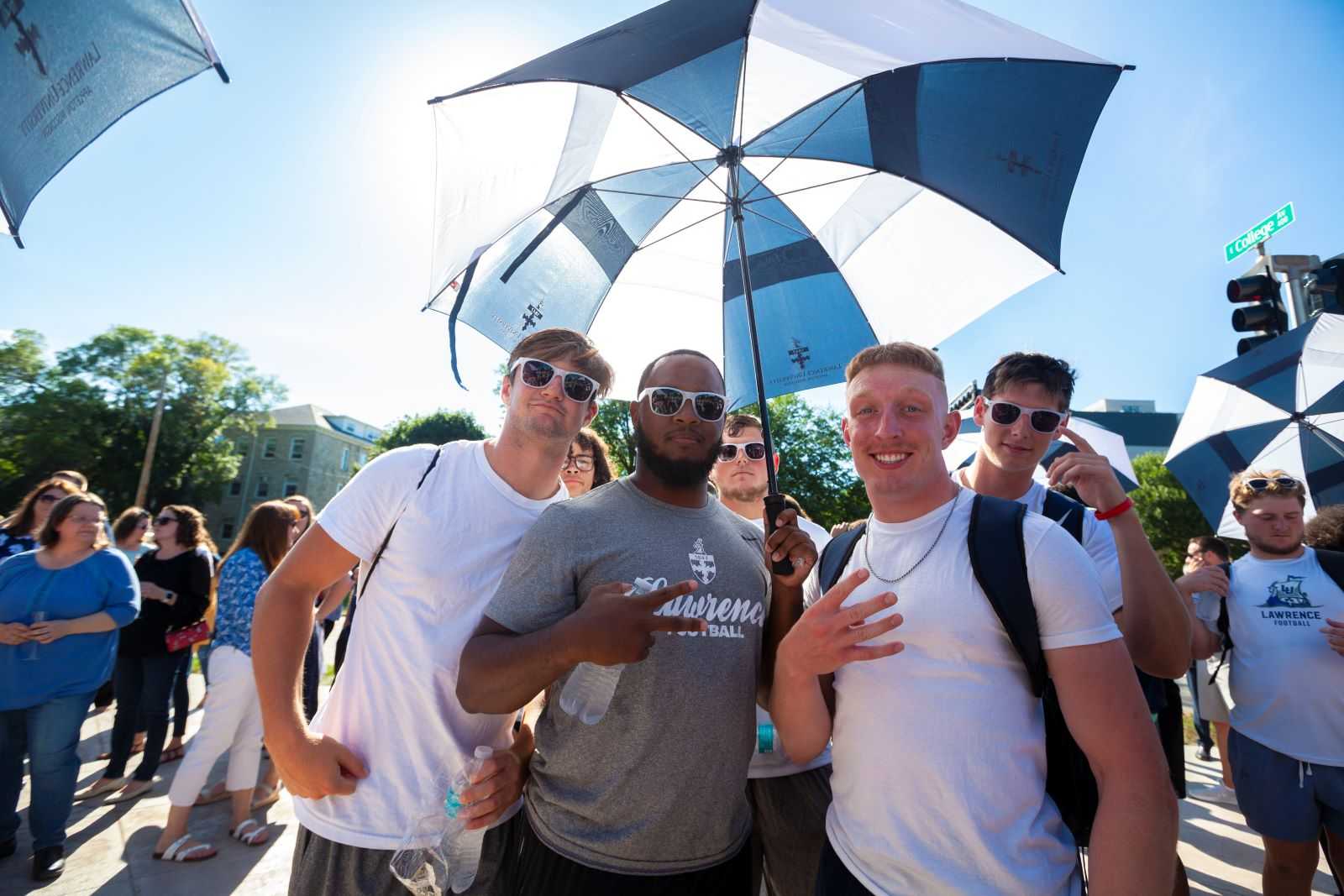 At 4 p.m. Tuesday, there will be an official ribbon cutting, with Appleton Mayor Jake Woodford '13, Appleton Area School District Supt. Greg Hartjes, and Fox Cities Convention and Visitors Bureau Director Pam Seidl among the dignitaries joining the festivities to embrace the deep connections between Lawrence and Appleton. The Welcome Arch provides a visible entryway to campus on the eastern edge of Appleton's downtown, strengthening the connection between Lawrence and the wider community. 
The first-year students will proceed along College Avenue before being greeted by the Lawrence community, family, friends, and invited guests at the Welcome Arch. They'll then process to the front steps of Main Hall for the annual President's Welcome, a scene that's expected to become an annual Welcome Week tradition.
Financial support from Roger Thompson '67 and Lawrence Trustee Susan Long Hall '76 helped "turn this vision into a reality," Carter said at Thursday's reveal.
Hall, meanwhile, said it was after hearing Carter articulate a vision for the arch in May that she and her husband, David Hall, decided to financially support the project. They remembered taking photos with their daughter, Lauren Hall Caponigro '12, by the Lawrence signage near the College-Drew intersection in 2008. And Hall remembers taking photos with her parents in the same location when she was a first-year student 50 years ago.
"In the years to come, we hope many families will take a similar photograph in front of the Welcome Arch," she said.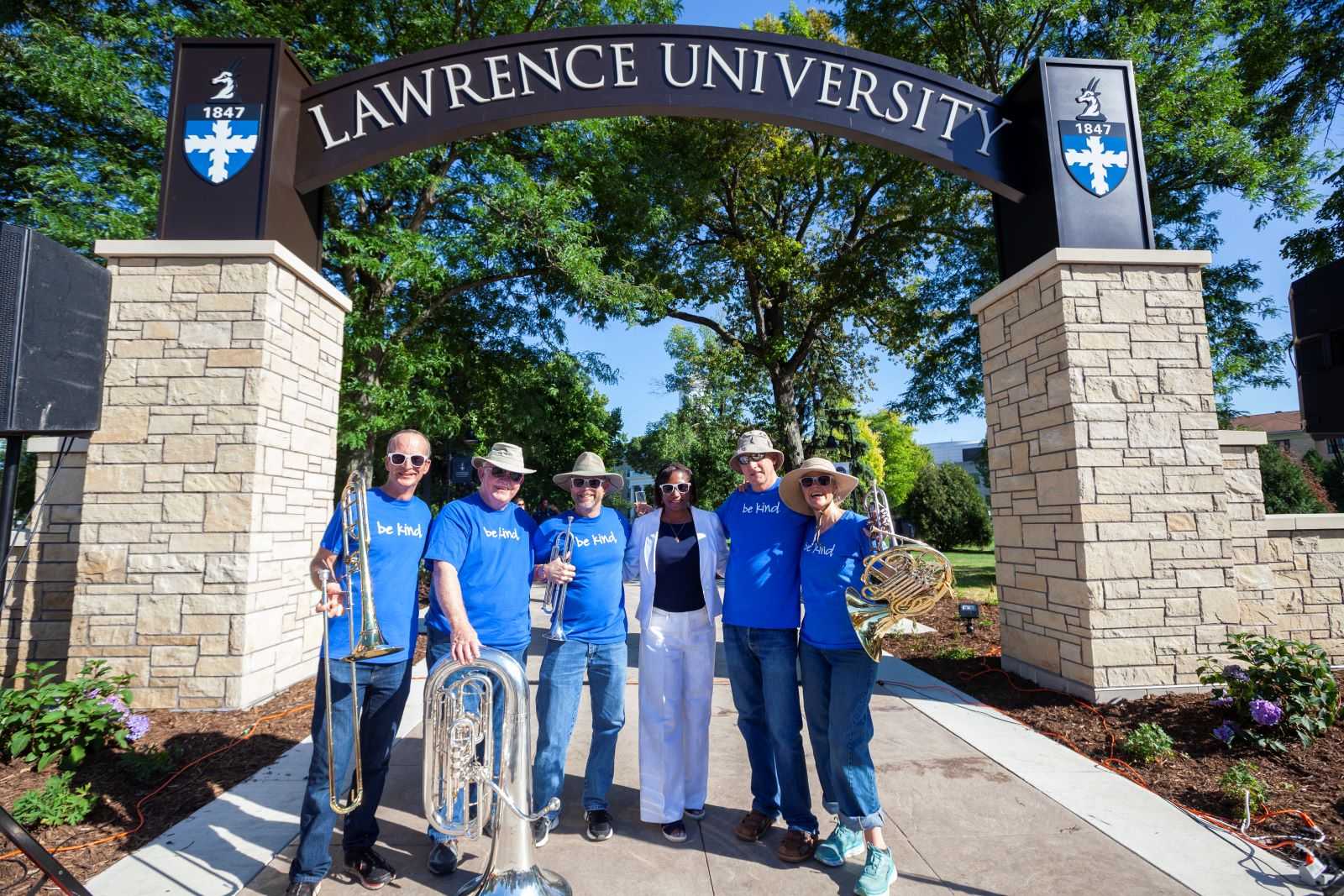 Whether for photos or events or new traditions, the Welcome Arch is now one of Lawrence's most visible landmarks.
"Building the arch during our 175th anniversary year seems appropriate, doesn't it?" Carter said. "It is not only a beautiful entryway to the Lawrence campus, but also a visible connection to the Appleton community. It welcomes newcomers and old friends alike."