Lawrence University voice professor Estelí Gomez is heading back to the Grammy Awards this weekend.
Gomez, a member of the Conservatory of Music faculty since 2019, is featured as a soloist and a member of the chamber ensemble Conspirare on The Singing Guitar, an album nominated in the Best Choral Performance category for the 64th annual Grammy Awards, set for April 3 in Las Vegas.
While Gomez has been part of multiple ensembles that have received Grammy nominations over the years, this will be her second time with an invite to the ceremony. In 2014, she performed at the Grammys with Roomful of Teeth, which won the Grammy for Best Chamber Music/Small Ensemble Performance and was nominated in two other categories for their self-titled debut album.
Gomez also was part of a Grammy winner in 2017 when Yo-Yo Ma's Silk Road Ensemble album, Sing Me Home, won the Grammy for Best World Music Album. Gomez and several of her fellow Roomful of Teeth musicians contributed on the opening track.
Gomez got the invite to Sunday's ceremony because of her work as a soloist on The Singing Guitar. Being able to share the experience with her Conservatory students this time around makes it particularly satisfying, she said.
"It's a chance to celebrate the hard work of musicians all around me," Gomez said. "It's not about winning; it's about acknowledgement of really excellent intentions and effort toward musical excellence, and I think that's what a Conservatory education is about. No one wins their recital; it's not about that, it's about the process. And this is a good opportunity to encourage that."
"This balance provides so much mutual respect and empathy—performing really fuels my teaching, and my teaching fuels my performing."
The Grammys ceremony is a day-long event. While some of the higher profile categories will be featured on the prime time telecast on CBS, much of the ceremony takes place earlier in the day, including the Best Choral Performance category. Viewers can tune in to a livestream on Sunday on grammy.com and on the Recording Academy's YouTube channel.
There will be comfort in gathering with other musicians at the ceremony; last year's event was canceled due to the COVID-19 pandemic. This year's event, originally scheduled for January in Los Angeles, was postponed because of the spread of the omicron variant.
"For musicians whose lives were absolutely grounded and put on pause in a very strange way, it's a huge relief to be with one another again," Gomez said.
The Singing Guitar was recorded in late 2019, just before the pandemic hit. In addition to Gomez and Conspirare, it features three accomplished guitar quartets—Austin Guitar Quartet, Los Angeles Guitar Quartet, and Texas Guitar Quartet. Conspirare commissioned composer Nico Muhly to write one of the pieces that features Gomez as a soloist, How Little You Are.
"It's a beautiful piece, and to have three guitar quartets together is wonderful," Gomez said. "Not unlike a string quartet, they are usually their own entity. But in this case, instead of being self-directed, it was 12 guitarists and 26 vocalists, with step-out soloists, and conductor Craig Hella Johnson."
In his composition, Muhly drew from the 19th century letters of two pioneer women, bringing to the fore descriptions of nature and hardships of prairie life.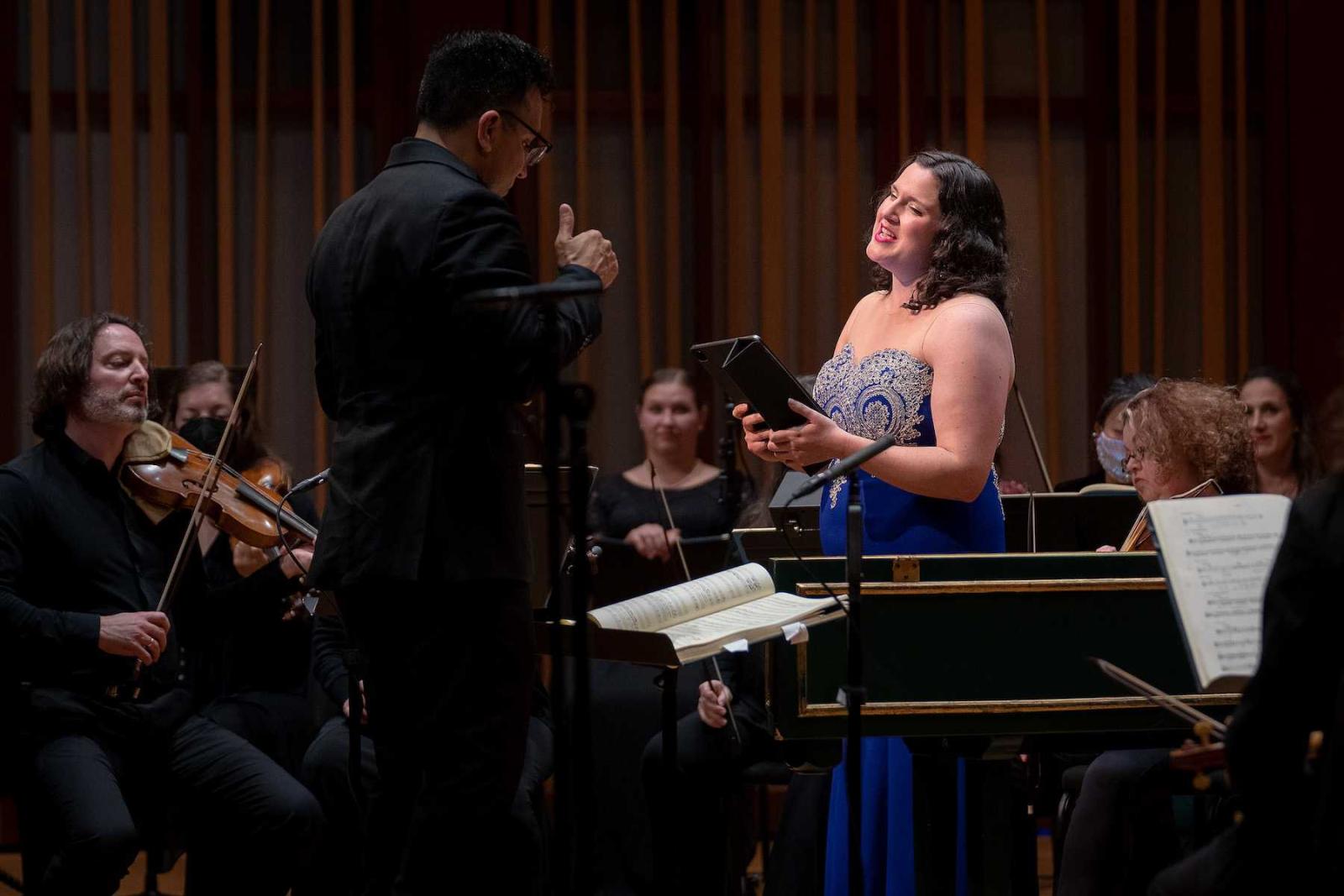 Sunday's trip to the Grammys is just a slice of Gomez's busy schedule these days, with a variety of recent performances featuring different languages and musical genres.
At the end of Winter Term, she and Roomful of Teeth toured the Netherlands and Belgium, performing in six cities in 10 days. During spring break, Gomez joined Bach Collegium San Diego to present a world premiere version of George Frideric Handel's Messiah, translated entirely into Spanish, in San Diego and then Tijuana, Mexico.
A review in The San Diego Union-Tribune raved about Gomez's performance: "Soprano Estelí Gomez's lustrous vibrato enhanced the coloratura bravura of Cantad alegres, Oh hijas de Zión (Rejoice greatly, O daughter of Zion). In contrast to this dazzling timbre, with her final high note in Vendrá Él a cuidar su rebaño" (He shall feed His flock), Gomez floated a soft, clear "paz" to beautiful effect."
In late January, Roomful of Teeth performed Partita for 8 Voices with the New York City Ballet, choreographed by Justin Peck, who also did the choreography for last year's West Side Story film. In between rehearsals, Gomez was teaching students at Lawrence via Zoom from a room inside the historic Lincoln Center.
"It's so fun to be able to bring my students into these environments, almost literally," Gomez said. "I talk to them about what I learned as a performer today, about really engaging with lifelong learning—all these things they work so hard at. I'm not just telling them, do this; I'm trying to do it myself, too. Even professionals still have to put in a lot of work and effort. This balance provides so much mutual respect and empathy—performing really fuels my teaching, and my teaching fuels my performing."
Learn from world-class performers and professors like Estelí Gomez in the Conservatory of Music.