Class dynamics are certainly part of The Marriage of Figaro, the classic opera from the superstar duo of Wolfgang Amadeus Mozart and Lorenzo da Ponte. But Copeland Woodruff, director of Opera Studies at Lawrence University, said he's more fascinated by another element of the story as his Opera Theatre students prepare to open the production on March 5.
"It's complex human relationships," Woodruff said of the storyline that mixes love and betrayal and suspicion in equal doses, all with comedic undertones. "And everyone on stage is making poor choices, often times for selfish reasons to punish someone else.
"I'd really rather tell that story. Certainly, there's class distinction in it, and you can't ignore that, and you shouldn't ignore that, but, for me, there are a lot of other interesting things, human elements that are going on, and they're complicated."
The comic opera was written by Mozart, the composer, and da Ponte, the librettist, in the 1780s, but, Woodruff said, if you want to think about it in more modern times, think Rick Springfield's Jessie's Girl. You know, coveting your best friend's girlfriend.
In short, Figaro, Count Almaviva's longtime friend and personal valet, is set to marry the Countess' maid, Susanna. But the high and mighty Count is plotting to seduce the servant Susanna, on her wedding night no less. The Countess is on to him and teams with Susanna to catch her husband in all his lecherous ways. Confusion and mischief happen along the way.
Emily Richter '20, a music performance (voice) major from London, is in the role of the Countess. She said the cast has been eyeing opening night since first receiving the music in June and then prepping that music through fall term.
"We then spent the two weeks of D-Term peeling away the layers of what we're saying and pushing the boundaries of what is possible with this show," she said. "Since then we've spent 12 hours a week staging and trying to capture the nuance of the show."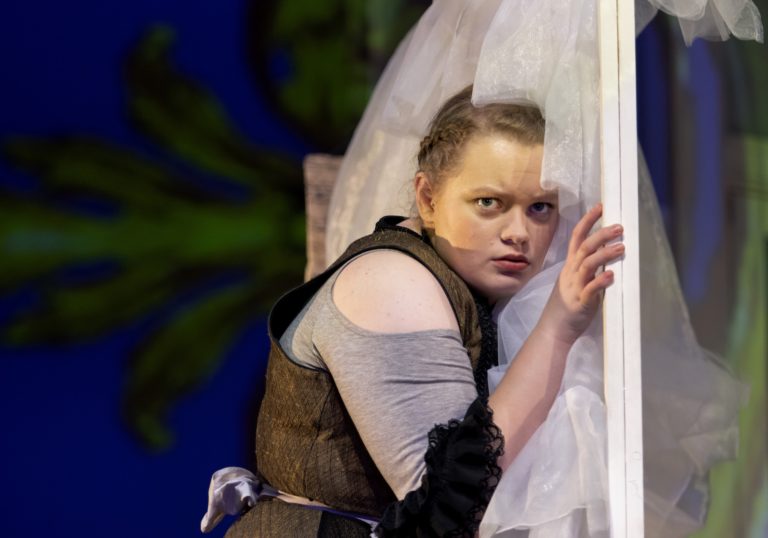 The Marriage of Figaro will be presented over four days in Stansbury Theater — 7:30 p.m. performances on March 5, 6, and 7 and a 3 p.m. matinee on March 8. The show is for mature audiences. Admission is $15 ($10 for seniors, $8 for non-Lawrence students); free for Lawrence students, faculty, and staff.
It features a cast of 11, plus stage and technical crews, two rehearsal pianists, a student pit orchestra, and a 14-member chorus. It's a big show, running three hours in length, and it is double cast, making for an imposing undertaking.
"It's one of the most generous casts I've worked with in a long time," Woodruff said. "They're just generous with each other as far as sharing the stage space and working with one another."
For Richter and other seniors in the cast, this is a final bow at Lawrence. She called her castmates "uplifting" and said the bonds being built will last long after the final curtain.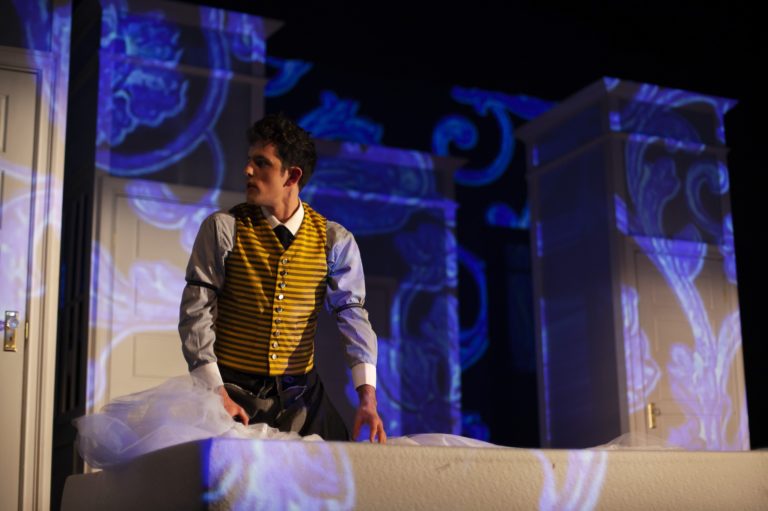 "To get to be in an opera this massive with people I've been singing with now for almost four years is such a special experience," she said. "Never again will we get to be in a show with people we've essentially grown up with for four years. It's a very special thing, and I think that closeness, vulnerability, and trust shows up on stage."
For more on Lawrence's Opera Theatre program, visit here.