When the annual two-day Fred Sturm Jazz Celebration Weekend kicks off at Lawrence University on Friday, it will be, per usual, a celebration of all things jazz.
But this year's 39th annual event will be a celebration beyond that, a nod to the jazz program's rich history in the Conservatory, the wide and deep range of student talent across the Conservatory, and the cherished nature of student-faculty collaborations.
The weekend is focused on jazz education, with students from more than 30 middle and high schools on campus to learn, listen, and practice. But the highlights each year are two public performances in Memorial Chapel. This year features the Lawrence University Studio Orchestra Concert at 7:30 p.m. Friday and the Miguel Zenon Quartet at 7:30 p.m. Saturday. The concerts are sponsored by Wisconsin Public Radio.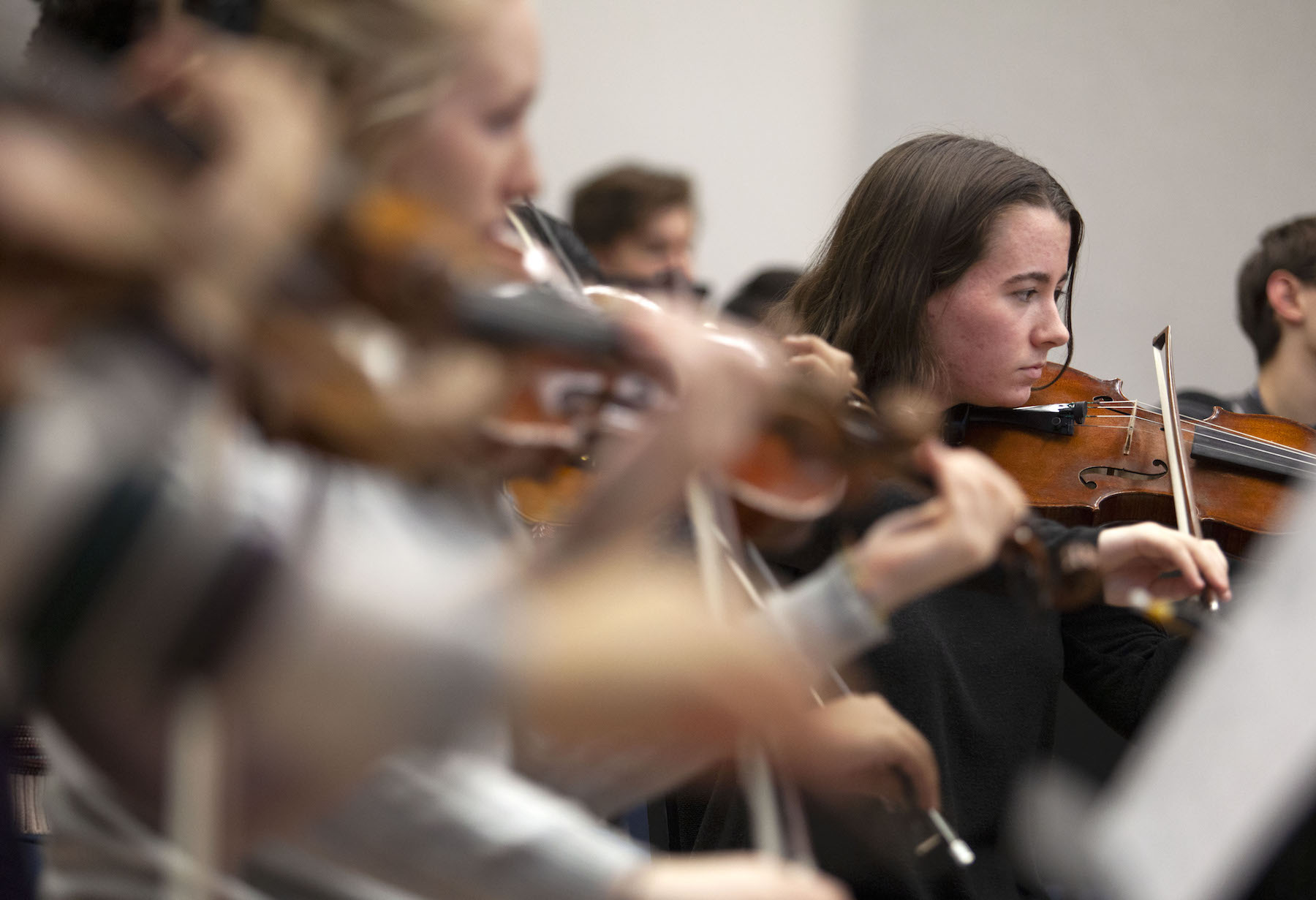 Friday's massive music celebration
The Studio Orchestra is a combination of Lawrence's Jazz Ensemble and Symphony Orchestra, bringing more than 100 musicians to the stage. It also includes contributions from a number of Conservatory faculty members. 
It's a music project that has been talked about for a long time. It's been a decade or more since something like this has been tried.
"The whole idea kind of evolved," said Patty Darling, director of the Lawrence University Jazz Ensemble (LUJE). "We've wanted to combine LUJE and the Lawrence Symphony Orchestra (LSO) for a couple of years now, and when we got together last spring we started out by exploring studio orchestra repertoire."
Darling, Director of Jazz Studies Jose Encarnacion, Director of Orchestral Studies Mark Dupere, and Director of Bands Andrew Mast all bought in. So did the student musicians and other faculty. Difficult logistics aside, enthusiasm across the Conservatory has continued to grow as the weekend has drawn closer. 
"I think both of our groups can learn a great deal from each other even as we work in such different styles," Dupere said. "I've always been drawn to the immediacy of musical expression that jazz performance tends to emit. And in the end, it is just so much fun."
It was also seen as an opportunity to honor Fred Sturm, the late composer and jazz studies director who founded Lawrence's Jazz Celebration Weekend in 1981 and set the stage for an event that would bring in such notable performers as Bobby McFerrin, Dizzy Gillespie, Diana Krall, and Branford Marsalis, among others.
"One piece that we absolutely had to include was Terlingua by Fred Sturm," Darling said of the repertoire for Friday's concert. "It is so beautiful. We wanted to honor Fred, as he was the founder of Jazz Celebration Weekend and also head of the jazz department for many years, a world-renowned jazz composer and educator, and a dear friend, mentor, and inspiration to us and so many people. From there, we kept expanding the collaboration to involve more faculty and students."
Lawrence Conservatory of Music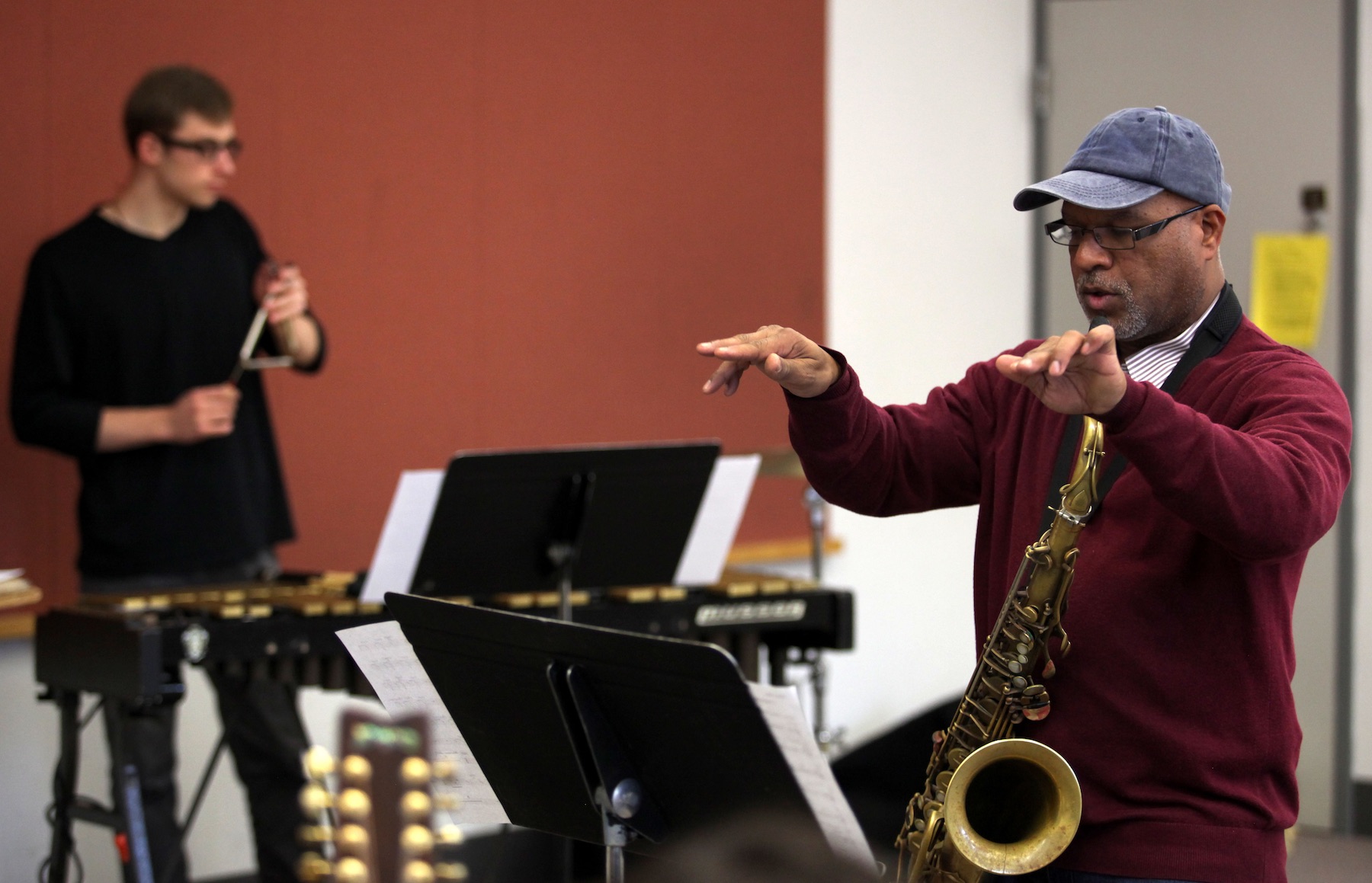 The Friday concert will feature works from Sturm, Chuck Owen, Duke Ellington and others. Besides the LUJE and LSO, there will be contributions from the Faculty Jazz Group. It should be a treat for an audience that will include hundreds of middle and high school musicians.
"Not only will they hear a 108-plus-piece studio orchestra with beautiful colors not often used in big band rep, they will also get to experience incredible jazz improvisation by the Faculty Jazz Group — the communication, the connections, free improvisation, in the moment, things that make jazz so exciting," Darling said.
Getting them all on stage at once might prove to be the biggest challenge. 
"Not only are there so many people to fit, but it is also difficult to seat the musicians in a way that they all can hear well," Dupere said. "In the end, we've placed the rhythm section — bass, drums, guitar, and piano — in the middle of the ensemble so that they form a nucleus that the rest of the studio orchestra can gather around and play off of."
Preparing for the concert has been a logistical juggling act, with smaller group rehearsals interspersed with larger sessions. There have been a lot of moving pieces over the past few weeks.
"The soloists with the rhythm section, the LSO woodwinds with LUJE, our LUJE pianist with Janet Planet and strings — all these components were prepared independently, and now we are in final prep with the combined rehearsals," Darling said.
It all comes together on Friday night.
 Jazz offerings at Lawrence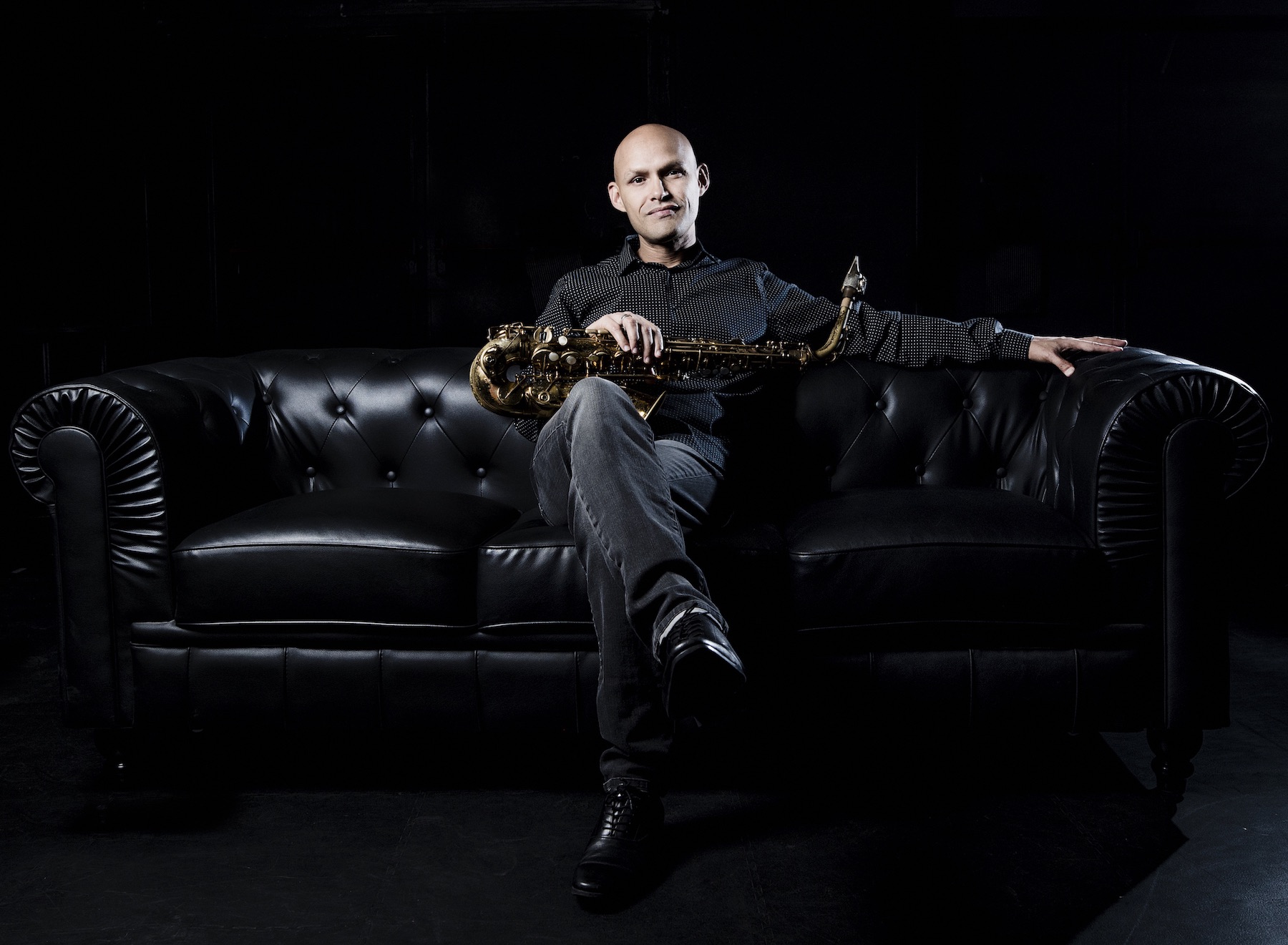 Saturday's concert features a saxophone innovator
Come Saturday, the audience will get to hear and experience what is making Miguel Zenon such a rising star. The saxophonist from San Juan, Puerto Rico, has multiple Grammy nominations and Guggenheim and MacArthur fellowships on his resume already. 
He'll lead the Miguel Zenon Quartet in a concert mixing Latin American folkloric music and jazz.
"His music, artist, and genius," Encarnacion said of what makes the Zenon Quartet special. "They are one unit in complete alignment with the universe."
In advance of the concert, Zenon will be doing an open sound check and Q&A from 5 to 6 p.m. at Memorial Chapel, a chance for Lawrence musicians and visiting students to interact with him.
"It's very important that our students get the opportunity to interact with an artist of this caliber," Encarnacion said. "It is so valuable in so many ways — as a performer, composer, music business person, improviser, entrepreneur, and educator. Miguel can speak to our students and faculty about his experiences and perspectives on all these aspects of being a professional musician."
Encarnacion said he first encountered Zenon in the early 1990s on a visit to Hato Rey, Puerto Rico, to see an old high school saxophone teacher. The teacher wanted to show off one of his talented young musicians.
"He said, 'Come here, I want to introduce you to one of my students. This guy is going to be amazing; his name is Miguel Zenon.' He was right."
Zenon has released 11 albums through the years and has toured or recorded with the likes of Charlie Haden, Fred Hersch, and The Mingus Big Band, among others. 
"I love the way Miguel conceptualizes traditional or folkloric music from Puerto Rico with jazz music," Encarnacion said. "I love all his recordings. They are always fresh, rooted in the tradition but always moving forward with new sounds, rhythmic complexities, and adventurous musical stories."
Admission to the Friday and Saturday concerts at the Chapel will be $25-$30 ($20-$25 for seniors, free for students).