About this series: Lighting the Way With … is a periodic series in which we shine a light on Lawrence University alumni. Today we catch up with Samuel Wrenn '17, a research scientist in Seattle.
---
Samuel Wrenn '17 is doing work that most everyone on the planet has a deep interest in these days.
A research scientist at the Institute of Protein Design (IPD) at the University of Washington in Seattle, Wrenn is part of a team searching for a vaccine for COVID-19, the coronavirus that has put much of the world on lockdown for months.
Dozens of teams of scientists all over the world are racing the clock to find a vaccine. About 10 vaccine possibilities have been green-lighted for human trials and others are nearing that point, according to the World Health Organization. Until a working vaccine is delivered, a full return to normal daily activities is unlikely.
Wrenn, who majored in mathematics at Lawrence, spent eight months in New Zealand following his 2017 graduation, a chance to reconnect with his grandmother's homeland. He then moved to Seattle in 2018 to live with a couple of fellow Lawrentians, and landed the job with IPD shortly thereafter.
His work took a severe turn when the COVID-19 crisis arrived. The virus was declared a global pandemic in March, and with his work to date in nanoparticle research, Wrenn was selected to join the COVID-19 vaccine development team.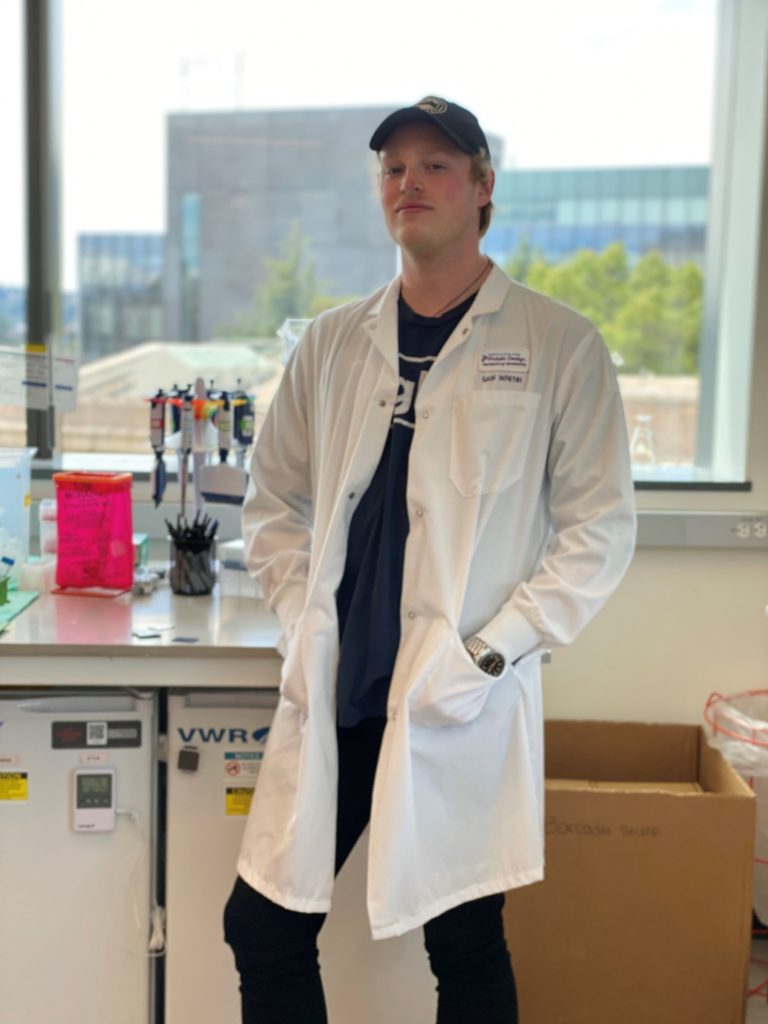 To date, the U.S. has seen more than 2.5 million confirmed COVID-19 cases and more than 126,000 deaths. The death toll worldwide exceeds 500,000. Despite the push on research and testing, a vaccine isn't expected to be available until sometime in 2021, at the earliest.
Wrenn shared with us information and insight about his job and the balance between urgency and patience in the search for a vaccine.
On his role on the IPD vaccine development team:
"We are developing a protein nanoparticle vaccine, and I work with a small team of people on purification process development and biophysical characterization of the vaccine candidates. In layman terms, each protein is different and needs to be purified under different conditions. I work to identify those conditions and then to validate that the proteins are behaving in the predicted manner once they are purified."
On the sense of urgency to find a vaccine:
"My team is highly collaborative and, in my opinion, excels in communication. There is definitely a sense of urgency, but that feeling cannot outweigh the patient, calculated method in which proper science is conducted. We have at least one meeting a day to discuss results from that day's experiments and discuss how those results shape our path forward and inform our next steps.
"I am fortunate that the leadership in my lab and on this project is very well informed, so there is a pretty strong sense of purpose and reasoning for every decision that is made. Having that guidance helps move the project along without feeling like we are flailing. That said, the workload and the amount of work expected from each of us has certainly increased since this project began."
On his work before the pandemic hit:
"The institute employs a core structure of research scientists and engineers to facilitate research and project progression for the labs we are affiliated with. I have been a member of the nanoparticle core since October of 2018. We specialize in projects relating to the lab's nanoparticle platform. Because the vaccine we are developing relies on that platform, which I have been working with in various capacities for the last year and a half, I was selected to be part of the vaccine development team.
"The projects I was most closely affiliated with before this were targeted cancer therapeutic drug delivery, endosomal escape, and a variety of structural projects relating to the architecture of our nanoparticles—their assembly and construction."