About this series: Lighting the Way With … is a periodic series in which we shine a light on Lawrence alumni. Today we catch up with Rana Marks '12, who is part of the much-buzzed about sustainability efforts recently announced at Amazon.
---
Rana Marks '12 is just six months removed from getting her MBA at Duke University and already the Lawrence University alumna is elbow deep in one of the year's most talked about environmental sustainability stories.
When Amazon CEO Jeff Bezos announced in September that the global behemoth was committing to an ambitious pledge to fight climate change and be transparent about its own carbon footprint, he pointed to the launch of a new public-facing Amazon website — sustainability.aboutamazon.com — that would report and track the company's sustainability efforts.
That new website has been the focal point for Marks since being hired in June as a program manager for sustainability at the company's Seattle headquarters. She is part a team of about 200 employees focused on shepherding the company's sustainability efforts.
We talked with the Chicago native — she was an economics major, singer, and tennis player during her time at Lawrence — about the road ahead and how the path that got her to Amazon happily went through Lawrence.
On her role in Amazon's Worldwide Sustainability division
"My job has really been to manage that whole launch of the website, to work across different constituencies in sustainability and tell the story of what they're doing, but also to work with the developers of the website," Marks said. "I'm sort of coordinating all of those pieces. It's a lot of pieces. It's been a busy couple of months."
The Amazon announcement included, among other things, a pledge to be carbon neutral by 2040, to use 100 percent renewable energy in its operations by 2030, and to be operating 100,000 electric vehicles by 2030. Bezos also said Amazon has become the first company to sign the Climate Pledge co-created with Global Optimism and is challenging other companies to sign on.
The website project was in motion long before Marks came on board. But she jumped in shortly after arriving in Seattle and helped bring the launch to fruition.
"It's been a lot work and a lot of hours and a lot of reward," she said.
Considering Amazon employs more than 600,000 people across the globe and touches our daily lives in a myriad of ways, the challenges ahead are huge.
"Now that we've said it out loud and made this public commitment, it does drive a different speed of action internally that has to happen in order to hit those goals," Marks said.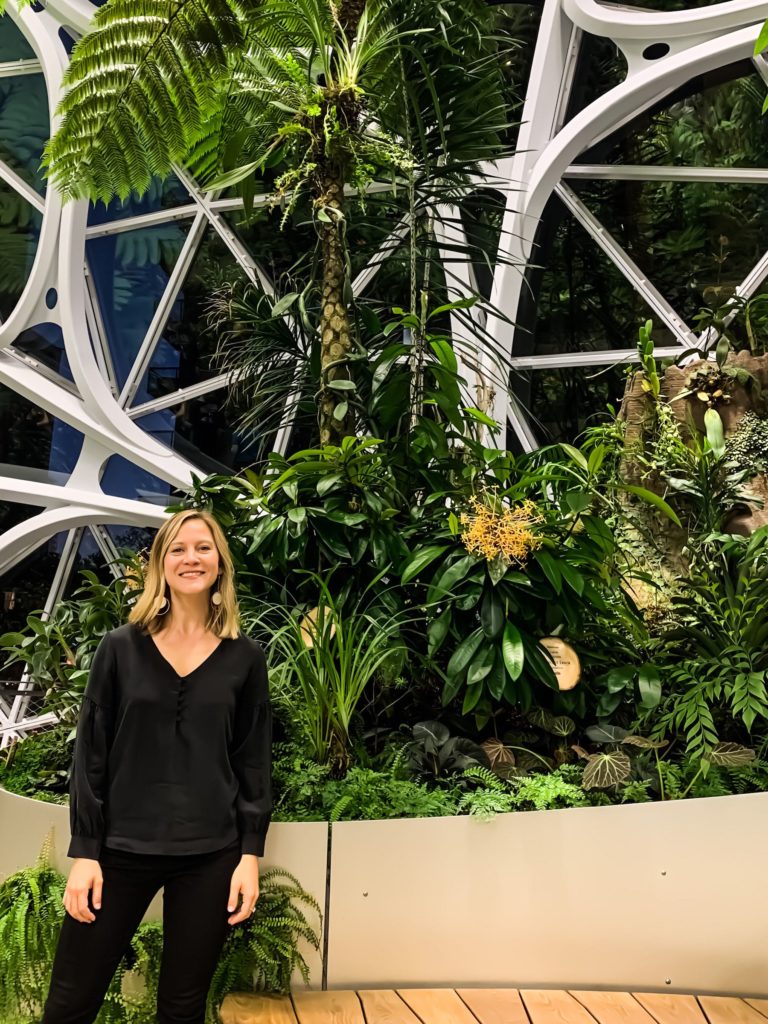 On finding her place in sustainability
Marks worked briefly in sustainability for The Boldt Co. in Appleton and then in Chicago for a nonprofit advocating for the blind and visually impaired before heading to Duke to pursue her MBA. She said the work she's doing now at Amazon meshes beautifully with her interest in both global economics and sustainability, interests that came into focus during her studies at Lawrence.
She came to Lawrence to study economics but already had thoughts of sustainability in her head. It was a trip to China through Lawrence's Sustainable China program, led by Stephen Edward Scarff Professor of International Affairs and Associate Professor of Government Jason Brozek and funded by a grant from the Henry Luce Foundation, that sealed the deal. She knew then that sustainability in some shape or form would be her calling.
"It was an experience that I still look back on really fondly," Marks said of the China trip. "It certainly helped expand the way I thought about sustainability in a global context."
She leaned into classes and professors with a sustainability focus. In addition to Brozek, she pointed to economics professors David Gerard and Merton Finkler as big influences.
"Having exposure to classes in natural resource economics and environmental economics developed my interest in sustainability even further," Marks said.
Learn more about Lawrence's sustainability initiatives here.
On exploring career paths while at Lawrence
She said she drew insight from a Lawrence business program, similar to what is now known as Innovation and Entrepreneurship, that exposed her to various career paths. That led to an internship with a utility company following her sophomore year that was focused on developing an infrastructure for electric cars. She would later study abroad in Argentina, taking classes on sustainability issues in South America that built on her global perspective.
"I look back and it was all of these little pieces over the course of my four years at Lawrence," Marks said. "It was certainly an interest I had before coming to Lawrence, but I think the liberal arts education and the sort of dynamic way we learn at Lawrence was something that really catered to the development of my interest in this area — wanting to have a career in sustainability while also understanding the complexity of what sustainability encompasses.
"I didn't just get a business degree and go into sustainability. It was the interactive learning, the ability to do independent study with professors who were doing things that I thought were interesting, the school giving me the opportunity to study abroad, to take a trip focused on sustainability. It was the collection of all of these experiences."