Horacio Contreras was at a music workshop for high school students in South Carolina recently when a young cello player tapped him on the shoulder to offer a heartfelt thank you.
The student told Contreras he had been desperately searching for a piece of music with Latin American roots that he could incorporate into his cello repertoire. It was a search that in the past had been, if not impossible, surely daunting—not because classical music from Latin America doesn't exist but because it is often unavailable through traditional publishing houses and poorly documented on the Internet.
Enter Contreras, an associate professor of music in the Lawrence Conservatory of Music, and his wife, Natali Herrera-Pacheco. They launched SOLA (Strings of Latin America) three years ago to build catalogs, biographical materials, and pedagogic tools to help facilitate the use of the music and in the process raise the profile of Latin American composers. It picks up on work originally started by Germán Marcano, a Venezuelan cellist, teacher, and conductor.
SOLA, working with student interns from Lawrence and elsewhere, has now released online music catalogs for cello and viola, with others on the way.
The South Carolina teen, Contreras said, was thrilled to find the cello catalog, The Sphinx Catalog of Latin American Cello Works. "He said he wanted to say thanks because, 'it was through your catalog that I found a piece that I really love and I am practicing it right now.'"
Contreras lights up at the mention of that exchange. As word of the catalogs spreads, so does interest in the classical music repertoire written by Latin American composers, whether it's in the musical selections of a kid in South Carolina or in the concerts of a cello ensemble or an orchestra in a major music hall. The catalogs, built in partnership with The Sphinx Organization, are just a slice of what SOLA is looking to develop; music directories and video interviews also are in the works, and it's all centered here in Appleton.
"People have reached out to us asking for presentations in different countries," Contreras said. "We have done things in Peru, in Colombia, in Panama, in Puerto Rico, in Spain. We've been in Chicago. We've done workshops online."
The web site cellobello.org, a leading site for cellists, has thrown its support behind SOLA, sharing the Sphinx Catalog of Latin American Cello Works as one of its resources, calling it a "comprehensive database, the most extensive source of its kind with more than 2,000 entries to date."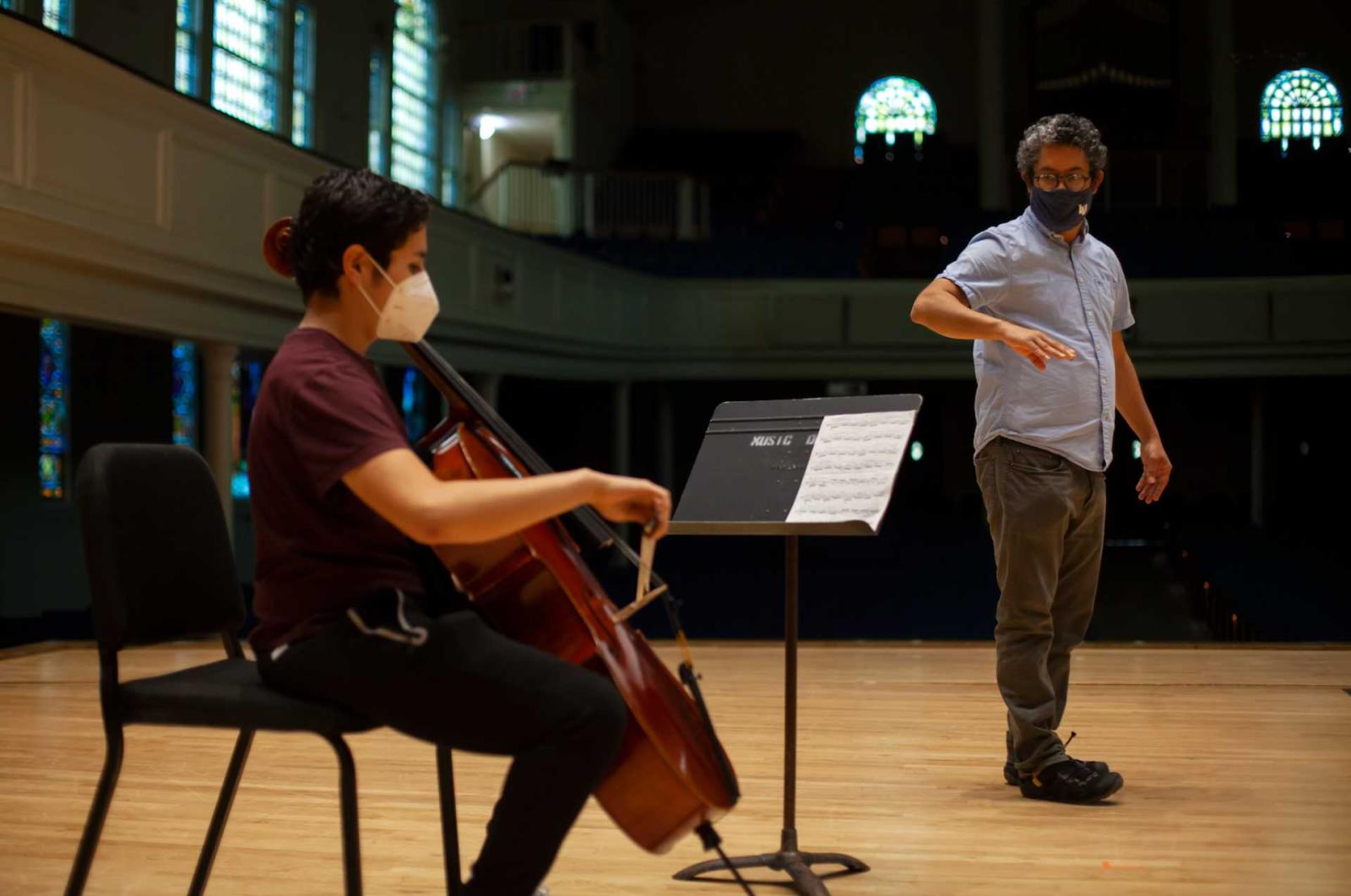 Contreras, SOLA's artistic director, and Herrera-Pacheco, director of research, work closely with Sphinx, a social justice organization that has been addressing the underrepresentation of people of color in classical music for more than two decades. SOLA was launched three years ago as an offshoot that could focus on building materials for strings music from Latin America.
"It gets at the larger issue of privilege," Contreras said of SOLA's mission.
He notes that the world of classical music has traditionally been dominated by European and American composers, and the major publishing houses traditionally support those known composers. Meanwhile, the resources in Latin America are much more limited. When music schools or band leaders or performance spaces seek out music, they most often go to where the information is readily available.
"There's the problem of representation that arises from that," Contreras said. "We know society is more complicated than that, than just European and American and white composers. Society is made up of Hispanic and Black and Asian and South Asian and all these other populations. When they go to a concert, they want to see themselves represented as well."
Interns step up
Herrera-Pacheco heads up the day-to-day efforts of SOLA, overseeing the work of interns from several colleges, including Lawrence, as they research composers—some living, some not—and build profiles for the catalogs.
"In their activities, they not only get in touch with the music heritage from Latin America, they also learn about the challenge that comes when you actively work in the promotion of underrepresented repertoire," Contreras said.
Two Lawrence interns have worked with Contreras and Herrera-Pacheco during recent summers. This year, they got funding for a Lawrence intern for the academic year as well, plus two more from Louisiana State University.
See more on the Lawrence Conservatory of Music here.
Contreras, a celebrated cello player originally from Venezuela, has been on the Conservatory faculty in the cello studio since 2017. He taught for 10 years at Universidad de Los Andes in Merida, Venezuela, before receiving his doctor of musical arts in cello performance from the University of Michigan in 2016.
Herrera-Pacheco, also a trained cellist from Venezuela, was hired last year as the Lawrence/Sphinx research and intern coordinator. She praises Lawrence and the other participating schools for providing the resources to allow the work to happen.
"We are trying to work in two different spaces," Herrera-Pacheco said of the interns. "One, the creation of those catalogs with information on these composers and making it available to everyone for free. But the other thing that is very important to us is to show the interns the sweet part and the hard part of finding information on these composers. Sometimes they can't find any information. So, that's the problem. It's a problem of power. These composers don't have profiles, they don't have bios, they don't have stories—all these things that here in the States we take for granted."
The students then do the work of tracking composers through social media and other contacts as they begin to build profiles for use in the online catalogs.
Nora Briddell, a junior from McFarland who studies in Contreras' cello studio at Lawrence, did a summer internship with SOLA that she called empowering.
"I am a double-degree student, studying cello performance and history, and I was really excited that the internship allowed me to bring my two interests together," she said. "I also saw the internship as an opportunity to develop my own research skills."
In Winter Term, Briddell will be performing a piece by Andres Soto, a Costa Rican composer she connected with as part of her summer research. It will be a featured part of her junior recital.
"I loved building personal relationships with living composers because it makes me feel connected to them and their music in a way that I don't get to experience when I play music from the standard canonic repertoire," she said.
Sarah Smith, a senior cello student from Wichita, Kansas, is working as a SOLA intern this term. She said being part of developing a long-needed resource has been both inspiring and eye-opening.
"It's taught me the level of earnest patience you need when you're working to make positive change," she said. "Researching underrepresented composers isn't often easy; you won't always find what you need with a simple online search, or sometimes even with a thoughtful search in a library database. Sometimes you won't even get an email back. … Nevertheless, I've learned the power of self-motivation and continual commitment to being the progress you want to see in your corner of the world."
Contreras said he appreciates the enthusiasm the student interns have brought to the work of SOLA. That energy is contagious, and he hopes it helps draw prospective students to Lawrence who want to continue the work.  
"Knowing you can work side by side with people who are working to develop the most important resources for Latin American composers for strings; I think that's appealing to students," Contreras said.