What does a hot dog, a squid, and a red Power Ranger have in common?
Well, they are the stage personas for three of the seven members of Porky's Groove Machine, a high-energy funk band known for mixing big musical talents with randomly odd costumes and a heavy dose of silliness.
The Minneapolis-based band, which got its start on the Lawrence University campus and is comprised completely of Lawrence alumni, is bringing its love of music and fun back to Appleton for the annual Mile of Music festival Aug. 1-4. The band will be performing on stage (details below) and for the fifth year in a row will be part of the Music Education Team presenting immersive musical experiences throughout the downtown festival.
Mile of Music, Lawrence have deep ties. See more here.
Fresh off the release of a new album, Hello, My Name Is, Porky's Groove Machine continues to build a strong fan base across the Midwest, all while dressed in incredibly random costumes.
Matt Lowe '14, Marshall Yoes '14, Eli Edelman '14, Nick Allen '14, Luke Rivard '15, Ilan Blanck '16 and Shasta Tresan '17 all got their start with the band while students at Lawrence. They bonded via the Lawrence Conservatory of Music, started out playing campus parties and have maintained a close association with the school and Appleton even though they've all settled nearly 300 miles away in the Twin Cities.
"We were just hanging out, getting really excited about music through the Conservatory," Allen said of the band's start-up. "And we wanted to play. So, we just got together to jam a little bit and then, like, make up some songs."
Eight years later, Porky's is a thing.
We caught up with the band earlier this summer when they returned to downtown Appleton to play the weekly Heid Music Summer Concert Series in Houdini Plaza.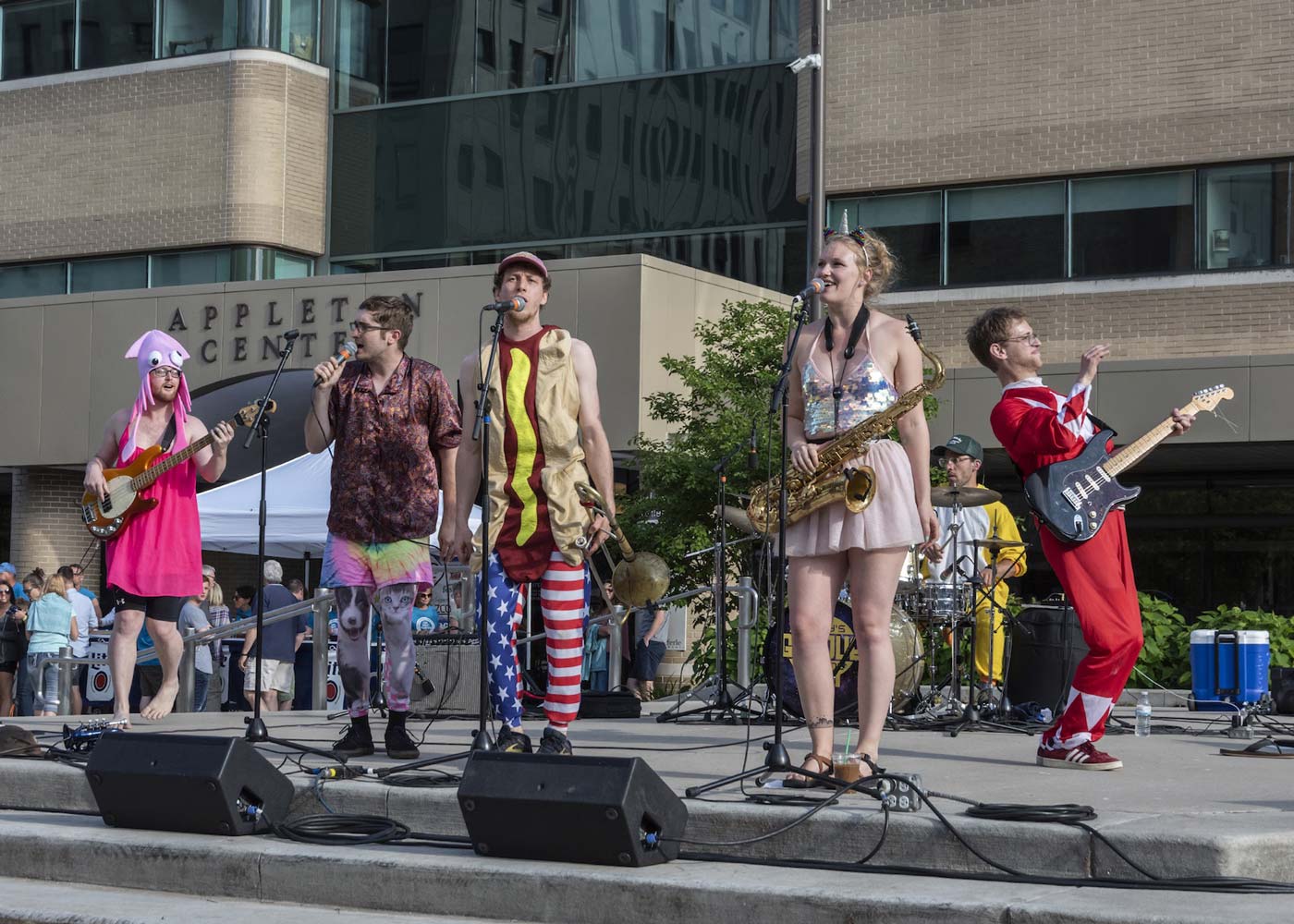 Goofy from the start 
The group initially formed in 2011 while all the original members of the band were students at Lawrence. What started as a cover band playing campus parties quickly evolved. Since then, the band has grown in size and outreach, rotated in new members (all Lawrentians) and wrote a ton of music, some of which is featured on Hello, My Name Is, an album released in March.
The band has grown a lot from those early days at Lawrence, but it was at Lawrence where the foundation for spreading funk and silliness was set.
The campus environment, where people were learning and challenging themselves but also having a good time, set the wheels in motion. It turns out things don't always have to be so serious. Sure, a classical music education was part of the process, but improvisation was always encouraged and a sense of humor was embraced. 
"I feel like just having gone to Lawrence and just having been in this funny environment, you know what I mean, where these particularly funny things happen, there's already a common ground for a sort of goofiness," Blanck said.
The band took that goofiness and supercharged it on stage. They've come to be known for their creative stage personas. When performing at parties on campus in those early days, they would dress to fit the theme of the party. It carried over from there, and soon fans were connecting to the random weirdness of the band's costumes.
Blanck said he remembers that a-ha moment when he realized the costumes had become an important part of their identity as a band.
"I remember we played a show once and people tweeted at us," Blanck said. "Someone we didn't know was like '#powerranger, #squid , #hotdogtrombone, so confused but I'm so happy,' and it was like, I guess those are alive now, and then from there on everyone started looking for it, kind of digging into it a little more."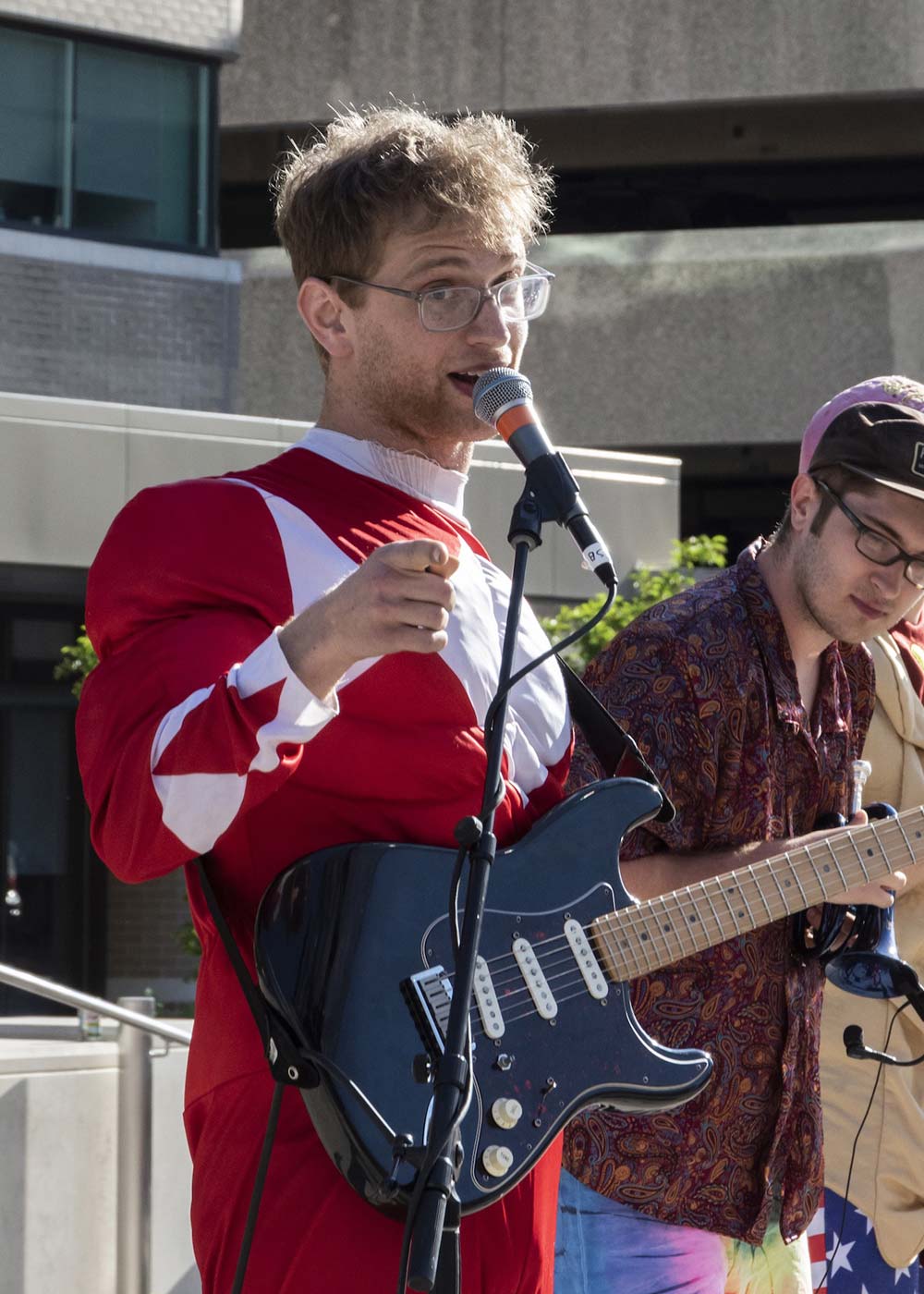 Porky's takes off
Porky's became a well-known group on campus, performing at events ranging from an Earth Day celebration to a Yule Ball. And as the on-campus following grew, they started to become recognizable off campus as well, performing at bars and clubs in downtown Appleton and elsewhere in the Fox Valley.
"I remember our first off-campus show was at Déjà vu Martini Lounge," Allen said. 
As band members graduated, many began settling in the Twin Cities. Eventually, all who stayed with the band landed there. And while they all have day jobs, many of them music related, they began dedicating more and more time to Porky's. In 2018, they played nearly 70 shows. The band became a registered LLC in the state of Minnesota, and Porky's, if it wasn't before, was now a full-on passion that was commanding much of their free time. 
"We all ended up moving to Minneapolis to make Porky's happen, so it's a serious component of how we are making decisions in our lives," Yoes said. 
Making music 
As Porky's has become that serious — yet still goofy — endeavor, the music the band performs has shifted and evolved. What started as a mostly cover band with only one or two original tracks is now a band producing mostly original music. They have released three EPs and two albums to date.  
"When we first started, when we played these gigs at the bars downtown, we'd play a four-hour show, and you know we would have to fill all this time, so we played a bunch of covers and we jammed them out for 15 or 20 minutes each," Lowe said. 
"And then our originals would be like, 'Hey, everybody, we finally wrote a song.' We'd have one song to show off.  Now it's more like we'll do an all-original set and then we'll put in two or three covers."
The humor behind their stage personas also shows up in their homegrown lyrics. With songs like "Don't Put Love in the Granola" or "The (Not Quite a) Ball of Trombone," the group embraces the silliness. 
"We hear from people who see our show who maybe don't get a big dose of goofy in their lives," Allen said. "We often hear from people who are like, 'I've never seen anything like this before, but thank you.'
"So, that always inspires me and makes me feel good to come up with something that's going to connect with someone and give them a sort of absurdity or silliness or some kind of release that they need." 
Beyond a band  
Porky's Groove Machine members also apply this concept of releasing people's silly side when they teach music workshops. And they do a lot of workshops, mostly geared toward children, spreading the joy of music-making.
"We get questions from students, like why do you wear your costumes, why do you look like that, or why are you running around and yelling?" Rivard said. 
"And our whole perspective is, well, you know, rather than approaching music in a very studious and very hard to reach place, we want to make it as comfortable and as inviting to students as possible. That allows us to get students to improvise and to write music on the spot because they feel comfortable. They know that no matter what they do, they're not going to look dumber than we do."
The workshops that are part of Mile of Music are among their favorites. Through working with the festival's Music Education Team, led by Lawrence music education instructor Leila Ramagopal Pertl, the group has been able to share that love of music in Appleton. It's one of the things that has inspired them to create workshops of their own where they are able to teach students improvisation, music fundamentals, and thinking outside the box.  
Staying Connected  
Being able to teach music as a band and perform several times a year in the Appleton area has given the members the opportunity to stay tight with Lawrence, the Conservatory in particular. 
"We are back here all the time, seeing the dean and our teachers," Lowe said. "We performed at the Lawrence Academy camp (two summers ago), and we're working with the Mile of Music Education Team, which is deeply linked with the Lawrence Conservatory." 
For Brian Pertl, dean of the Conservatory, the success of the Porky's band speaks to the commitment and joy each of the band members finds in music. And their willingness to give back through Mile of Music and other music workshops is a great reflection on Lawrence and the mission of the Conservatory.
"I have had the great pleasure and privilege of working closely with almost every member of Porky's," Pertl said. "In particular, Matt Lowe and Nick Allen took didgeridoo lessons with me for their entire four years at Lawrence."
Don't let the goofball costumes fool you. The music that Porky's is creating is stellar. That it's mixed with energy and fun, and delivered with a full heart, all the better.
"I love that Porky's seamlessly combines high-level musicianship, a sense of humor, and a deep commitment to music education," Pertl said. 
Awa Badiane '21 is a student writer in the Communications office. 
Where to see Porky's at Mile of Music
Friday, Aug. 2: 9:30 p.m. at Deja Vu Martini Lounge, 519 W. College Ave., Appleton
Saturday, Aug. 3: 7:40 p.m. at Emmett's Bar and Grill, 139 N. Richmond St., Appleton
Saturday, Aug. 3: 10 p.m. on the Mile of Music bus.