The beauty of the night sky, the stories it can tell, and the "light pollution" that is increasingly hindering our view will be the topic of Lawrence University's May 27 Honors Convocation.
Megan Pickett, associate professor of physics, will deliver the Convocation address, The Stars: Mansions Made by Nature's Hand, at 11:15 a.m. It will be delivered virtually and is available to the public on the Honors Convocation page at lawrence.edu.
In her address, Pickett will share why light pollution, the ever-increasing brightening of the sky by artificial lighting, is a concern that has long-term economic, health, and biological costs.
"The stars tell our stories, guide our way, and quietly mark time," Pickett said in preparation for the Convocation. "They inspire artists and compel scientists. The shared heritage of the night sky is a universal natural resource—and we are losing it, one star at a time."
The annual Honors Convocation, which publicly recognizes students and faculty recipients of awards and prizes for excellence in the arts, humanities, sciences, social sciences, languages, music, athletics, and service to others, is traditionally held in Memorial Chapel. But due to campus facilities being closed to the public and physical distancing practices being in place amid the COVID-19 pandemic, this marks the second year it is being held virtually.
Pickett said she remembers being 12 years old and holding a copy of H.A. Rey's book, The Stars, as she stared at the night sky in her suburban Detroit neighborhood.
"I truly saw for the first time the hidden treasure suspended above," she said of that night. "I knew then, standing in a palpably spiritual awe, that my life's work would be to share that joy and wonder."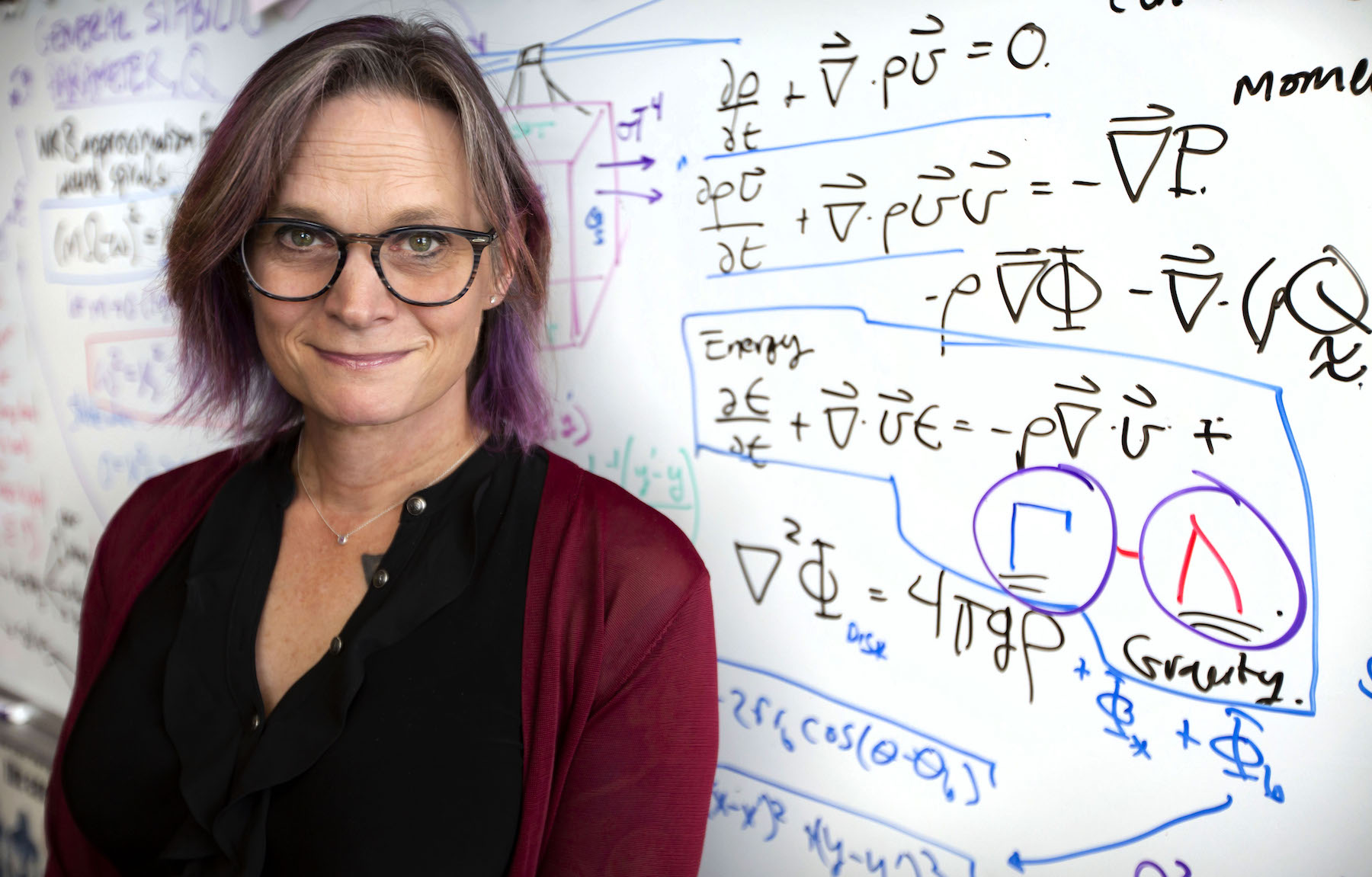 Pickett would go on to become an astrophysicist, earning a bachelor's degree in physics from Cornell University and a Ph.D. in astrophysics from Indiana University. She joined the Lawrence physics department in 2006 after six years on the faculty at Purdue University. Before that, she spent four years as a research associate at NASA's Ames Research Center in California.
Much of her research through the years has focused on the formation of solar systems.
Now she wants to share some of that work and her passions for protecting the night sky with the Lawrence community.
"I will discuss the problems of light pollution, and the solutions that I and other astronomers advocate—simple, cost effective changes that can give us back our nights," she said. "I will also explore what we are losing, from the soaring spirit of exploration the sky inspires to the traditions of so many peoples—often overlooked—that are celebrated in the stars themselves.  My work in understanding our home in the cosmos has given me a deep appreciation for how we all come to see that home, and a sense of urgency to save the night for all those 12-year-olds who step out in the cold and look up."
Pickett said more than 80% of the world, and 99% of America, lives under a polluted sky. 
"Fully one-third of the world can no longer see the Milky Way, our home galaxy, including more than half of Europe and three-quarters of America," she said. "In the few enclaves of pristine sky, you can see 5,000 stars on a clear night, but if you live in suburban America, only a tenth of that number; in a city, less than 50."
Don't take it for granted, Pickett said. There is joy in those stars, and generations to come may be hard-pressed to find it.
"The night sky is at once a visible and an ephemeral natural resource," she said. "Its loss, and the increase in unnecessary sky-brightness come with economic, medical, and biological costs. As important, we lose something of ourselves, and our history, as each generation sees less of the wondrous night."
Ami Hatori '23 will perform the Convocation's prelude, Jupiter's Moons, on piano. The postlude, On a Clear Day, will feature Courtney Wilmington '22, soprano vocals; Samara Morris '21, alto vocals; Jack Murphy '21, tenor vocals; David Womack '22, bass vocals; Nick Muellner '20, alto and tenor saxophones; Alyssa Kuss '22, baritone saxophone; Jack Benedict '21, trumpet; Allie Goldman '21, trombone; Carson Bell '22, guitar; Rowan Barcham, keyboard; Ali Remondini '21, double bass; and Daniel Green '21, drum set.
This is the third and final convocation of Lawrence's 2020-21 academic year. The earlier convocations featured President Mark Burstein and author Kiese Laymon.