Incoming students arrived at Lawrence on Monday under a gorgeous blue sky, greeted by staff and student volunteers who spread out across campus to welcome and assist the newest Lawrentians and their families as they moved into residence halls.
Volunteers, wearing "Time to Shine" T-shirts, helped haul refrigerators, clothing, bedding, and other essentials into rooms. For the incoming students—383 first-years and 18 transfers—and their families, it was an exciting, emotional day.
"The room is bigger than I visualized in my head," said a smiling Alexandra Obringer, a first-year student from San Jose, California, after moving into Colman Hall.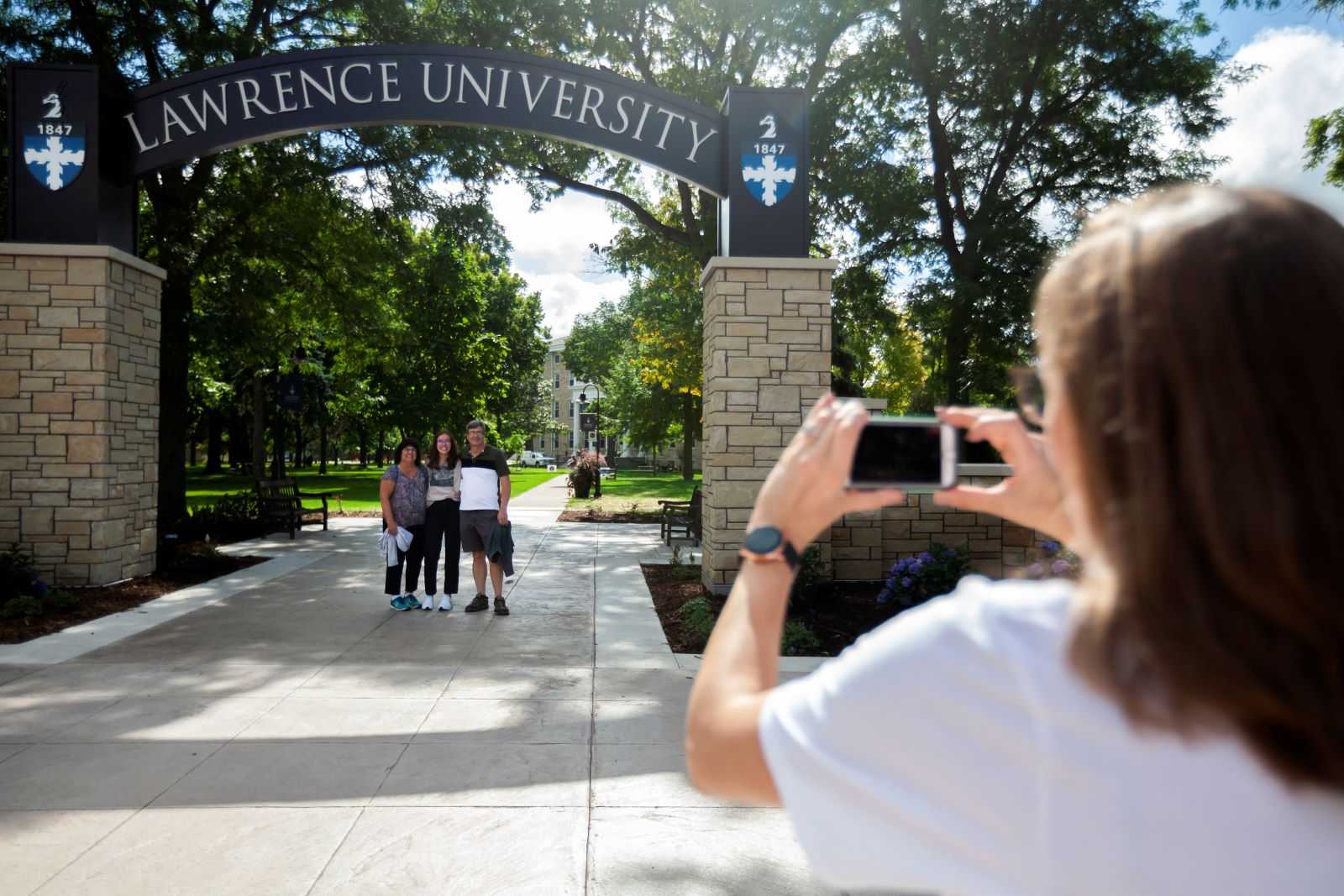 Move-in kicked off several days of orientation and activities designed to get the incoming students familiar with Lawrence before their fellow students arrive and classes begin Sept. 12. The days ahead will feature, among other things, the President's Welcome, the traditional class photo, and a Wisconsin Timber Rattlers baseball game—with President Laurie Carter throwing out the first pitch.
Obringer, who plans to major in English with hopes of becoming a high school teacher, said she's been looking forward to this day since her campus visit in February.
"I'm really looking forward to classes and meeting new people," she said. "Just a new environment."
For her father, Peter Obringer, it was the first drop-off day for the youngest of his two daughters. That in itself is emotional.
"We visited in February and Alex learned she was accepted in the hotel room before we came in to visit," he said. "It was just perfect timing. Everything lined up. There's a little magic aura around Lawrence for us as a family right now and it's exciting to see her so excited about school."
Quintin Fernandez, a first-year student from the Menominee Nation in northeast Wisconsin, was preparing for a campus tour on Monday morning after moving into Colman. He called his arrival at Lawrence an exciting moment as he looks to study percussion in the Conservatory of Music.
"I'm looking forward to the connections and being able to play with so many young, talented artists and like-minded individuals and to be able to express myself freely," he said. "This is such a musical school. They want to get everyone involved in music and that is something that is really appealing to me. It seems like a good fit."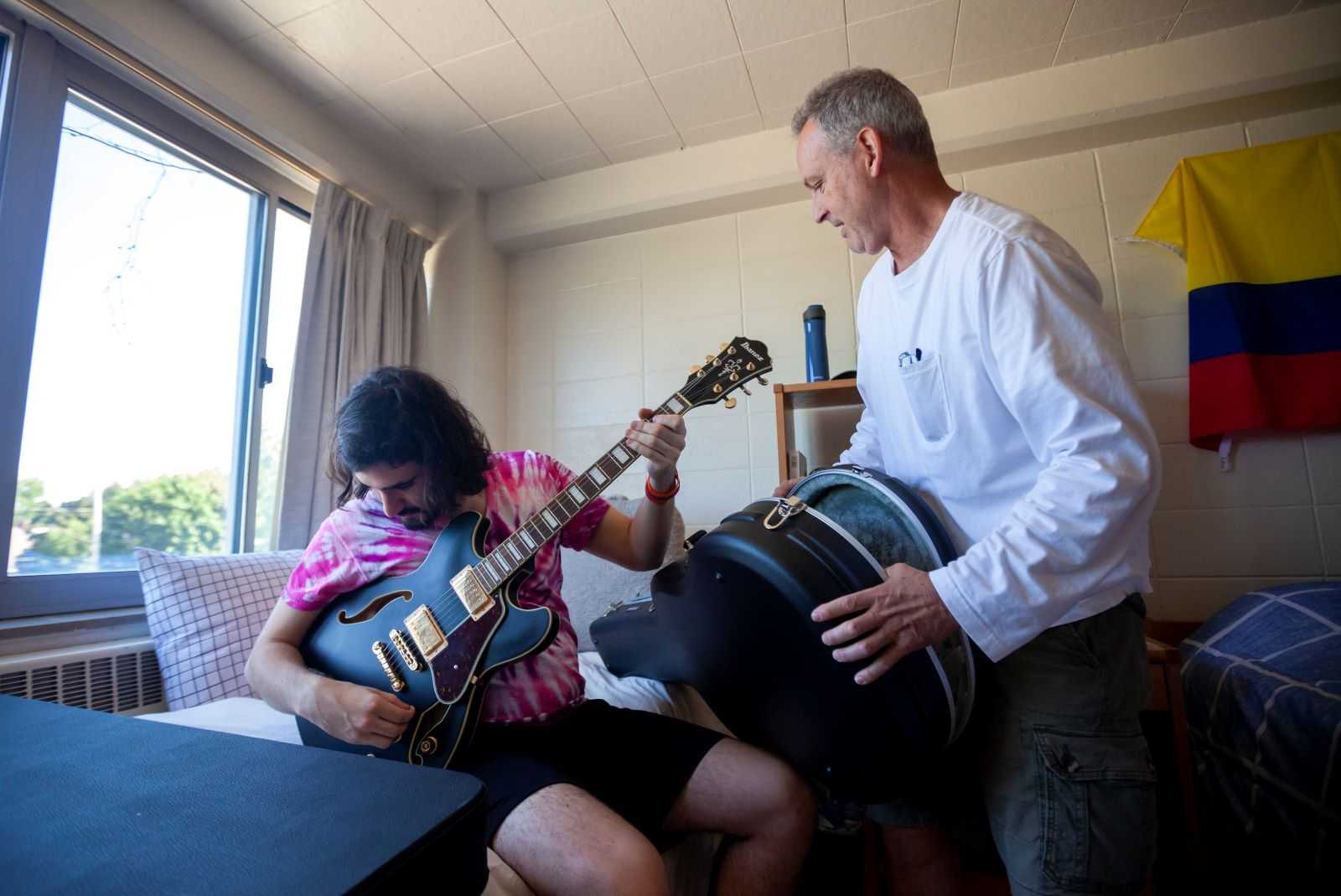 Move-in day activities included panel discussions about on-campus living, tours, a resource fair, meals, and a reception for families.
Tuesday will be highlighted by the annual President's Welcome and the class photo. A procession through Lawrence's beautiful new Welcome Arch will immediately precede the President's Welcome, beginning a new tradition that's expected to carry on for years. The incoming class, the first to incorporate the newly built arch into Welcome Week festivities, will be greeted by members of the Lawrence community as well as invited guests from the wider community.
Meet the new class
Incoming students have been excited to make connections after having their secondary school experience severely disrupted by the COVID-19 pandemic.
The pandemic prevented some from fully taking part in high school sports, arts, and other activities and relegated much of their academic experience to the Zoom screen. Now they're eager to connect with Lawrence faculty and engage with the student community. The rest of the Lawrence community will now get to meet an incoming class that is academically talented, creatively gifted, and diverse.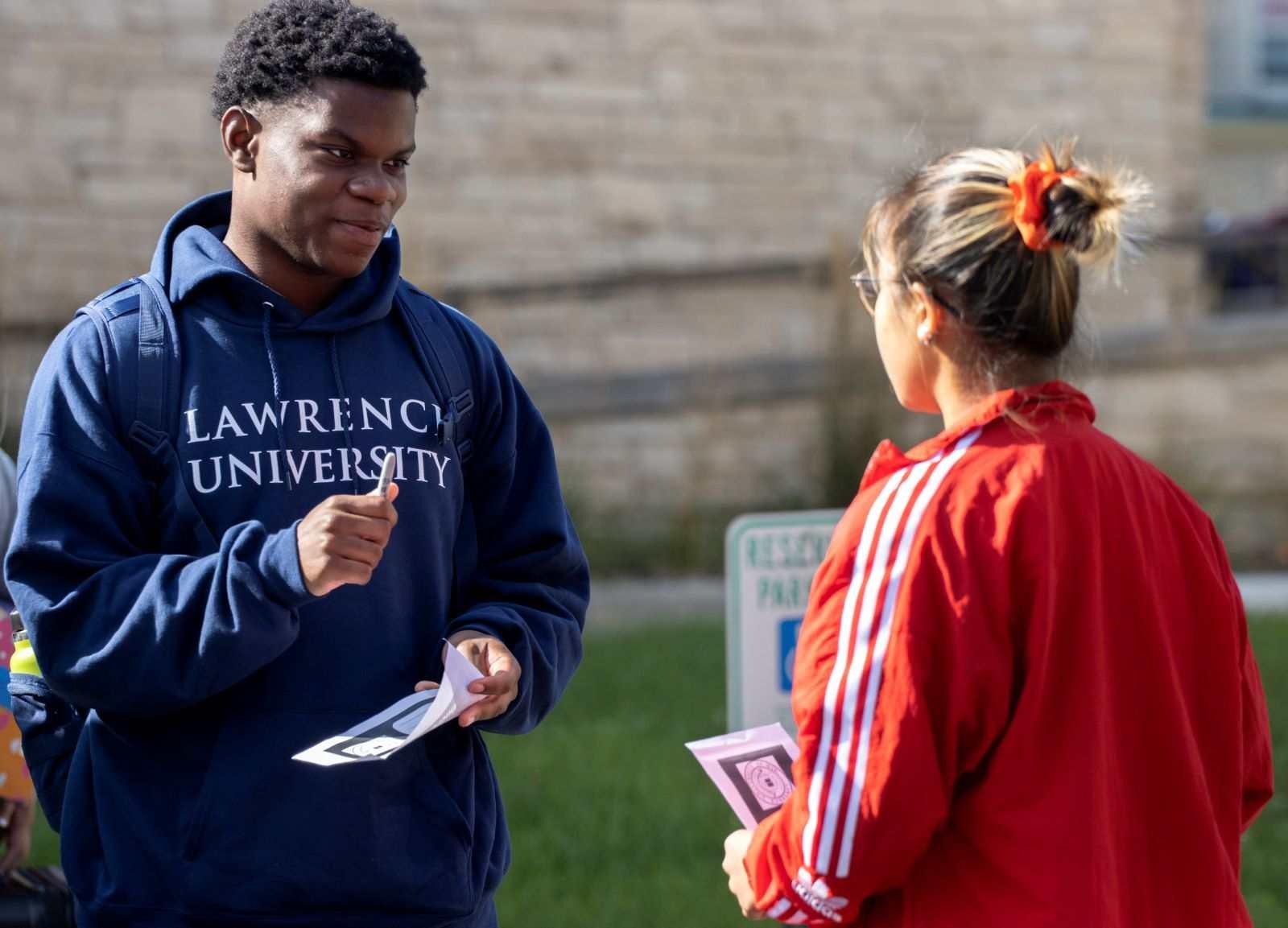 Here's a look at the incoming class by the numbers:
38: Number of states represented in the class.
31: Number of countries represented.
82: Number of first-year students from Wisconsin. Rounding out the top five are Illinois (62), Minnesota (32), California (24), and New York (19).
22.7%: Percentage of first-year students who are domestic students of color.
12.1%: Percentage of first-year students who are non-U.S. citizens.
3.53: Average high school GPA of first-year students.
60: Number of incoming students pursuing a music degree in the Conservatory.
32: Number of students pursuing degrees in both Conservatory and College of Arts and Sciences.