The newest Lawrentians were welcomed to campus Tuesday afternoon with a procession through Lawrence's beautiful new arch and a greeting from the campus community at the annual President's Welcome.
The incoming class is the first to incorporate the newly built Lawrence Arch at the corner of College Avenue and Drew Street into Welcome Week festivities, beginning a new tradition that's expected to carry on for generations. In her message to the students, President Laurie Carter said the walk through the archway represents one of many firsts that will come in the days and weeks ahead—from classroom challenges and opportunities to the balancing of academics and social life. 
"You have joined a community that will support you and guide you through all of these firsts and more during your college journey—through the challenges and triumphs of living and learning in a new environment, the opportunities for new experiences, and the transformative moments that will expand your horizons and shape your life to come," Carter told the students as they gathered with their families in front of a Main Hall decorated with banners celebrating the 175th anniversary of Lawrence's founding and flags representing countries that are home to Lawrence's many international students.
A new tradition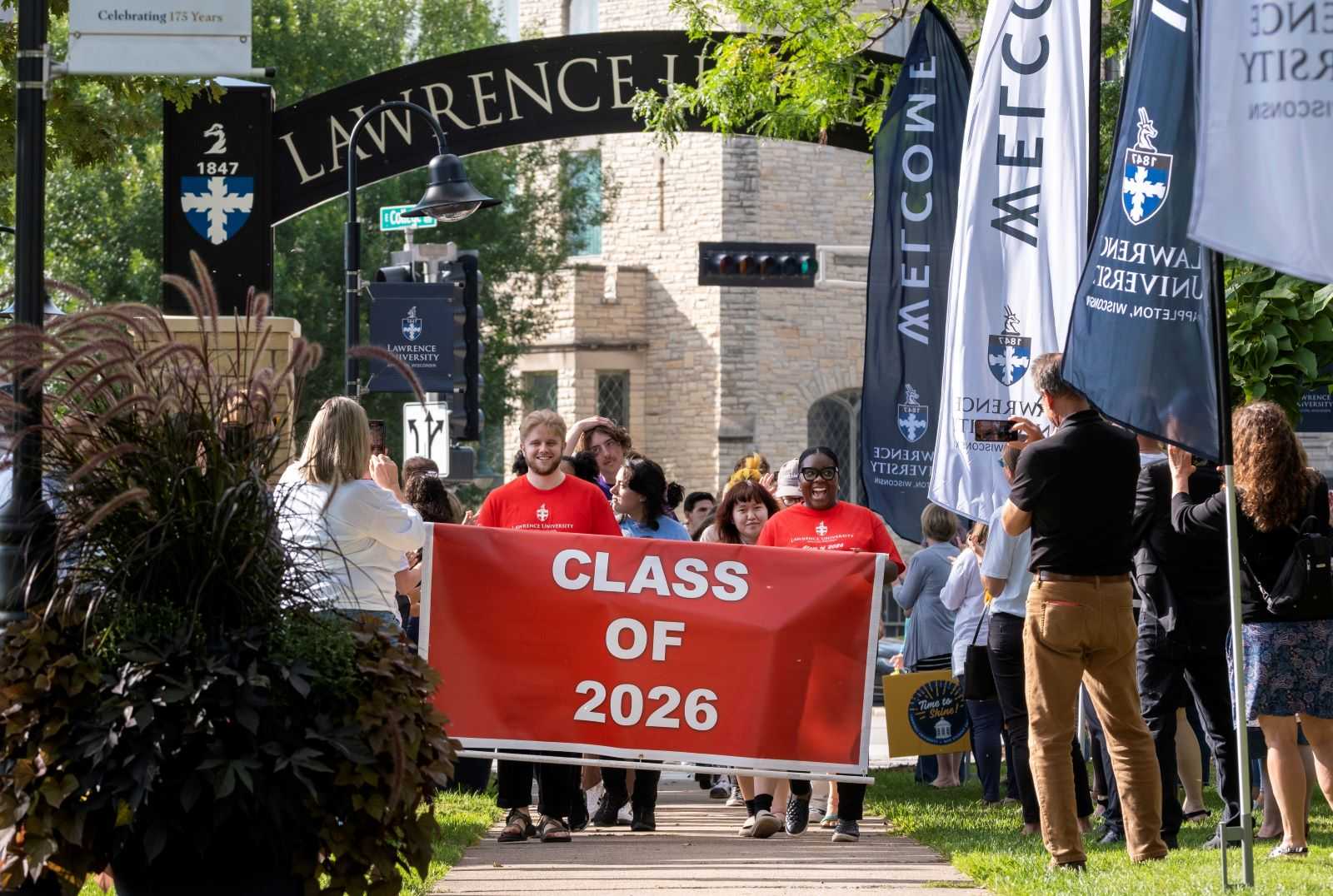 Before they made their way to the Main Hall steps, the students—383 first-year students and 18 transfers—were greeted with applause at the arch from members of the Lawrence community and dignitaries from the City of Appleton, Outagamie County, the Appleton Area School District, and the regional business community.
Appleton Mayor Jake Woodford '13 and Carter joined Lawrence Trustee Susan Long Hall '76 and her husband, David Hall, in a ribbon-cutting at the arch prior to the procession. The Halls funded the construction of the arch.
"This is a new landmark that will become part of new traditions for our students and graduates, hopefully for generations to come, and it carries a message to the Fox Cities community that we are here, we are part of this downtown, we are part of this community, and we are excited to welcome newcomers and old friends to our campus," Carter said.
Lawrence Arch unveiled for campus community
Woodford called the arch a beautiful symbol of the bonds between Lawrence and Appleton.
"One of the things that's really important about the design of this new arch is that there's no gate," he said. "I think it's important for all of us to remember that the Appleton community is open to the Lawrence community and the Lawrence community is open to the Appleton community. And together we're stronger, more vibrant, and richer for all people."
Susan Long Hall told those gathered that she was moved to support the arch project because of the way her time at Lawrence shaped her life. She said it was the liberal arts education and related experiences at Lawrence that gave her the tools to shift her focus mid-career, eventually earning a doctorate and launching a business focused on improving reading skills for children.
"The relationships I had with faculty here is what gave me the confidence to do those things," she said, calling the investment in the arch a way of paying that forward.
A welcome to campus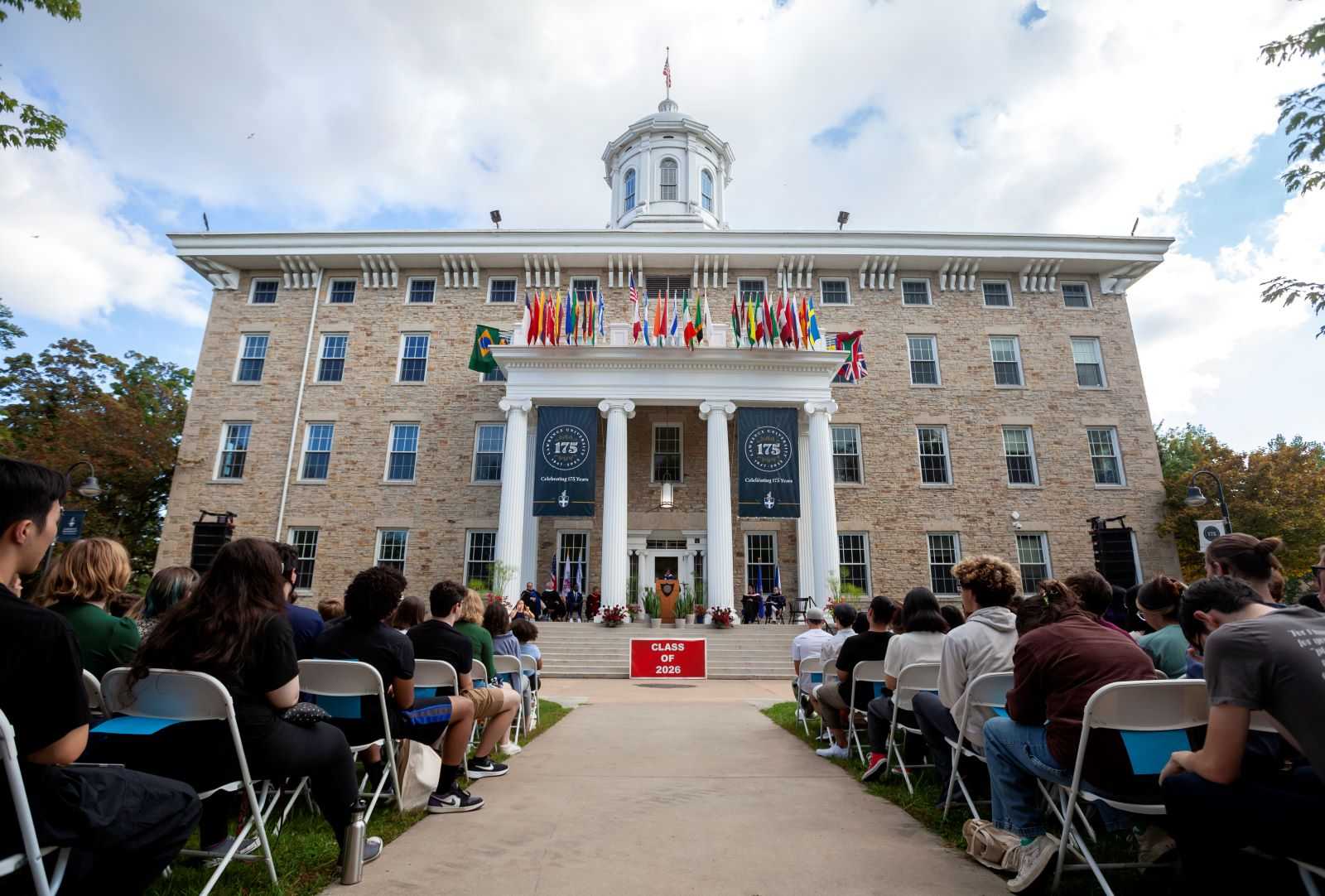 The newest Lawrentians arrived on campus Monday, kicking off several days of orientation, including the taking of the traditional class photo on the steps of Memorial Chapel.
During Tuesday's President's Welcome, senior Malcolm Davis, president of the Lawrence University Community Council (LUCC), presented the Class of 2026 with their class color—red. They assume red from the outgoing class, carrying on a tradition that is a nod to the history of Milwaukee-Downer College, which merged with Lawrence in 1964.
It's a tradition, Davis told the incoming students, that's part of "building a sense of unity."
Chris Clarke, vice president for student life, greeted the students with a message about learning, growing, and being involved. Be an active participant in your student journey, he said.
"Being a Lawrentian comes with many benefits, as 20,000-plus alumni can tell you," Clarke said. "But these wise and successful alumni will also tell you that Lawrence will challenge you. For if this experience doesn't challenge you, it will not change you."
Move-in Day: Meet the Class of 2026
Peter Blitstein, provost and dean of faculty, said it's expected that incoming students will feel a sense of uncertainty and nervousness. That comes with the newness of the experience. But, from First-Year Studies through Senior Experience, he said, Lawrence faculty are prepared to teach, guide, and support you through that journey.
"I can't promise to alleviate all possible anxieties, but I can promise that you've joined a community that will support you in a compelling journey of self-discovery and personal development," Blitstein said.
Carter spoke to the students about the struggles of spending more than half of their high school years in a global pandemic, with the academic experience and most extracurriculars disrupted or disjointed. It is nothing short of "resilience and strength" that has brought these students to this point. Be engaged, be involved, and be supportive, she said.
"But also remember that it's important to take time for yourself," Carter added. "Walk along the beautiful Fox River. Watch a movie with friends. Read a good book on Main Hall Green. Anything to ensure that your light is rekindled and tended to along the way."
Welcome Week has come with the theme "Time to Shine." Senior Preston Parker, a dual degree student majoring in voice and computer science, built on that theme with a performance of This Little Light of Mine.
With the Class of 2026 now moved in, as well as fall student-athletes and international students, the campus is bustling again. The rest of Lawrence's student body arrives later this week, with classes beginning Sept. 12.
"We have been preparing for you to arrive for many months," Carter said, "and we are so excited for you to experience all that Lawrence has to offer."