2 Minutes With … is a series of short features to introduce us to the passions and interests of Lawrence students on and off campus.
One morning earlier this year, while on dawn watch aboard the SSV Robert C. Seamans, miles from New Zealand shores, Naomi Torres-Solorio '22 spotted dolphins. It was a welcome sight and a moment of peace for this environmental studies major from Oakland, California, who was researching the climate crisis on the other side of the world.
SEA Semester, one of Lawrence University's beloved study abroad opportunities, sends students around the globe to spend a portion of an academic term at sea. SEA Semester programs encompass a range of academic disciplines from anthropology to marine science, but all concentrate on specific ocean-related themes and give students the tools to take on real-world problems. This is possible thanks to the efforts of the Sea Education Association (SEA), a Massachusetts-based nonprofit group that promotes environmental literacy in high schools and undergraduate programs.
Eye-opener on other side of the world
Torres-Solorio was among the first students to try out SEA Semester's new humanities program, Climate in Society, which allowed her to study the effects of the climate crisis on New Zealanders' way of life. New Zealand is an island nation that is already feeling the effects of rising sea levels and warming temperatures.
But the students didn't jump into research right away. They spent the first half of the term on the SEA Semester campus in Woods Hole, Massachusetts. Here they prepared for their time at sea by taking global ocean classes and learning the ins and outs of safety on the boat. Then, after a long flight, Torres-Solorio and 30 other students from around the country spent a week on New Zealand's south shore. This is where Torres-Solorio first had the chance to speak to islanders about their personal experiences with climate change. It's when she realized the gravity of what she was there to do.
"It was really eye-opening," she said. "It's very important to recognize what's going on and be able to talk to people about it."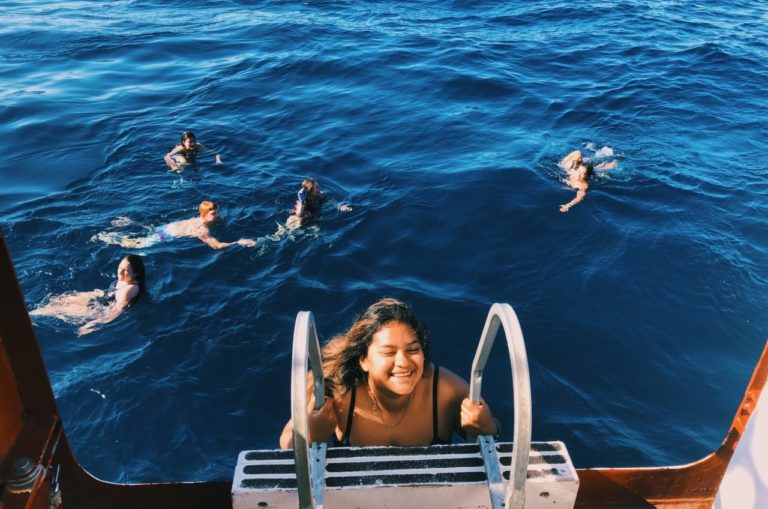 Living life at sea
Torres-Solorio has long been interested in human impact on the environment. But getting out of her comfort zone was what drew her to SEA Semester in the first place. That is, spending the final five weeks of her term living and working on the vessel, the SSV Robert C. Seamans.
"I never imagined myself living on a boat," she said. "I'm a city girl. But it turned out to be one of the greatest experiences I've had."
Of course, life on the boat wasn't a vacation. Torres-Solorio and the other students were responsible for daily chores and rotating watch shifts. But Torres-Solorio found plenty to love in this new routine. Even staying awake for dawn watch from 1 a.m. to 7 a.m. turned out to have its perks.
"You see everything," she said. "You get the night and the stars, and by the end of your watch a sunrise. It's so nice. Anything can happen in that single watch."
When they weren't maintaining the vessel, students attended class in the afternoons. This offered opportunities to share data they collected on various aspects of their journey, such as keeping track of organisms they saw along the way.
That data is for students to use in two projects that finish off the program: one in science and one in humanities. Using the collective data, Torres-Solorio focused on the abundance of chlorophyll A and phytoplankton on the cruise track. She capped off the humanities component with a paper on the psychological effects of climate migration, using data from her interactions with New Zealanders.
To students considering a term abroad with SEA Semester, Torres-Solorio offered these words of advice: "Talking about it doesn't do justice to how amazing the program is. All the things you see and do, the people you talk to, it's just incredible. If you like adventure and the environment, go for it."
For more on Lawrence's study abroad options, see here. For more on SEA Semester, see here.
Naomi Torres-Solorio
Class Year: 2022
Major: Environmental Studies
Hometown: Oakland, Calif.