Lawrence University will mark MLK Day on Jan. 17 with a day of service that includes a series of virtual discussions in the morning, volunteer opportunities in the afternoon, and an online community celebration in the evening.
The events, honoring the legacy of Dr. Martin Luther King Jr., have been organized with health and safety protocols in place. Because the discussions, led by Lawrence faculty, will be virtual, they are being made available to Lawrence alumni as well as the on-campus community.
The culminating virtual event, meanwhile, is open to all—the 31st annual Fox Cities Dr. Martin Luther King Jr. Celebration. It begins at 6 p.m., focused on the theme of finding inspiration and empowerment in our individual stories.
"Dr. King's legacy is so inspirational and empowering for all of us collectively, but also in our own walks and journeys," said Brittany Bell, Lawrence's associate dean for diversity, engagement and student leadership and a co-chair of the community celebration. "It's important for us to know his story and all that he fought for."
The annual celebration, sponsored by Lawrence, the City of Appleton, United Way Fox Cities, ESTHER, Appleton Area School District, and African Heritage, Inc., is normally held in Memorial Chapel, but it'll be presented online due to pandemic protocols. Registration is required by Jan. 14. Find a registration link here.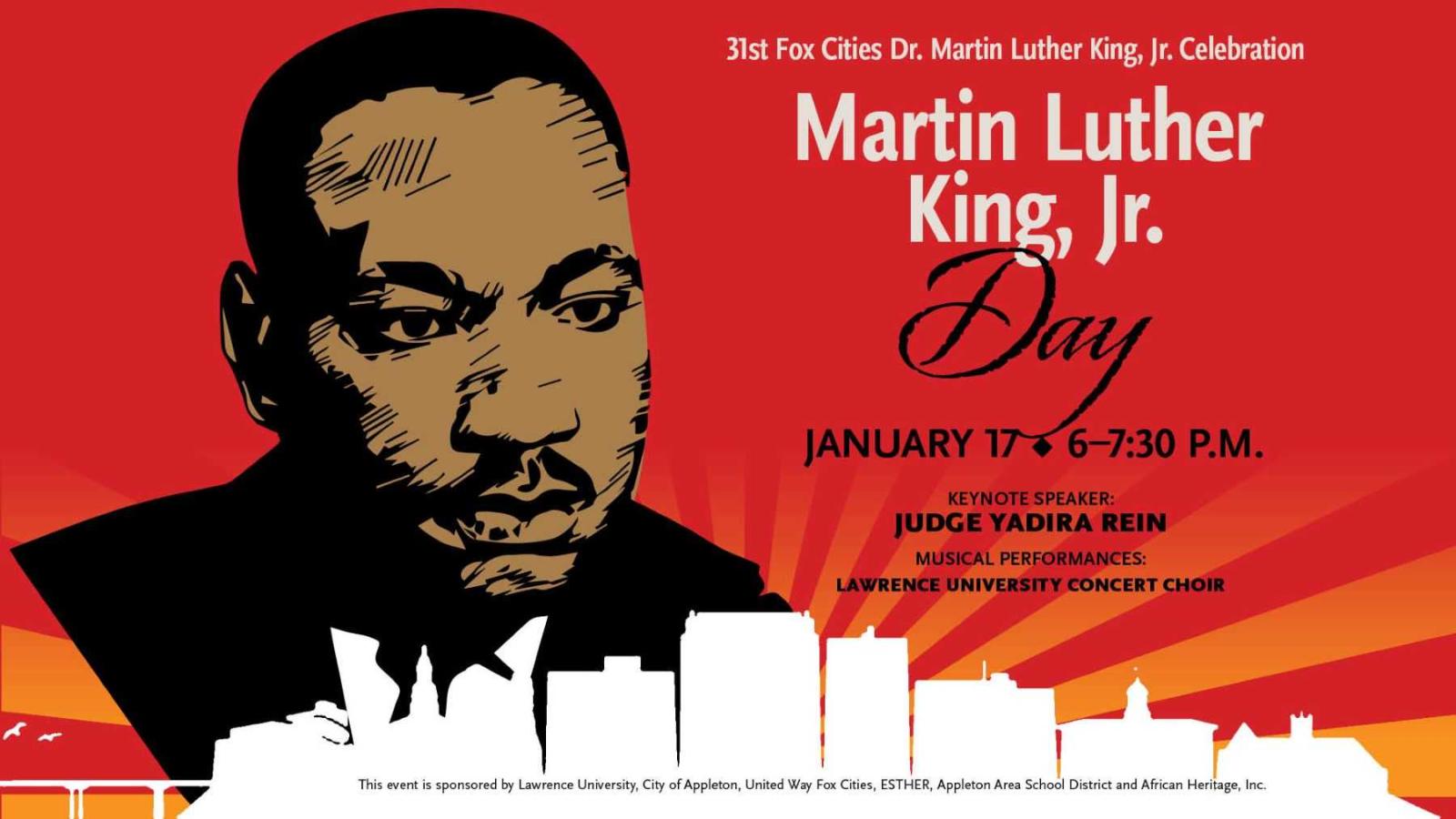 The keynote speaker will be Outagamie County Judge Yadira Rein, the first person of color—specifically, the first Latina—to serve as judge in the 8th Judicial District of Wisconsin. She was appointed to the position to fill a vacancy in June 2021.
Rein was born in El Paso, Texas, and was raised in a small town in northern Mexico by her grandparents. When she was 9 years old, she and her family moved to Wisconsin.
Rein went on to study at the University of Wisconsin-Madison, earning both her undergraduate and law degrees. After graduating from law school, she returned to the Fox Valley and worked at two law firms, Sigman Janssen Law Firm and, most recently, McCarty Law LLP.
Monday's celebration will include musical performances by the Lawrence University Concert Choir.
A day of education, outreach
Lawrence will have no classes on Monday in honor of MLK Day. Students, faculty, staff, and alumni are invited to take part in virtual discussions on aspects of King's legacy and issues of race and the media.
"MLK Day is the only federal holiday that has also been designated a national day of service," said Garrett Singer, director of Lawrence's Center for Community Engagement and Social Change. "By engaging in our annual celebration of Dr. King's legacy, Lawrentians can create space for deliberate reflection, education, and collective action, not only with each other but alongside thousands of communities across the country." 
The morning education sessions are virtual and will include:
9 to 10:30 a.m.: "Black, White, and (Un)Read": Exploring how media can ignore and misrepresent minority audiences, on- and off-campus
This session features Tamara Buck of Southeast Missouri State University speaking on how on-campus news media often ignores and/or misrepresents minority audiences. Her lecture will be followed by a panel discussion on how those same patterns of behavior can be avoided in local, regional, and national coverage. The panel includes Buck, Nathan Heffel '02 of Western Slope Communications, Larry Gallup, editor of The Post-Crescent in Appleton, and Henry Sanders Jr., CEO and publisher of Madison 365. (Participants will receive a Zoom link upon registering.)
11 a.m. to noon: Mapping MLK's Legacy Through Geographies of Oppression, Radical Protest, and Ecofuturism
Sigma Colón, assistant professor of environmental and ethnic studies, will explore King's legacy, tracing his imprint on particular spaces — streets and urban inequality, the possibilities conjured through radical protest, and how we might approach questions of environmental futurity. (Participants will receive a Zoom link upon registering.)
Noon to 1 p.m.: Professors from the English, Ethnic Studies, and History departments will lead a workshop that examines King's "Letter from Birmingham Jail," including a discussion of the historical context in which the letter was written and delivered. (Participants will receive a Zoom link upon registering.)
For additional details on the discussions and a QR code, go here.
In the afternoon, volunteer opportunities are available for students, faculty, and staff, with health and safety protocols in place.
"In spite of the challenges presented by the pandemic, we're also fortunate to announce an inaugural partnership with Volunteer Fox Cities, which has allowed us to maintain a robust slate of in-person, remote, and virtual service opportunities for students," Singer said
Service programming is planned for 1 to 4:30 p.m. A series of virtual opportunities are in place, as well as some in-person volunteering in the community. Organizers have verified health and safety protocols are in place at the off-campus sites. For a list of service opportunities, visit the GivePulse page.