Lawrence University biology professor Bart De Stasio '82, rising senior Reese Lavajo, and rising junior Eleanor Meng have been collaborating this summer with Lawrence alumni to research the incredible migration patterns of the microscopic zooplankton species Daphnia at UW-Madison's Trout Lake Station in northern Wisconsin.
De Stasio, the Singleton Professor of Biology, began this research more than 20 years ago as a postdoc. He revived the project two years ago with Lawrence alumna Gretchen Gerrish '98, who became director of Trout Lake Station in Vilas County in 2019. Meng and Lavajo are adding to data from last summer's project.
Another helper is alumnus Bennett McAfee '21, who assisted De Stasio with his previous research and shares their lab at Trout Lake for his own zooplankton project with Gerrish.
Daphnia eat mostly algae, but all their food is at the surface of lakes where they're vulnerable to predators like minnows and sunfish that need light to see their food. Daphnia hide in the dark depths during the day or when there is lots of moonlight, but every night they ascend the human equivalent of miles in search of food—a process called diel vertical migration.
"What they use is the amount of light as a cue to come up, but evolutionarily, what they've done is they've evolved to use light as a cue to avoid predators," De Stasio said. No predators means no migrations.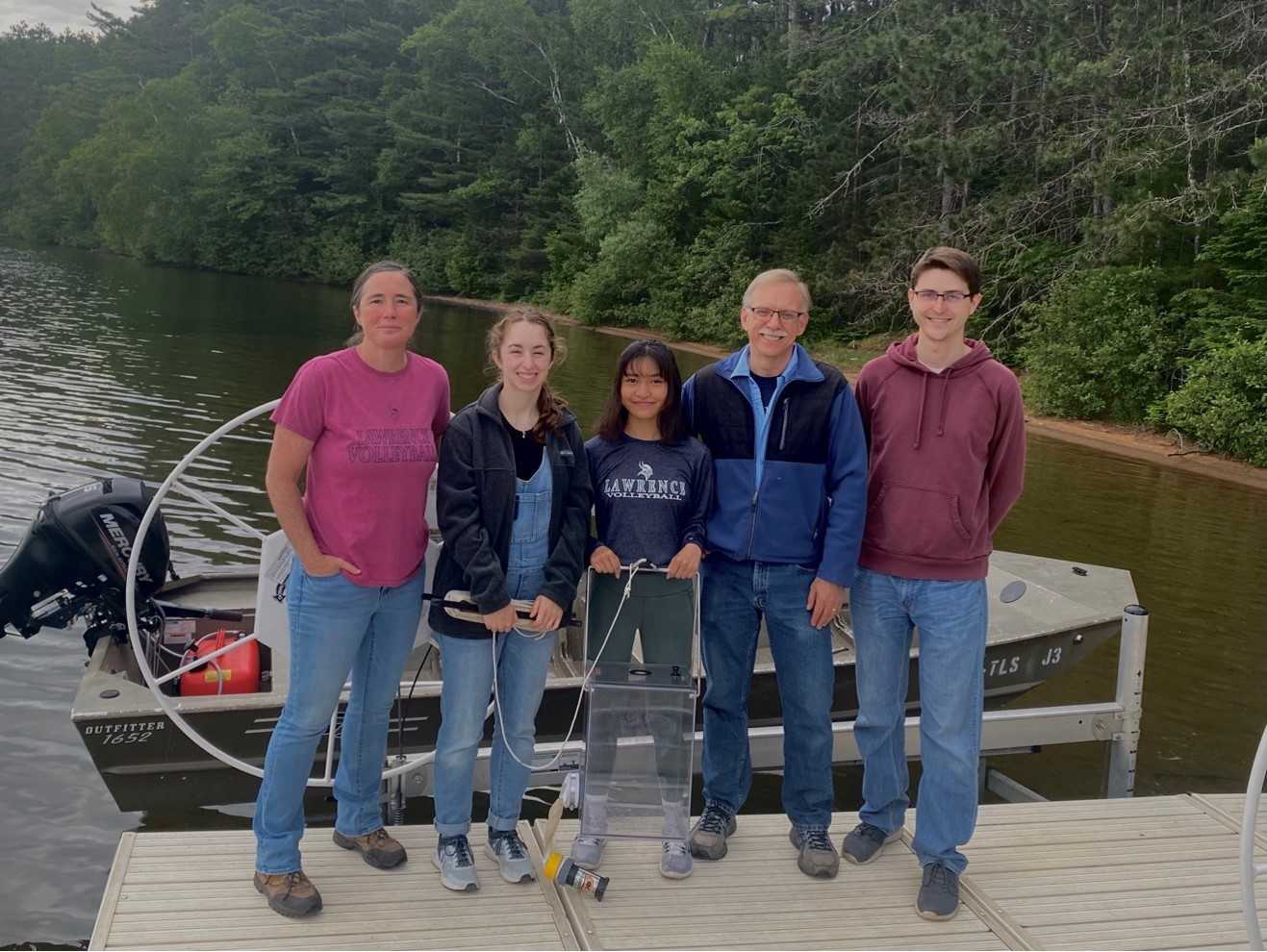 "There's a lot of research on the migration patterns that Daphnia do…but there aren't a lot of studies done on what sizes of Daphnia are at what depth," Meng said.
Size affects their visibility to predators, and that became a focus of their research project.
Along with studying Daphnia sizes, the project has a side objective, which is where Gerrish comes in. A specialist in underwater videography (it got her featured in David Attenborough's 2016 documentary, Life That Glows), she and the team are testing new recording technologies that could revolutionize zooplankton research.
"She's awesome," Lavajo said. "She's very fun to work with, she's got a great personality and is always willing to help you in whatever you need, and she does a lot on station being both the field station director and working on projects with us."
These connections with alumni and other scientists are one of Meng and Lavajo's favorite parts of working at the station. Speaking with graduate students around the station or at seminars allows them to learn what their own experiences as graduates might be like.
"There's a really good community on station, which is really nice," Meng said. "A lot of people will hang out in cabins, or we have something called Pizza Sundays where one of the grad students will make everyone homemade pizza."
They also love the natural beauty and lack of light pollution. Originally from Denver, this was Meng's first time hearing the classic loon calls of the Northwoods.
"You're just fully out in nature, basically, and surrounded by woods…someone out here saw the northern lights last night," Meng said.
Faculty members across disciplines are involved in exciting research. Students have opportunities to collaborate. 
Trout Lake Station is state and University of Wisconsin-funded. It's located at the 3,800-acre Trout Lake in far northern Wisconsin, about 180 miles north and west of Appleton. Meng and De Stasio said with Gerrish in charge, they're hoping the station's ties with Lawrence grow even stronger in the future.
"I know Reese and I now have connections up here that'll last for a long time, both with the permanent staff like Gretchen and with the other interns who are up here…they might even have professors with other connections for you," Meng said.
"All very intertwined"
Lawrence's involvement at Trout Lake began with De Stasio's predecessor, Sumner Richman, who took his students there every fall. De Stasio continues this tradition. He said it's important to research how climate change and human development affect food webs.
De Stasio said artificial lights from development around water might confuse zooplankton and keep them from migrating for food. Daphnia not eating algae means too little food for their predators and too much algae, which inhibits a lake's oxygen supply and changes the entire ecosystem.
"It's a beast of a project to try and look at a whole ecosystem, but I think of it like I'm one gear in the clockwork that's helping us understand large-scale issues in how we, as humans, and also other animals, affect each other, and so we're all very intertwined," Lavajo said.
Lavajo and Meng's paths intertwined thanks to their interest in Marine Term. They took De Stasio's prerequisite Aquatic Ecology course and went on the Marine Term trip to Bonaire together. Aquatic Ecology introduced them to Daphnia and inspired them to apply for this experience as well.
Whether ecology, microbiology, marine biology, or genetics, you can look forward to close collaboration with faculty and classmates.
Originally from the Chicago area, Lavajo said they've always had an interest in biology and made it their major, with a focus on aquatic sciences and an environmental studies minor. They want to go into environmental consulting.
Meng applied because she was interested in working with De Stasio further and increasing her camera skills after her Marine Term trip to Bonaire. She also came to love Daphnia after Aquatic Ecology.
"They take in food with their little legs…they're just very cute," Meng said.
Read about Meng and Lavajo's Marine Term trip to Bonaire
The experience has been highly educational for both students. Meng said she learned how to drive a boat, improve her microscope skills, collect samples, get into a research mode, self-pace, build confidence to lead her own projects and experiments, and approach new people about her ideas. Lavajo said they learned a lot about life in temporary ponds and ecological domino effects like Daphnia not eating algae. Videography was new for both.
"It's been a rocky ride, especially with the pandemic…but going back on campus this past year— my junior year—was really fun and I was a lot more involved…I think my experiences at Lawrence have shaped me pretty well," said Lavajo.
The Lawrentians are also sharing their light of knowledge with others: Trout Lake held an open house where the public—many of whom Lavajo said were from Appleton—could visit, look under microscopes, and hear about the research.
Lavajo said another team studying wild rice is working with a local Indigenous community. They said they liked how this interaction helps bring Indigenous perspectives into science.
"It's really heartwarming to see people connect together, even though we're in different places," they said.
The experience is ending, but De Stasio plans on continue the project. His sabbatical this fall will involve working with colleagues at Cornell University on advanced analysis technologies. The ultimate goal is a fully-automated system for this type of research. Meng and Lavajo's data will help train the technology.
"We'll have some publications coming out about this—one certainly on the technique side of it, one on the modeling side of it, and another one hopefully on the differences among the lakes that we're going to be sampling," De Stasio said.
Students interested in Trout Lake or other summer research opportunities can browse Lawrence's Student Research page. Meng and Lavajo said the online application was simple, but they had to be proficient at identifying zooplankton for this experience.
"Take advantage of how small Lawrence is," Lavajo said. "You're able to form closer relationships with your instructors and other staff members, and see what might interest you. Don't be afraid to dip your toes into different fields as well."
Meng and Lavajo said talking directly with instructors about the experiences was helpful as well. Meng said students interested in aquatic biology like her and Lavajo should contact De Stasio, as he knows the most about aquatics at Lawrence and would be happy to discuss it with others.
"There are quite a few grad students who need workers during the summer," Meng said.