The mariachi sounds coming twice-weekly from a rehearsal space in Lawrence University's Music-Drama Center have been a long time in the making. A dream, Jando Valdez '24 calls it.
The impetus for that dream goes back to 2016, when Valdez, then a freshman at nearby Appleton North High School, started a mariachi band with a few Latinx classmates, celebrating and sharing a genre of music with deep roots in Mexico.
It picked up momentum a year later when Valdez' group, Mariachi Jabalí, connected with the music education team at Mile of Music, beginning a relationship with Lawrence Conservatory of Music faculty, students, and alumni that would continue through three iterations of the popular Appleton music festival.
It accelerated in the fall when Valdez enrolled at Lawrence in pursuit of a Bachelor of Musical Arts (BMA) degree. He quickly found himself in conversations with Alex Medina '21, Willy Quijano '22, and Ricardo Jiménez '21 on the possibility of launching a mariachi ensemble in the Conservatory.
The idea aligned with discussions that had already begun in the Conservatory, where Associate Professor of Music Matthew Arau, fresh off delivering a keynote address at the International Mariachi Summit in San Diego in August 2019, was all in on adding mariachi to Lawrence's robust roster of student ensembles. He would help guide Valdez and the other students as they put together a plan and began recruiting other students.
It came to fruition early in Winter Term, when the new Lawrence University Mariachi Ensemble (LUMÉ) launched. Numbering upwards of 30 students during any given rehearsal—roughly half music majors, the others from across the college—the ensemble began playing together twice a week in the Music-Drama Center, with pandemic protocols in place.
"The first time LUMÉ was able to meet in person, it felt as if a piece of myself and my family's heritage had been reignited," Valdez said.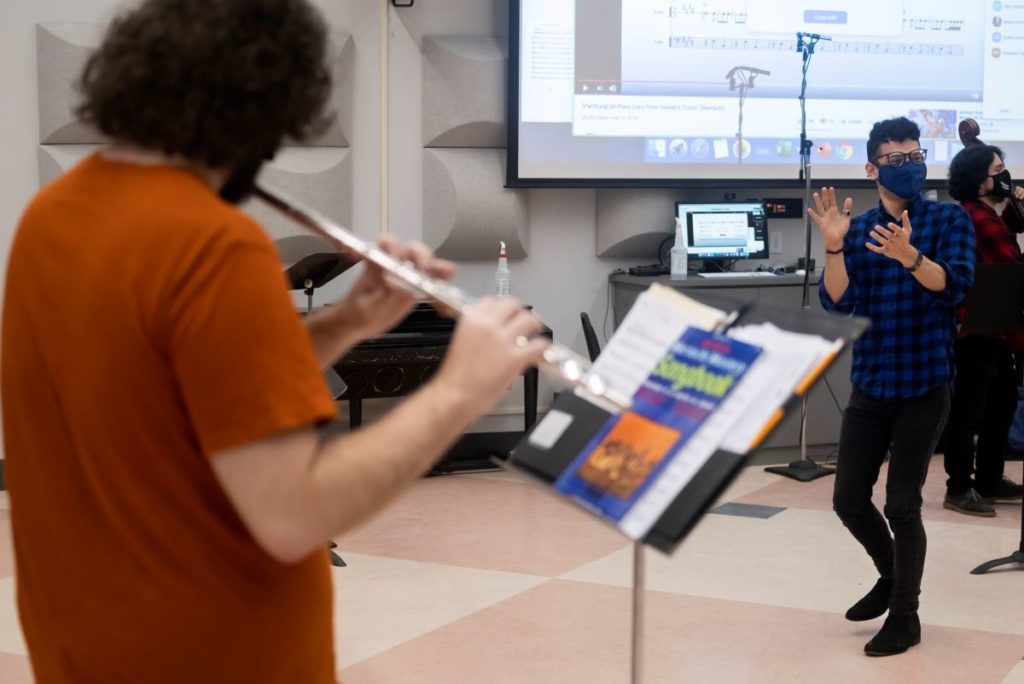 He said the ensemble aspires to do more than play mariachi music at a high level. The students also want to learn about the music, where it comes from and what it means to those native to it.
"The difference between LUMÉ and a traditional ensemble is that we want to dive deep into the roots of the music we play and focus heavily on history through research and knowledge from qualified mariachi educators," Valdez said.
That is music to the ears of Brian Pertl, dean of the Conservatory. He called the Mariachi Ensemble a great fit with the Conservatory as it allows students to explore their musical passions in an intellectual, creative, and meaningful way.
"It is such a great example of what I call empowered learning," Pertl said. "Lawrence is so good at helping students make their musical dreams a reality."
The ensemble also aligns well with ongoing Conservatory efforts to teach and explore music from around the world. That is no small thing. Look no further than Gamelan Cahaya Asri, Lawrence's Balinese gamelan, an ensemble featuring gongs, drums, and bamboo flutes of Indonesia. Then there's the Conservatory-led music education efforts that are part of Mile of Music, spearheaded by music education instructor Leila Ramagopal Pertl, much of it tied to exposing festival-goers to global music.
 "The dream of LUMÉ was perfectly aligned with our commitment to broadening our ensemble offerings beyond our outstanding classical music and jazz offerings," Brian Pertl said.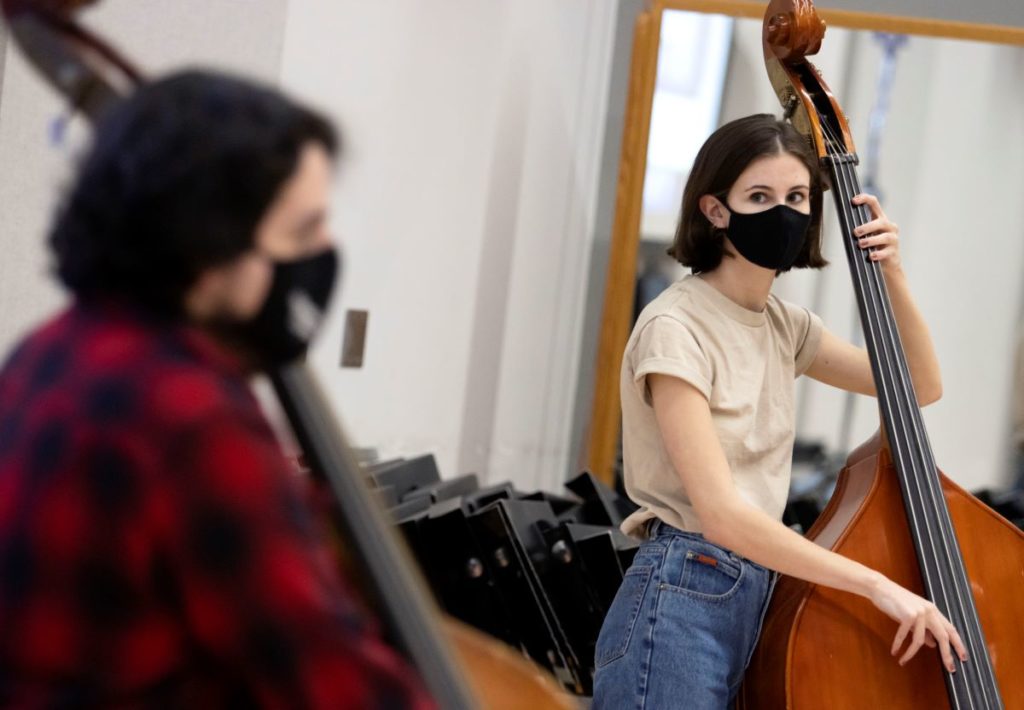 Arau, who chairs the Music Education Department and serves as associate director of bands in the Conservatory, said he was inspired while taking part in the International Mariachi Summit two years ago. He met mariachi music educators from across the United States and heard high school mariachi ensembles perform. It's a musical genre that has rarely been taught or otherwise nurtured in major music conservatories.
Why not? Arau asked. And why not at Lawrence?
"I was blown away by the musicianship and performance presence of these groups, and I realized that it would be fantastic for students at Lawrence to get to learn how to perform this incredible music of Mexican heritage," Arau said.
He began talking with Conservatory students about launching a mariachi ensemble, but when the pandemic hit a year ago and classes went remote in Spring Term, the idea was put on pause.
Then Valdez reached out to Arau over winter break with an offer to take the lead in making the ensemble happen, even during the pandemic. Arau began meeting with Valdez on Zoom, piecing together the particulars of getting it up and running. He connected Valdez with Fredd Sanchez, a mariachi music educator in San Diego who agreed to regularly Zoom in as a guest artist and teacher. (Sanchez even brought his professional mariachi group, Mariachi Continental de San Diego, onto a Zoom session to perform for the students.)
Rehearsals kicked off Jan. 25 and now take place on Monday and Wednesday evenings. Masks are worn. Musicians are spaced throughout the room. Some join via Zoom on giant screens.
"There is a lot of excitement about the new group because the music is so engaging and inspiring," Arau said.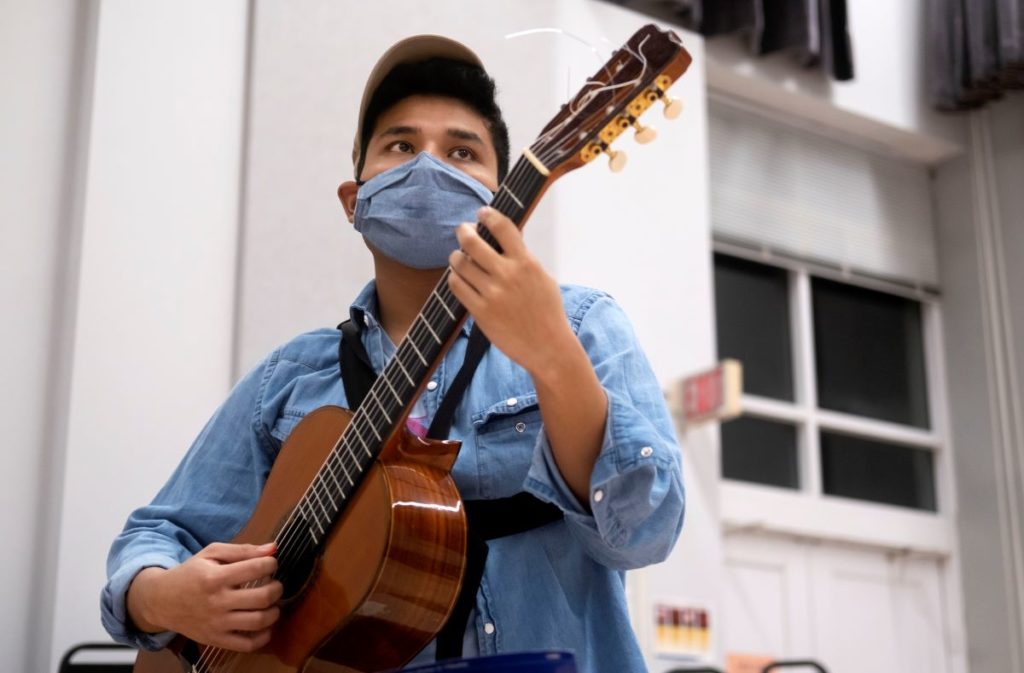 That enthusiasm for world music, mariachi in particular, is what drew Valdez to Lawrence when it came time to choose a school. He said he got a sense of community and support within the Conservatory while working with Lawrence's Mile of Music team.
"The emphasis on mental health and connection to one's spirit, the importance of effort, broadening your musical horizons, and, most importantly, the words of Leila Ramagopal Pertl, 'Music is a birthright'," Valdez said. "And there was a possibility of a mariachi ensemble being formed here at LU, so that became one of my goals if I was fortunate enough to be accepted."
The new ensemble aims to explore a range of sounds within the mariachi genre. The musicians are incorporating standard mariachi instruments such as trumpets, violins, voice, guitar, and bass as well as some nontraditional instruments such as flute, tuba, euphonium, and double bass.
"This term we are focusing on the style of rancheras, which are songs typically about living in rural Mexico and have a waltz feel," Valdez said. "In addition, we are learning tunes in the style of son jalisciense—a style that switches between 2-beat and 3-beat rhythms—and polka, which is influenced directly by German polka."
For the moment, the pandemic is keeping LUMÉ from debuting in front of a live audience. Instead, the students have been working toward a debut livestream performance, set for 9 p.m. March 10.
That, Valdez said, is the next step in the dream.