It's been the summer of sustainability on the Lawrence University campus, with students front and center in making change happen.
The goats that have taken up temporary residence in the SLUG garden are just one piece of a much bigger puzzle.
So is the ongoing bee advocacy work that has resulted in Lawrence being certified by the Bee Campus USA program, only the second Wisconsin campus to earn that designation.
Now comes the installation of Lawrence's first Flex Farm, a hydroponic growing system set up last week by Fork Farms in Andrew Commons. The first planting in the indoor growing container — basil and leaf lettuce — is taking place this week.
The three projects are the very visible fruits of ongoing efforts to make Lawrence a more environmentally friendly campus, efforts that gained momentum when the Sustainable Lawrence initiative was launched two years ago, funded by a grant to transform the campus into a living laboratory of sustainability. 
Many of the efforts are student-driven, supported by a Student Sustainability Fund that allows students access to project-based grants, overseen by a Sustainability Steering Committee.
"The goal of Lawrence's sustainability initiative is to make students, staff and faculty aware of places where they can make more sustainable decisions and then challenge them to then make those decisions in their everyday lives," said Project Specialist/Sustainability Coordinator Kelsey McCormick, co-chair of the sustainability committee. "It's encouraging to see students applying their knowledge and challenging Lawrence to rethink its own processes and decisions."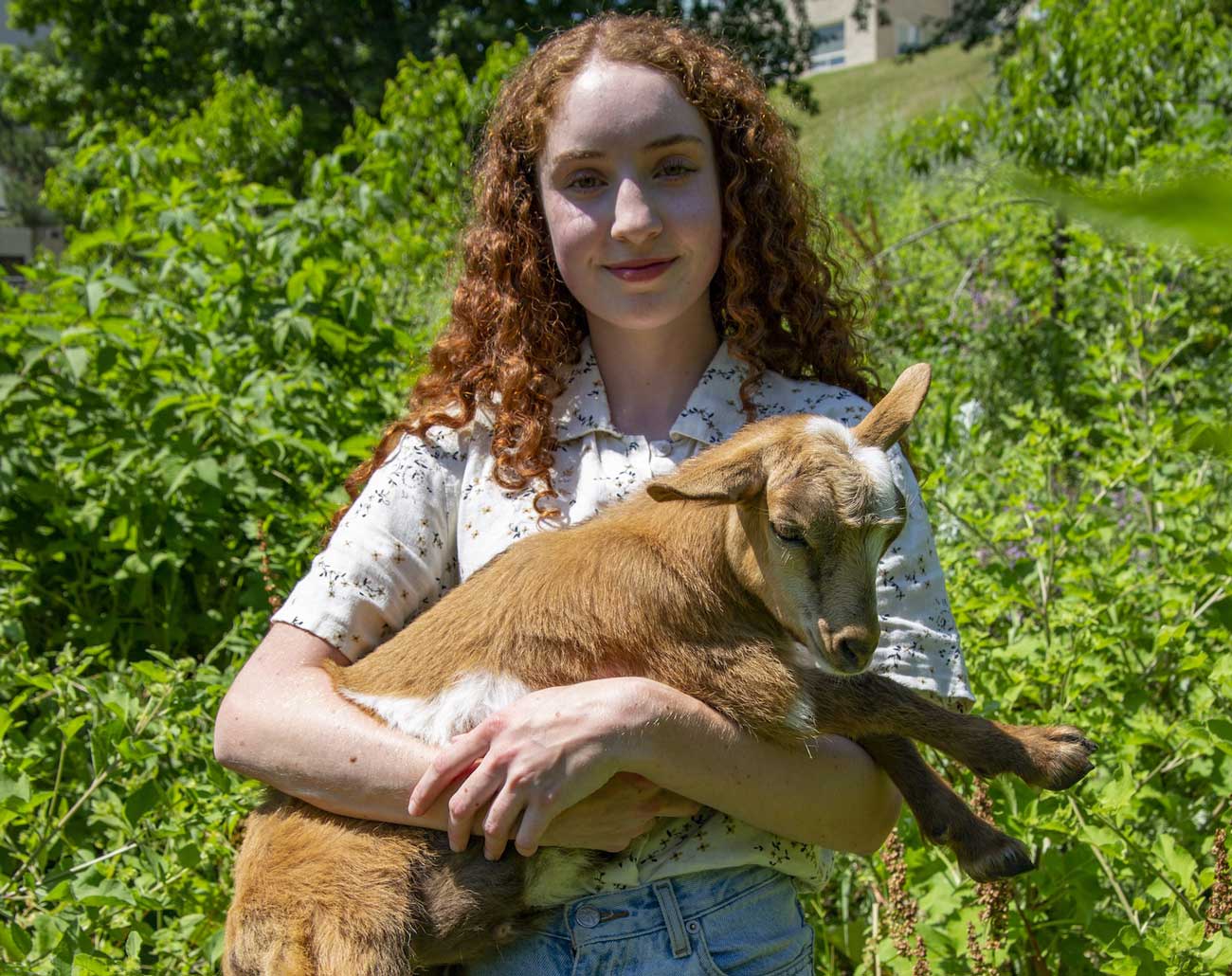 Among those students are Valeria Nunez '22 and Marion Hermitanio '21, who secured funding through a sustainability grant to bring the Flex Farm to campus.
Students will operate the year-round Flex Farm, with an assist from Bon Appetit, the company that manages the commons. It's expected that 50 percent of the foods grown will be served to students and the other half will be donated to a local food pantry. The hydroponic system will produce about 25 pounds of greens in each 23-day cycle.
Nunez and Hermitanio, along with members of the Bon Appetit staff, are getting the initial training on the Flex Farm. When fall term arrives, Nunez and Hermitanio will organize a student volunteer program, in conjunction with the school's Committee on Community Service and Engagement (CCSE), to run the Flex Farm and coordinate the community outreach.
"We both believe that any changes you can make to be more eco friendly can make a huge difference," Nunez said of her partnership on the project with Hermitanio.
"We were talking a lot about hunger and how not everyone gets access to fresh, nutritious foods. We saw the Flex Farm as an opportunity to address the food crisis locally by providing these nutritious foods to people in the Appleton area who need it." 
'It's a learning curve'
Lawrence students have their fingerprints on all sorts of other sustainability projects this summer.
Floreal Crubaugh '20 tapped into the Student Sustainability Fund and sought permission from the City of Appleton to bring in goats to help control an overgrowth of weeds in the SLUG garden.
Goats working weed control
"It's a learning curve for all of us," Crubaugh said of using the goats to control the weeds on the east end of the garden. "I'm hoping it's something we can repeat. Hopefully it won't get to this point again where it's so unmanageable. Hopefully, with a combination of just weed mitigation and having this mowed down by goats once in a while we can control it. My end goal is to turn it into a wildflower pollination garden and not just a weed bed." 
Elsewhere in SLUG this summer, Phoebe Eisenbeis '21 is working on a volunteer program that brings area children into the garden to learn about sustainable agriculture. Amos Egleston '20 is working with a contractor to fix the drip irrigation system, and Cas Burr '20 is heading a project to replace the hoop house.
On the bee front, Allegra Taylor '20 and Claire Zimmerman '20 are working with biology professor Israel Del Toro on the Appleton Pollinator Project, part of the bee advocacy efforts that recently resulted in Lawrence earning a Bee Campus USA designation from the Xerces Society for Invertebrate Conservation.
Lawrence's bee advocacy work
And Jessica Robyns '20 is taking the lead on a pollinator garden and grounds survey at Lawrence's Bjorklunden property in Door County.
Students come to these projects with deep passions, McCormick said. The Student Sustainability Fund allows them opportunities to put those passions into action.
"Student projects play an important role in helping Lawrence achieve its sustainability goals," McCormick said. "These projects are often based on the strong interests or research questions from students, and therefore result in deep exploration of a particular topic." 
Sustainability grants average about $2,500 per project, McCormick said. A faculty or staff advisor is assigned to each project to provide oversight, and all grant requests must go through the Sustainability Steering Committee.
"All sustainability grant recipients are also required to complete a final reflection for their project, to inform the Lawrence community what they have learned from the project and what the lasting effects to campus will be," McCormick said.