Maintenance and infrastructure upgrade projects are proceeding at Lawrence University this summer, with COVID-19 safety precautions in place.
In addition to the recently announced upgrades in lighting and heating and air conditioning infrastructure by Johnson Controls Inc., the campus projects include the renovation of the second floor of Mudd Library into the Center for Academic Success, the installation of new bleachers as part of an Alexander Gym revamp, and a new outdoor stairway leading from Briggs Hall to the trail along the Fox River.
Much of the work is donor funded.
Here are seven notable projects taking place across campus this summer (and seven more that were recently finished):
1. Mudd Library second floor transformed into Center for Academic Success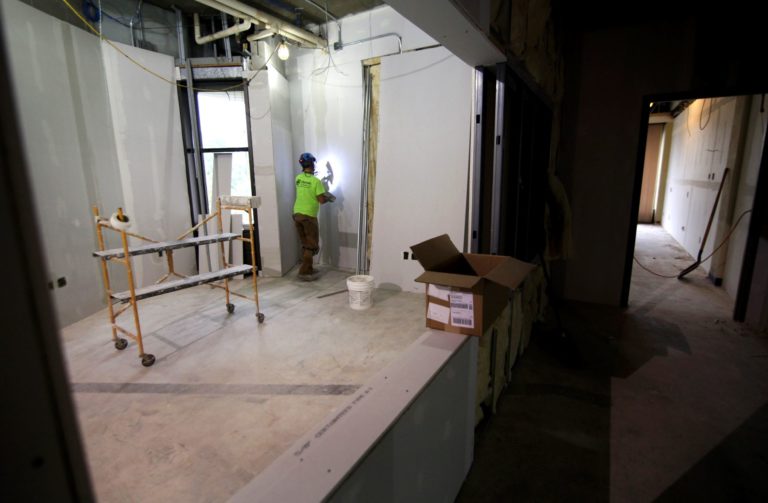 This work is ongoing through summer, with the new Center for Academic Success scheduled for occupancy by the beginning of September. It will feature nine private offices, a classroom, a testing room, a conference room, a general tutoring area, two new restrooms, and a remodeled Help Desk and computer lab. It's a major investment for an academic initiative that was launched in 2016 to help support Lawrence students on their academic journeys. The library renovation was made possible by a $1.5 million fundraising campaign. The center offers support in areas that range from tutoring to accessibility services and more.
2. New hardscape in front of Wellness Center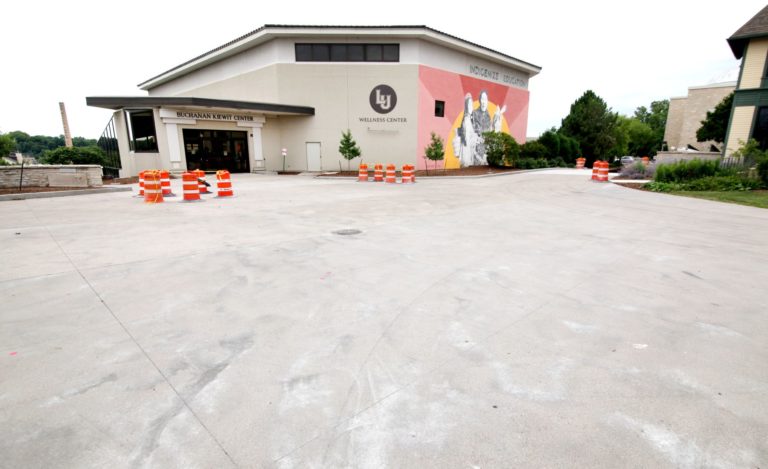 The replacement of concrete from Sampson House to Memorial Hall is under way. This hardscape repair helps beautify the area directly in front of the Buchanan Kiewit Wellness Center. It also helps improve safety, as the concrete in that area was in disrepair.
3. Outdoor stairway at Briggs Hall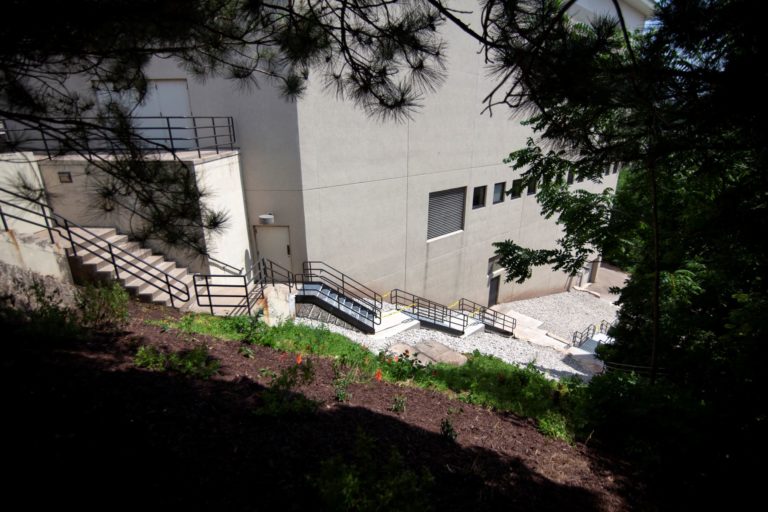 The installation of the new metal stairway and adjoining landscaping next to Briggs Hall are nearing completion. The stairs provide an easy and safe route to the trail along the Fox River and the SLUG Garden, not to mention easy access to the City of Appleton's new Lawe Street Trestle Trail, which is set to open later this summer. The stairs replace the old wooden steps, which had been closed off because of safety concerns.
4. Alexander Gym revamp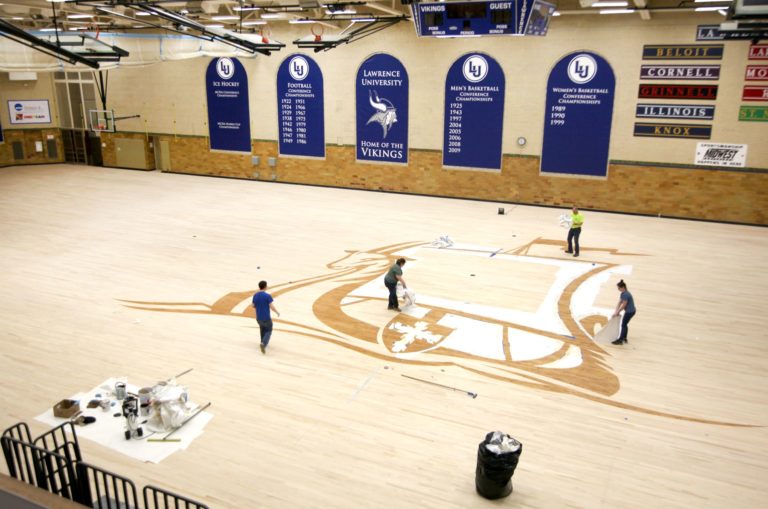 New bleachers in Alexander Gym are being installed this summer. That follows a new wall that was constructed to hold the bleachers. Earlier, the gym floor was refinished and now features a large Viking ship logo. It should enhance the playing and viewing experience for basketball games, volleyball games, and other athletic events at Alex.
5. Memorial Chapel upgrades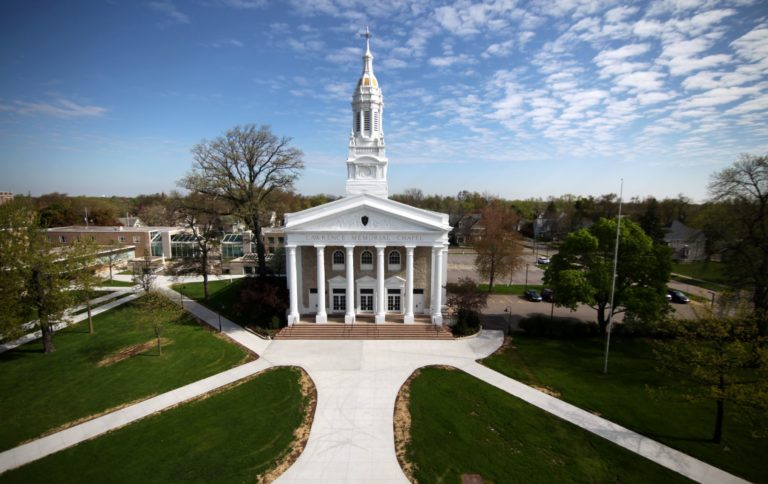 A large projection screen is being mounted above the stage in Memorial Chapel to enable the space to be used as a classroom and to enhance certain productions. Additionally, stained-glass window repairs will happen this summer courtesy of a donor fund that supports annual upkeep work on the Chapel windows. Also, a section of the Chapel roof is being repaired.
6. Warch Campus Center flooring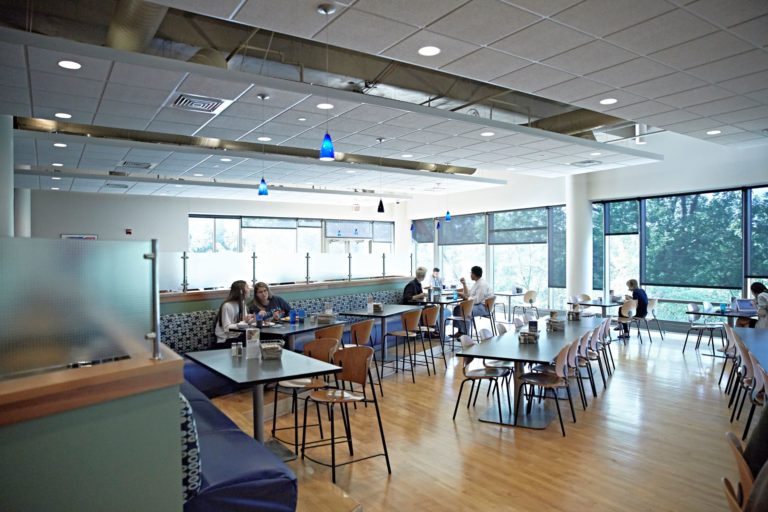 A planned Warch dining area renovation project, funded by Bon Appetit, is on hold for a year; however, the replacement of the flooring in both Andrew Commons and The Cafe is still a go for this summer. The new terrazzo flooring takes 12 weeks to install. Doing it this summer will reduce the construction time to complete the remainder of the project next year. The flooring is expected to be completed by the end of August. 
7. Plantz Hall Wi-Fi and new paint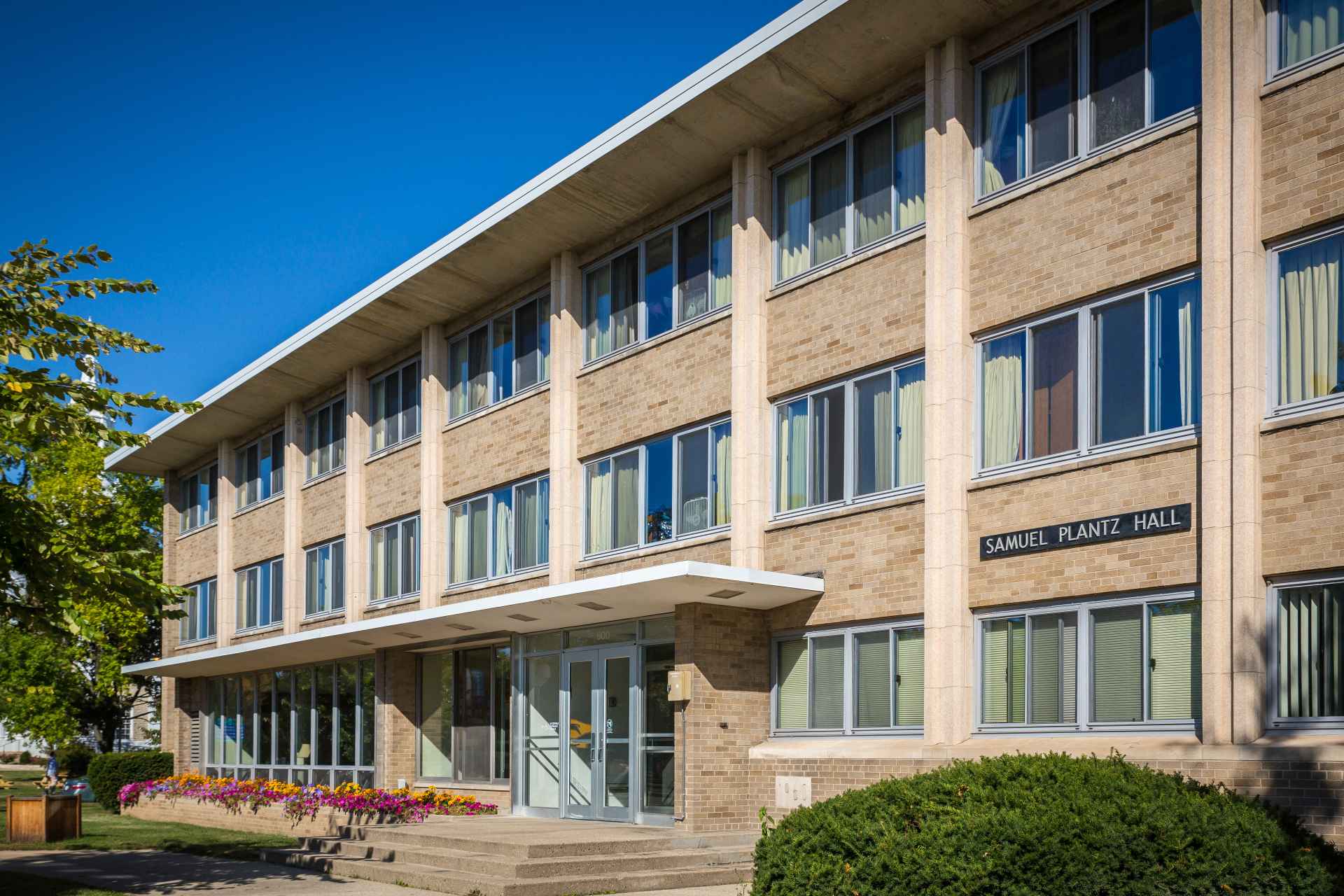 Technology Services staff are completing copper data wiring infrastructure upgrades in Plantz Hall, preparing the residence hall for the next generation of Wi-Fi. Also, the lounge and lobby at Plantz are being painted and two new murals added.
And more: Here are seven other projects that have been completed since most Lawrentians left campus in March:
Briggs Hall 223:  This classroom was remodeled in June, complete with new flooring, furniture, and paint.
Women's hockey locker room remodel: The women's hockey locker room, located at the Appleton Family Ice Center in Memorial Park, was remodeled in April, part of the preparation for the debut of Lawrence's women's hockey team. The refurbishment included adding an additional stall, new fixtures, rubber flooring, benching, and shelving.
Steam line repair: Two steam line repairs were completed during the spring and early summer.
Parking lot of Big and Little Exec: The lot surface has been repaired.
Install of METASYS metering system: This is an HVAC control system upgrade at Warch Campus Center.
Community Music School roof replacement: The Lawrence Community Music School (formerly known as the Academy of Music) received a new roof in March.
Alexander Gym transformer: A new transformer was installed at Alex Gym courtesy of WE Energies