More than 3,300 donors stepped up Wednesday to contribute more than $1.97 million in Lawrence University's Giving Day—both all-time highs for the eighth annual event.
The day was a celebration of being back together after more than a year of remote study, with on-campus engagement events mixed with a virtual campaign to connect with alumni, faculty, staff, students, and friends, getting them excited about what's to come for Lawrence.
Amber Nelson, associate director of annual giving and project manager for Giving Day, said the day was all about supporting students—current and future—and nurturing day-to-day life at Lawrence, mostly through the Lawrence Fund, which provides for campus improvements, sustainability efforts, academic innovations, and student opportunities in arts and athletics. Alumni who signed up as "game changers" matched donated funds as part of various "game changer challenges" on campus and on social media throughout the day.
President Laurie A. Carter shares her gratitude for the Lawrence community for their outpouring of support during Giving Day.
"We are so grateful that the Lawrence community shined so bright on Giving Day to help us break records for both donors and dollars," Nelson said.
Nelson said support came from on and off campus. There was a 36% increase in participation from faculty and staff; more than 150 alumni volunteers signed up to help spread the word of Giving Day; and students helped unlock $5,000 of "game changer" funds while organizing and participating in a bag toss challenge.
"The success of this day really was a full community effort—from alumni reaching out to their classmates encouraging them to give, to staff answering phones, to students running events on campus, to the generosity of our 'game changers' who provided matching gift funds, to countless other ways people showed their support for Lawrence," Nelson said.
President Laurie A. Carter, who began her tenure as Lawrence's 17th president in July, participated in her first Giving Day. She joined students for trivia and bag toss challenges.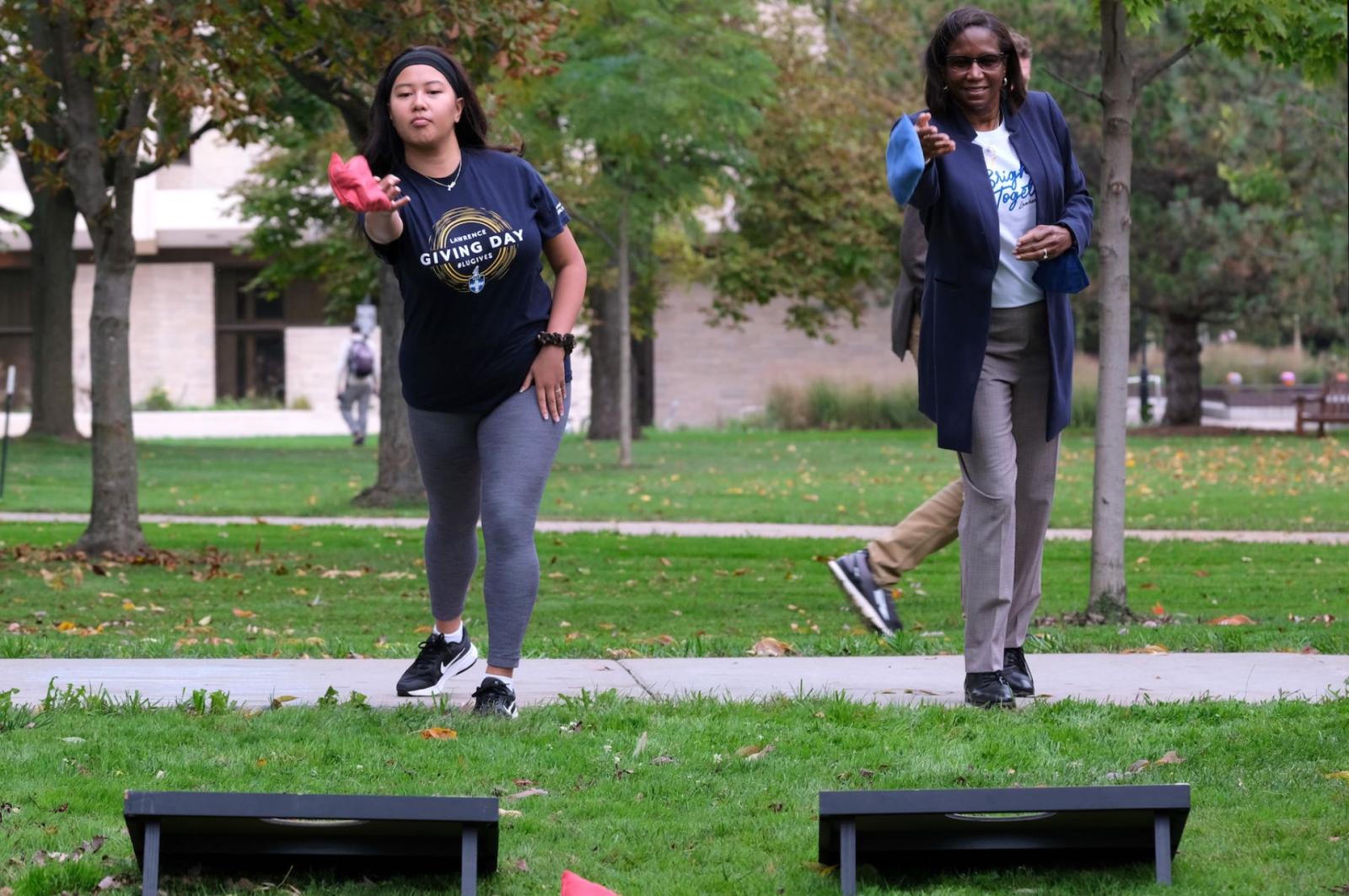 "There is so much to love about Lawrence, but one thing I notice every day is how much our community cares," Carter said. "Giving Day is such a powerful and exciting example of that."  
A year ago, Giving Day went entirely virtual because of COVID-19 pandemic protocols. Having on-campus activities again provided additional enthusiasm, another "shining example," Carter said, of being "Brighter Together."
All of the "game changer" challenges were met.
"Lawrentians are pretty humble," said Matthew Baumler, executive director of Alumni and Constituency Engagement. "All that changes on Giving Day when their support, their stories, and their encouragement is heard from around the world. It's a day that reaffirms our commitment to the mission, and I couldn't be more grateful."