Three members of the Lawrence University faculty — two key music talents in the Conservatory of Music and one highly acclaimed geologist — were honored Sunday, June 9 for their academic and scholarly achievements.
The awards, announced during the 2019 Commencement ceremony and considered to be among Lawrence's highest faculty honors, went to gifted instrumentalist and music instructor Erin Lesser, jazz musician and instructor Jose Encarnacion and highly lauded geology scholar and author Marcia Bjornerud.
For more coverage of Lawrence's 2019 Commencement, click here.
Erin Lesser
Lesser took home the 2019 University Award for Excellence in Teaching. A member of the acclaimed ensembles Wet Ink, Decoda, and Alarm Will Sound, she is both a highly regarded performer and an accomplished instructor. She has been teaching at Lawrence since 2011.
In her award citation, Provost and Dean of Faculty Catherine Kodat praised Lesser for her ability to balance the demands of being a touring artist with those of the classroom.
"Your brilliance in the concert hall finds its bright reflection in the Lawrence Conservatory studio, where your grateful students grow as musicians and thinkers in their own right, thanks to your thoughtful, attentive efforts to meet them where they are and then give them the tools and support that helps them realize their artistic goals."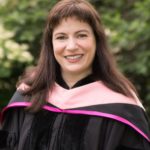 Jose Encarnacion
Encarnacion was given the 2019 Award for Excellent Teaching by an Early Career Faculty Member. 
While Encarnacion has been an assistant professor at Lawrence for just five years, his ties to the Conservatory date back to 2002, when he came here shortly after receiving his master's of jazz and contemporary media from the Eastman School of Music. He would leave for a six-year stint as director of jazz and band ensembles at Eastman before returning to Lawrence in 2011 as a lecturer. He became a tenure-track faculty member in 2014 and now leads a jazz program that is regularly lauded in national music education circles.
"Your return has had a measurable effect — since 2015, the excellence of Lawrence's jazz program has been recognized by no less an authority than DownBeat magazine, which has presented the university with four awards in four years," Kodat said.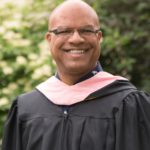 Marcia Bjornerud
Bjornerud, who came to Lawrence in 1995, is the recipient of the 2019 Award for Excellence in Scholarship or Creative Activity. She has been among the college's most honored faculty members. The Walter Schober Professor in Environmental Studies and founder of the Environmental Studies major has earned two Fulbright Senior Scholar awards, was named a Fellow of the Geological Society of America, received the Outstanding Educator Award from the Association of Women Geoscientists and was named a Fellow of the Wisconsin Academy of Sciences, Arts, and Letters.
The faculty scholarship honor comes after her 2018 book, Timefulness: How Thinking Like a Geologist Can Help Save the World, was widely praised for making complex geological concepts — and their importance in the ongoing debate over how we care for the Earth — both accessible and substantial. It was long-listed for the PEN/E.O. Wilson Prize for Literary Science Writing, was a finalist for a Los Angeles Times Book Prize and received the PROSE Award in Popular Science and Popular Mathematics from the American Association of Publishers.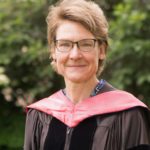 "In Timefulness, you draw on your research into the physics of earthquakes and mountain formation to show how an understanding of the multiple, overlapping temporalities of the Earth's deep past can help us gain the perspective we need if we are to confront and address the environmental challenges that face us," Kodat said.