As Lawrence University treads new territory with distance learning for Spring Term, a consulting site for prospective music students has given the school's Conservatory of Music a major salute.
Music School Central named Lawrence University's Conservatory of Music one of the best "hidden gem" music schools in the country. The top-10 ranking placed Lawrence at No. 3.
Bill Zuckerman, who oversees musicschoolcentral.com – he previously authored a column on the Conservatory titled, Is This the World's Most Socially Conscious Music School? – called Lawrence "the definition of excellence in a liberal arts college music school."
The ranking is music to the ears of Conservatory Dean Brian Pertl as he and his team launch into a Spring Term like none before. As are professors in departments across campus, the Conservatory faculty have taken up the challenge of keeping the community aspect of the Lawrence experience intact while shifting to distance learning amid the COVID-19 pandemic.
For more on the Lawrence Conservatory of Music, see here.
Lawrence professor launches national fundraiser for artists shut down by COVID-19. See details here.
Tears were shed when word first came down that Lawrence, like other colleges and universities across the country, would be quickly transitioning to virtual instruction during the spring, Pertl said. But the conversation among faculty shifted almost immediately to ways in which the learning experience could still be marked with close faculty-student interactions, community building, and opportunities to tap into skills that will be in demand in the music world going forward.
What's happened over the past four weeks – Spring Term began Monday following Winter Term finals and a two-week spring break – has been nothing short of amazing, Pertl said.
In the horns studio, Assistant Professor of Music Ann Ellsworth has taken her practice of group warm-ups each morning in Music-Drama Center 163 and transformed it into a daily Zoom session with her horn students. And she's invited prominent horn makers and horn players from around the globe to interact with her students via Zoom masterclasses.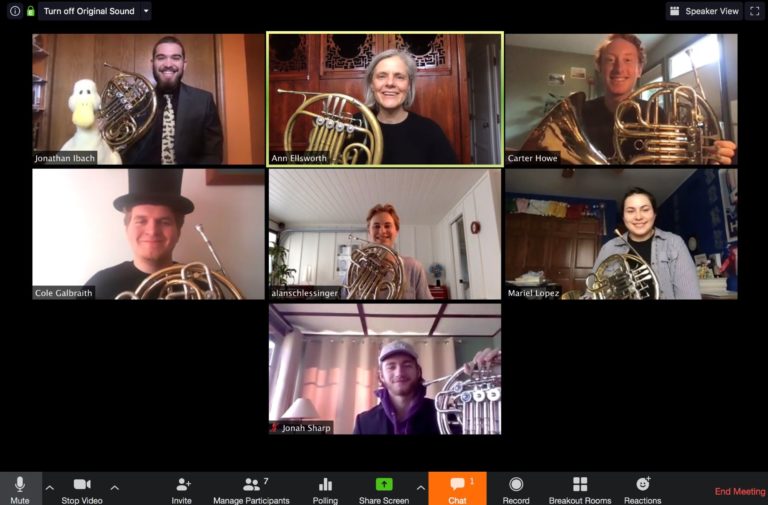 "So, horn makers from the U.S. and horn players from places like the Metropolitan Opera Orchestra and at least one from Germany will be Zooming in to speak to her horn students," Pertl said. "It's sort of taking advantage of this opportunity that a lot of these great musicians in the world are stuck at home, too. They are actually eager to interact with students."
Trombone professor Tim Albright is working on a virtual trombone ensemble project, recording Charles Ives' Variations on America, arranged by Lawrence alumus Dominic Ellis '17. Trombone students will be recording their parts remotely, and the music will be stitched together on campus, thus keeping the trombone ensemble alive, just in a different setting.
Assistant Professor of Music Matthew Arau, who is teaching a rehearsal techniques class for music education, is partnering with middle and high school music programs in Malaysia, led by Lawrence alumnus Dan Miles '10, and Hong Kong. Lawrence students will direct those music students from afar.
A number of student music groups, most notably in the jazz and improvisation area, will be exploring live improvisation in virtual spaces, performing together even though they are spread across the country or around the world.
Students preparing for junior or senior recitals are re-imagining what those recitals might look like. While some remain on campus and will stream recitals from Harper Hall, others are prepping for remote recitals that incorporate elements and skills that might not otherwise have been considered, including turning a recital into an animation-infused music video.
"All of sudden our students, instead of throwing up their hands and being dejected or saying, 'I can't,' they've taken up the challenge, and they're saying, 'I can, and not only can I, I am going to do something that is going to push my boundaries,'" Pertl said. "They're redefining what a recital can be."
Staying flexible and staying connected are front and center as faculty and students venture into these uncharted waters.
"It's beautiful, creative flexibility," Pertl said. "We're working with our students all the time to say, 'This is what you're going to need out there in the world, and this is what's going to be exciting about being a musician in the world today.' And they are going to be taking all of these forward-thinking practices, and they're just going to be doing them, which is a sort of neat and beautiful thing.
"Is it ideal? No, it's not ideal. Nobody wanted this to happen. But can we make the very, very best of this and come away with skills and knowledge that we wouldn't have otherwise had to acquire, but skills and knowledge that will be beneficial for our students once they leave here?"
Ellsworth said her daily warm-up sessions with horn students might seem like a small thing, but it's that sort of personal connection that students most feared would be lost.
"I ask everyone to mute themselves and then choose one student for each exercise to unmute so we can all hear that one person," Ellsworth said of the sessions. "I play a short exercise from our routine and they all repeat it after me. The purpose of the group warm-up for horn is that half of the benefit is getting the mouthpiece off the face in-between exercises; it slows us down, prevents injury while we're still cold, and sets us up for the rest of the day.
"But it turns out the real purpose for distance group warm-up is the time after our 45 minutes of playing, when I leave the room but leave the meeting running. I tell them they can hang out or not and that I'll be back in 20 minutes, and I'll come back and they are still there, hanging out, talking about student stuff. We had a prospective student join one meeting and I left them there to get acquainted because they can't come to visit the campus. It's super productive."
There are dozens of other examples of collaboration and creativity taking place across the Conservatory as Spring Term gets rolling, Pertl said, all of which speaks to the ideals that landed Lawrence on the "hidden gems" ranking in the first place.