Lawrence University faculty, students, and staff honored the legacy of Dr. Martin Luther King Jr. during a day of service on Monday.
No classes were held on the federal holiday honoring the civil rights icon, but Lawrence again provided a bevy of volunteer and learning opportunities around King's life and message. The day was topped off with the 29th annual Fox Cities Dr. Martin Luther King Jr. Celebration at Memorial Chapel, an event co-sponsored by Lawrence and African Heritage Inc.
A community celebration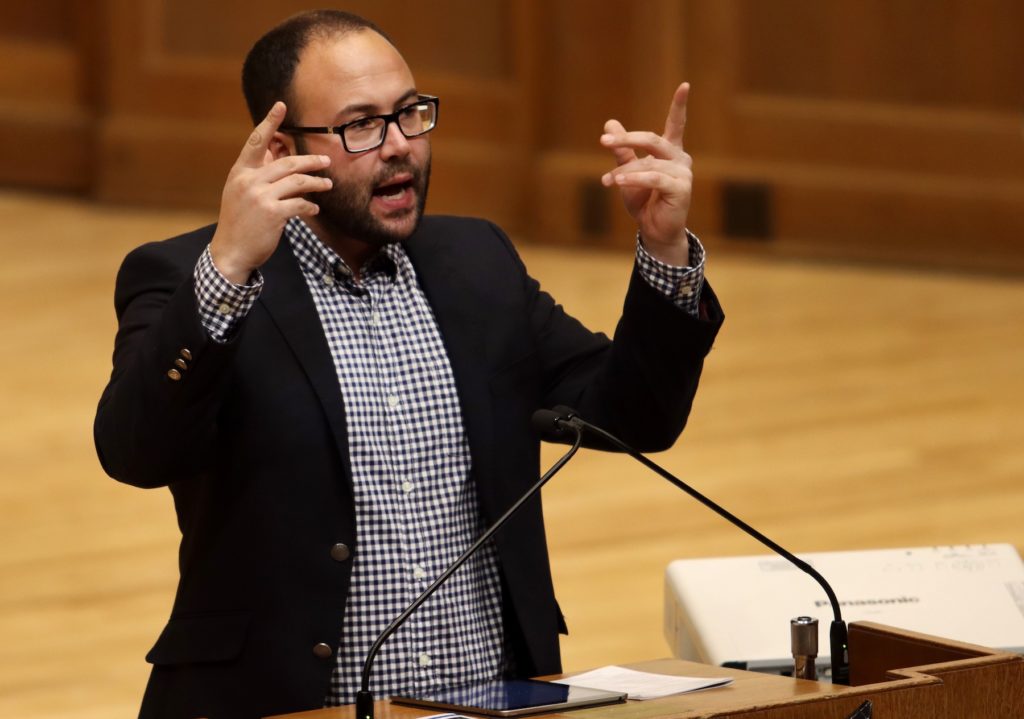 The evening event featured keynote speaker Simon Balto, an assistant professor of history and African American studies at the University of Iowa and author of the book, Occupied Territory: Policing Black Chicago from Red Summer to Black Power.
He implored the audience not to lose sight of the radical mission of King, not to be lulled into complacency by a modern caricature that allows politicians and others to tap into benign visions of King that they believe can impart feel-good messages.
"We treat him now like this bundle of sound bites and remember him as a lovable man with little more than a kumbaya dream of a colorblind society," Balto said. "People, and politicians in particular, seem to think that King can be whatever they want him to have been."
He was so much more than that, Balto said. There's a reason that a Gallup poll in 1966 found that only 32% of Americans had a positive view of King. He sought radical change. He made people uncomfortable. And that was a good thing.
"Martin Luther King was a radical," Balto said. "People often think of the word radical as if it is pejorative or scary. But we shouldn't think that way."
It's about "challenging the status quo at a fundamental level," he said.
King and others in the civil rights movement successfully took down Jim Crow laws in the south, ending legalized segregation. But that, Balto said, was only one phase. The next phase — fighting racism that was built into the very fabric of the nation — would prove far more difficult. It's a battle that continues today even as we honor the great accomplishments of King.
"Yes, Dr. King did want an end to racial discrimination, but he also knew that simply ending the Jim Crow system was not going to do it," Balto said. "He knew that racism was manifested in all sorts of different ways … and not just in the south. He knew it was baked into the housing policies in places like Milwaukee and Chicago and Los Angeles. … He knew it was baked into the ways of the criminal justice system and how it treated black people. He knew it was in the school system and the labor market, in all sorts of places the civil rights movement that had vanquished Jim Crow in the south hadn't fixed."
King told his followers that the new battle would be more difficult, in large part because it came with a much higher price tag for the nation, one that would run into the billions of dollars and require the transformation of many of the tenets of society, Balto said. It was an uphill fight, and remains so today.
"People died pursuing it," Balto said. "Indeed, Dr. King died pursuing it."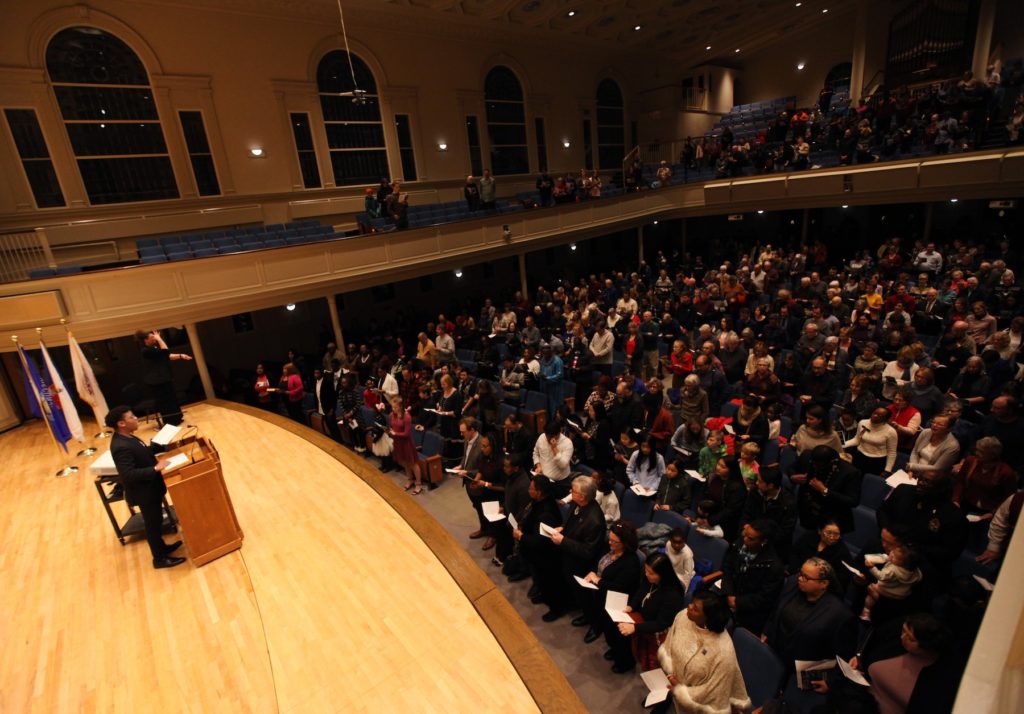 Also at Monday's King Celebration event, Rev. Osagyefo Uhuru Sekou, a musician, filmmaker, and theologian, led a rousing music portion of the program. The annual Jane LaChapelle McCarty MLK Community Leader Award was presented to Carla A. Manns, a local author, business owner, and community leader. And Pa Lee Moua, formerly an associate dean of students for diversity at Lawrence and now the Appleton Area School District's diversity, equity, and inclusion officer, received the Dr. Martin Luther King Jr. Educator Award.
Special video tributes were given to recently departed community leaders Ronald Dunlap and Henry Golde.
Day of service activities
Nearly 400 Lawrence students, faculty, and staff took part in community outreach activities or participated in teach-ins Monday in honor of King's legacy. With no classes being held, it was designated as a day of service.
Nearly 150 volunteers supported communities across the Fox Cities through service at Riverview Gardens, the Fox Valley Humane Association, Feeding America, Brewster Village, and the Boys and Girls Clubs in Appleton and Menasha. Another 155 attended a half dozen teach-ins that ranged from being actively engaged in anti-racism advocacy to addressing stigma and disparity within mental health treatment.
"We were very impressed by the interest from the Lawrence campus," said Kristi Hill, director of Lawrence's Center for Community Engagement and Social Change. "We are hopeful that we provided a variety of offerings around learning, volunteering, and celebrating."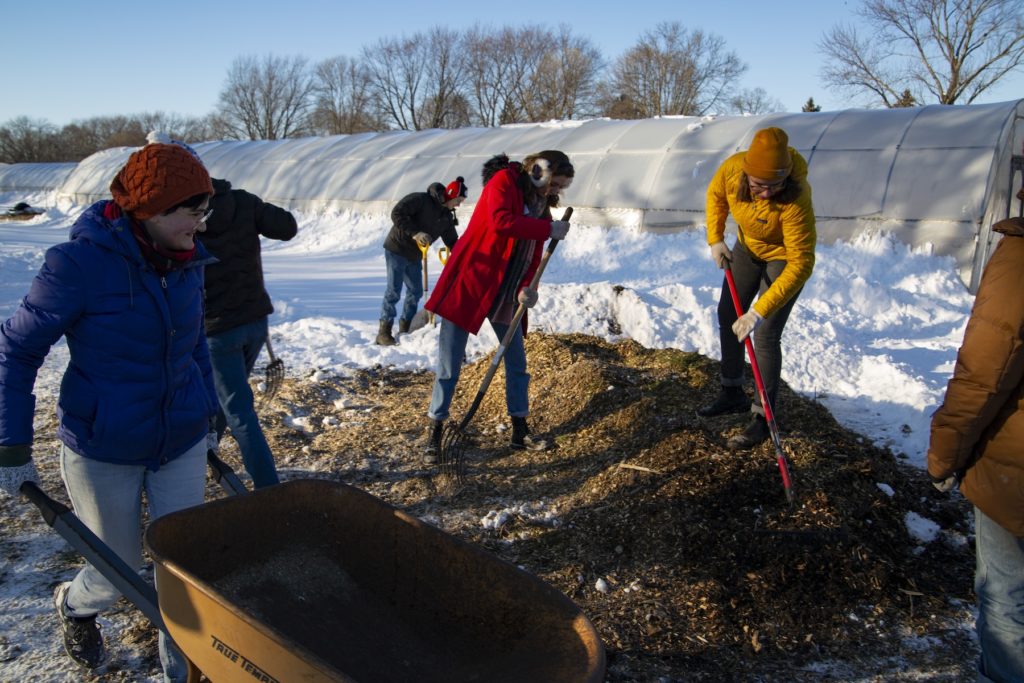 At Riverview Gardens, an Appleton nonprofit that uses urban farming as a means to produce food and provide job training for struggling populations, nearly 25 students took to the fields on a cold afternoon to place mulch into hoop houses and do other chores, all aimed at prepping the farm for spring planting.
"Riverview Gardens is a really great organization because they work with job skills training for homeless and disadvantaged communities," said Floreal Crubaugh '20. "That's really important for our day of service."
She and many of the other volunteers she was working with are members of the student organization that tends to the Lawrence University Sustainable Garden (SLUG), so the outreach to Riverview Gardens was particularly close to the heart.
"We're a club that's really organized around community service and volunteering," Crubaugh said. "This really meshed well with our mission of giving our time and giving our skills to the community."
It's work that was much appreciated by the workers who tend to the needs of Riverview Gardens on a daily basis.
"This helps us prepare for our spring planting," said Elisse Pavletich, the farm manager. "They are putting mulch in a lot of our hoop houses, which will prevent weeds from growing in those places and it gives us a lot more time to focus on the vegetables in spring, which then helps us to help more people."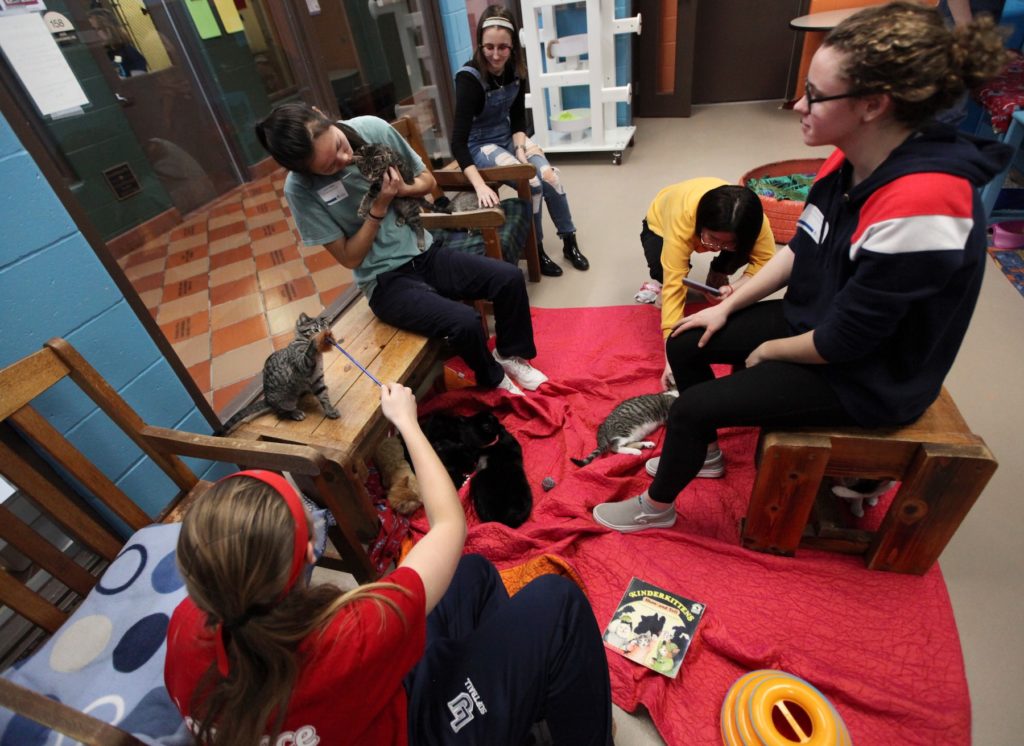 At the Fox Valley Humane Association, a team of Lawrence volunteers focused on cleaning the facility, doing laundry, and stocking shelves before turning their attention to interaction with the animals that are currently calling the shelter home.
"I find working with animals incredibly important," said Sara Prostko '20. "They are a population that cannot say their needs, they don't have a say in their environment, where they go, who they're with.
"Lawrence is all about trying to be a voice for those who cannot have a voice for themselves. I think this is exactly that. … We're doing a lot of cleaning and sorting of stuff, things that I'd rather us volunteers do rather than employees so they can spend their time and efforts on things to expand the organization."