Welcome, President Laurie A. Carter.
A new era at Lawrence University begins today as Carter steps in as the 17th president in the 174-year history of the university. She comes to Lawrence from Shippensburg University in Pennsylvania, where she had served as president since 2017.
Carter succeeds Mark Burstein, who closed his Lawrence presidency at the end of June after eight years, wanting to return to the East Coast to be closer to family.
Carter was named president following a national search conducted by Lawrence's Presidential Search Committee, led by chair Cory Nettles '92 and vice chair Sarah Schott '97. The 17-member committee, which included alumni, faculty, staff, and students, delivered a unanimous recommendation for Carter to the Board of Trustees.
Since that announcement in early March, Carter has been communicating regularly with various members of the Lawrence community to help get her presidency off to a fast start.
She arrives with a work history that includes a 25-year stint in various leadership positions at the Juilliard School in New York City and several years as an executive vice president at Eastern Kentucky University.
The number 17 has been significant for Carter. She also was the 17th president at Shippensburg. Before leaving Pennsylvania, Carter and the Shippensburg University community held "17 Days of Kindness," featuring blood drives, service days, community clean-ups, and food and school supply drives. It was a flashback to something the campus had initiated when she first arrived at Shippensburg, and she told the student newspaper it was important to her to do it again on her way out.
"I think it's really significant to the world — kindness matters," Carter said in the interview with The Slate before leaving campus. "And a little kindness goes a long way. It really softened the community, brought us together in so many ways. And I thought it appropriate for us to end in the same way, really focusing on how we treat one another and that mutual respect."
As Carter's tenure at Lawrence begins on July 1, we're sharing some content that has helped us get to know her a little better over the past few months.
"As a sitting president, I am well aware of the challenges facing higher education, but I know the Lawrence community is ready to work together to continue the traditions of excellence while ensuring a bright future for the students, the university, and the community," Carter said on that day in early March.
The things to know included her background in higher education, much of it spent in a liberal arts setting, her work as a lawyer, her early days in Student Life, her successes as a student athlete, her passion for the arts, and her enthusiasm for exploring all things Wisconsin.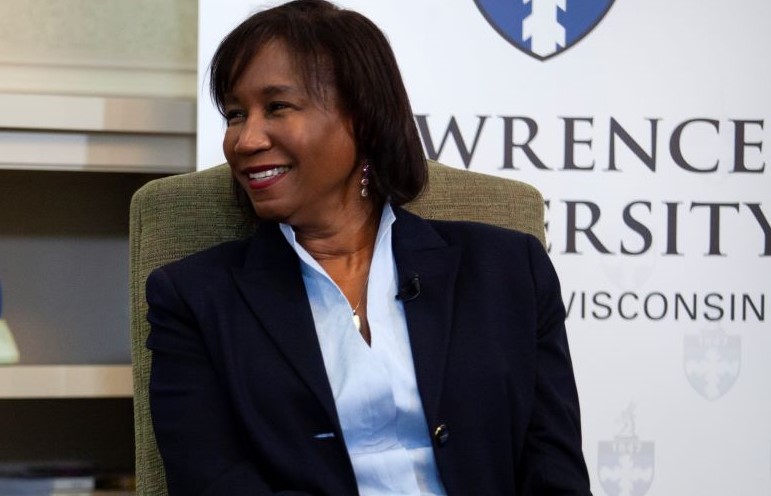 Carter, her husband, Gary Robinson, and the new presidential pup, Pepper, are settling into the newly renamed Hamar House, previously known as the President's House. An inauguration for Carter is being planned for Fall Term. Stay tuned for details.