John Holiday slips comfortably into multiple roles.
There's John Holiday the performer, considered one of the rising young countertenors on the world opera stage.
There's John Holiday the educator, a sought-after voice instructor at Lawrence University's Conservatory of Music.
And then there's John Holiday the recruiter, a man on a mission to draw some of the finest student musicians in the country to Lawrence.
He'll be wearing all those hats this week as he joins the conservatory's Presto! tour to Houston, but perhaps none as significantly as that of recruiter.
Houston is Holiday's hometown. His connections there are deep, meaningful and current, and he'll spend much of this week connecting young musicians from his beloved Texas to the university 1,200 miles away that he now calls home.
"I have significant ties to Houston because of my family and my upbringing and my church," said Holiday, who was born in Houston and grew up in nearby Rosenberg. "Subsequently, whenever I travel home, I always make sure that I plan to visit many of the high schools in the Houston area, chiefly the High School for the Performing and Visual Arts, which is a long-standing, well-known school for the creative arts, one of the best in the United States. They have won many, many awards at the national level."
The Presto! tour, a six-day visit to Houston featuring two Lawrence music ensembles and seven faculty members, brings Holiday's skills in performance, teaching and recruitment into almost ideal alignment. He'll perform on March 21 along with the two ensembles in a public concert at the Midtown Arts and Theatre Center and spend considerable time teaching and recruiting at area high schools.
He usually makes the visits to the schools solo. This time he'll have a team with him, spreading the word of the Conservatory of Music and selling high-achieving students on why a Lawrence education would make sense.
"What I do when I go home is I always make sure that I set up master classes and important meetings with the students, not only at HSPVA but other high schools and junior highs in the area as well, so they can become acquainted with me in terms of the opera singing and the jazz singing that I do, but also so they can become acquainted with what I know is an excellent, excellent place for them, which is the Conservatory of Music at Lawrence University.
"So, it's really keeping with that that we came up with the idea to take Presto! to Houston."
Texas is a state that's rich with music talent. The 33-year-old Holiday, who has been teaching at Lawrence for nearly two years, already has three students from Texas studying in his voice studio. He makes no secret that he'd love to draw more.
"Texas is a huge, huge, huge arts state," Holiday said. "As long as we've got football, there's always going to be a phenomenal band and choir in Texas. And, because I'm from Houston, I think Houston has the best.
"But I also can say I've experienced wonderful singing and wonderful learning in the Dallas and Austin areas, San Antonio, too. They are all over."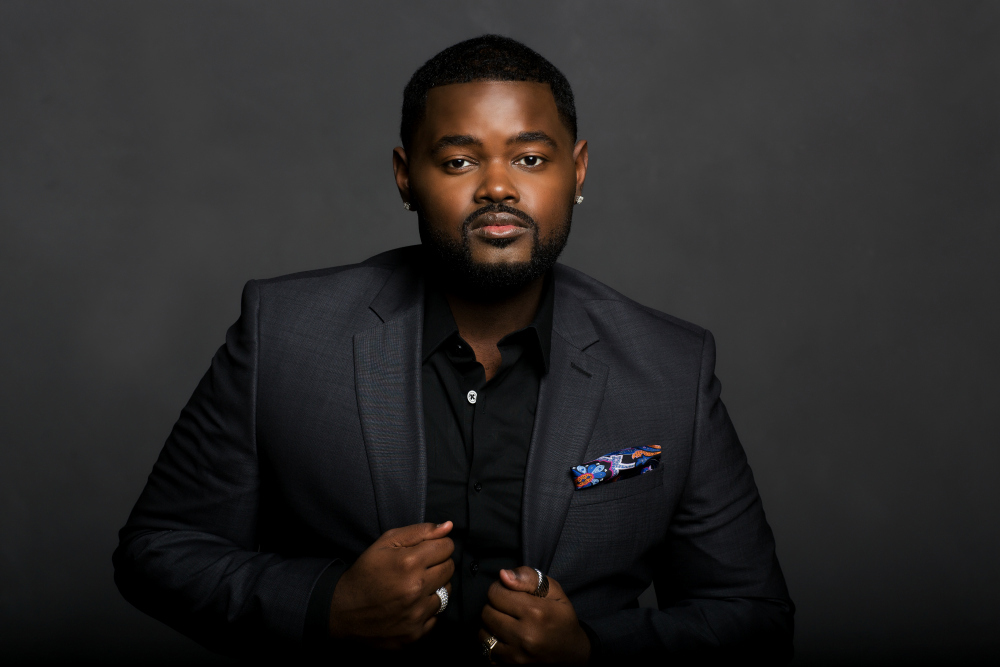 Holiday has much to sell when it comes to student recruitment. First, of course, there is the world-class quality and social outreach of the Lawrence Conservatory. Then there is his own impressive resume, which includes winning the prestigious Marian Anderson Vocal Award and performing on some of the world's most celebrated stages.
Consider his performance schedule in the coming weeks and months. In addition to his teaching duties and the Presto! tour, there's a date with the Dallas Opera, a May 1 faculty recital here in Appleton, a recital at the Apollo Theater in Harlem, a run of performances in England, a recital in Beverly Hills, a tour to Shanghai, a performance at the Metropolitan Opera in New York, performances in Switzerland and then an early 2020 run of performances at the Los Angeles Opera.
That will get the attention of any aspiring musician looking for a mentor.
"Whenever I am somewhere singing a show, I am always recruiting," Holiday said. "So, if I am in Florida, I'm finding a high school or a group where I can go in and mentor them and do a master class. If I'm in California, I'll try to find the same thing. I'm actively recruiting because I believe in this school. I believe that we are a phenomenal institution and I believe that we should make it possible for students to get here, so it's my endeavor wherever I go to find those students who I believe represent what I think is a good Lawrentian.
"A lot of these students have already heard of Lawrence. Then they are able to put a face with a name, with me. And then put a face with the school. Now they say, I know this person is there, so I should totally give it a look."
 Lawrence Conservatory of Music 
It's hard to put a value on that sort of outreach and energy, said Brian Pertl, dean of the conservatory.
"For us, it's been an incredible advantage having him on the faculty because he just loves the recruiting," he said.
Doing that recruiting in your hometown? Even better.
"I'm so looking forward to it," Holiday said of this week's Presto! visit to Houston. "It makes my heart soar just knowing there are Texas students coming here, because I am a Texas guy through and through."
Ed Berthiaume is director of public information at Lawrence University. Email: ed.c.berthiaume@lawrence.edu