The Lawrence Conservatory of Music's jazz program has received a national honor that speaks to its ability to creatively make music amid the challenges of the COVID-19 pandemic.
Lawrence earned an Outstanding Performance award in Downbeat magazine's annual Student Music Awards, marking the fourth consecutive year the Conservatory has been among the honored programs. The Downbeat awards, now in their 44th year, are among the highest honors in jazz education.
This year's award, announced on May 6 and being featured in the June edition of the magazine, comes in a new undergraduate category set up specifically because of the pandemic—Asynchronous Large Jazz Ensemble. Downbeat created the new category for students in large ensembles who did not rehearse together as a full band but instead recorded remotely and asynchronously.
The Lawrence University Jazz Ensemble (LUJE), under the direction of Patty Darling, submitted three recordings, Optimistic, TipToe, and St. Thomas.
"It is an honor for these outstanding students to see their hard work and musicianship be recognized on a national level," Darling said. "With limited rehearsal time, social distancing, and the weirdness of not being together as a big band, I am grateful for not only everyone's incredible talent and dedication but for their support of each other and their ability to create beautiful music during these challenging times."
This marks the 30th time Lawrence has earned a Downbeat award, coming in categories that have included large ensemble, small group, jazz composing, jazz arranging, solo performance, jazz vocal group, and Latin group. The annual awards are presented in five separate divisions: junior high, high school, high school honor ensemble, undergraduate college, and graduate college.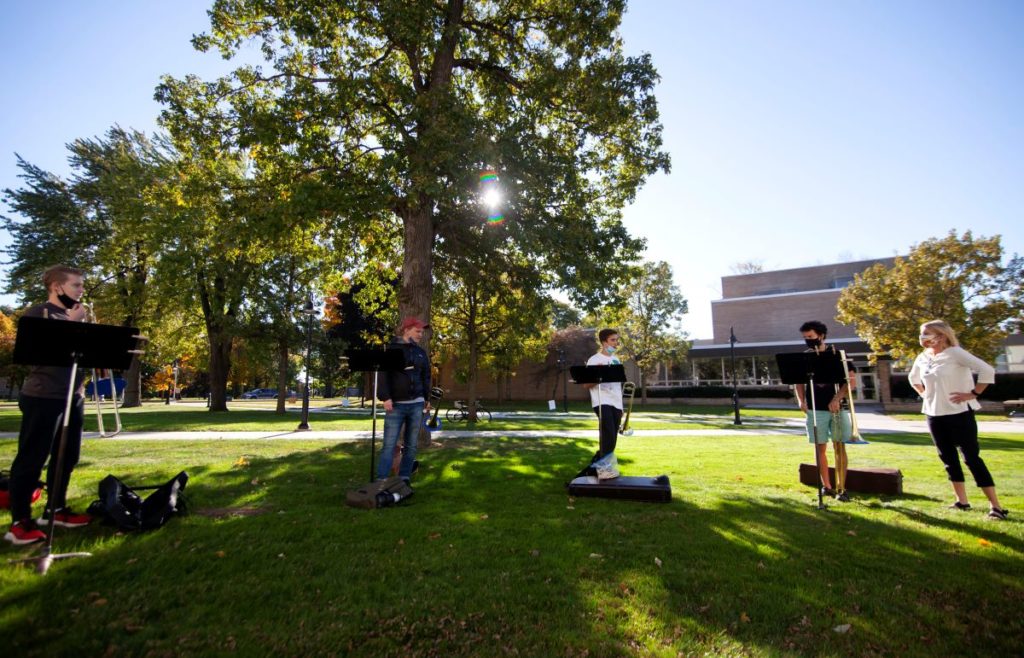 The challenges the past year have been unlike anything the Lawrence jazz program has faced in its nearly five decades of music-making. Some LUJE members were on campus, rehearsing at times outdoors or physically distanced in various settings. Others were connecting virtually. Creativity and patience were at a premium.
"Our biggest challenge was figuring out how to record bass and drums separately on TipToe and St. Thomas at different times—the groove between bass and drums is such a critical foundation for the rest of the group, and we didn't want to use a click track," Darling said. 
She credits Ali Remondini '21, Clay Knoll '20, and Liam Fisher '21 with finding a workable solution that didn't compromise the music.
Another challenge came when students recorded their parts for Optimistic with cell phones. They were then synced and mixed using Logic Pro X software. 
"Liam was instrumental in recording an awesome drum track with just one overhead mic," Darling said. 
The recordings were done over the course of two terms—last year's Spring Term in which all 15 student musicians were remote and this year's Fall Term in which there was a mix of remote and in-person among the 19 students.
The recordings found life and engagement thanks to "great improvisational solos" by multiple students in the band, Darling said. The musicians rose to the occasion despite obstacles at almost every turn.
"We haven't played as a full ensemble since last March—new LUJE students have not even met everyone in the band in person yet," Darling said. "We can't wait to start outdoor full ensemble rehearsals in mid-May."