The inauguration of President Laurie A. Carter, the 17th president since Lawrence's founding 175 years ago, will highlight a celebratory weekend on campus May 13 and 14.
The inauguration ceremony, open to the full campus community, will take place at 7 p.m. May 13 in a light-filled Memorial Chapel, officially welcoming Carter to Lawrence University. All students, faculty, and staff are encouraged to attend and should pre-register via the Inauguration page at go.lawrence.edu/inauguration. 
There also will be a video wall set up on Main Hall Green that will feature a livestream of the ceremony. Following the ceremony, those in the Chapel will gather with those on Main Hall Green for a celebration under the stars, complete with food and drink.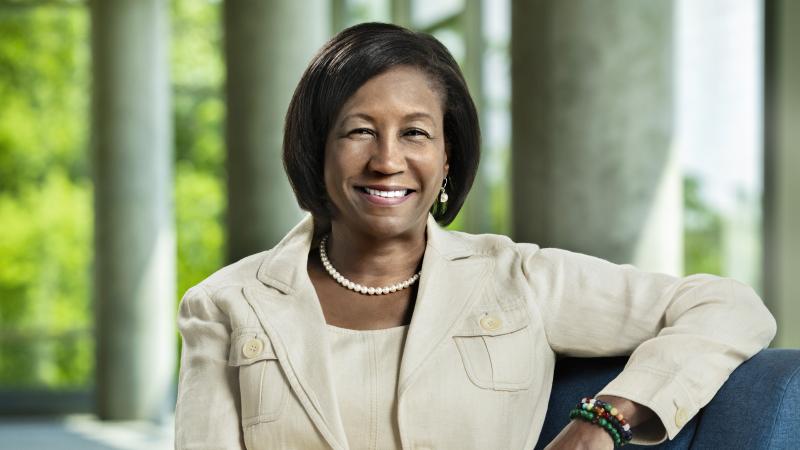 That will lead into a full day of events on May 14 that continues the inauguration celebration and honors the 175th anniversary of Lawrence's founding in 1847. The day will be highlighted by a Brighter Together Picnic from 11 a.m. to 2 p.m., with the Fox Cities community invited to join the Lawrence community on Main Hall Green for food, live music, games, bounce houses, athletic demos led by Lawrence student-athletes, and a community resource fair featuring more than a dozen local nonprofits that have been important partners with the university through the years.
Live music includes performances by Lawrence senior Moreau Halliburton and sophomore Kate Stenson (11-11:45 a.m.), the Lawrence University Mariachi Ensemble (noon-12:45 p.m.), and VOODIS (1-1:45 p.m.)
"The intersection of the inauguration and the year-long celebration of Lawrence's 175th anniversary in 2022 provides a great opportunity to bring both the Lawrence and the Appleton and Fox Cities communities together to celebrate shared histories and new opportunities," said Matthew Baumler, associate vice president of Alumni and Constituency Engagement and a key organizer of the weekend events. "While the May 13 inauguration is for the Lawrence community and invited delegates, the celebration on May 14 will be open to the wider community. It's a chance to embrace our important partnerships with organizations and people across this region and build toward a bright future together." 
The inauguration will include a processional of faculty and delegates, a welcome from the Board of Trustees, greetings from Lawrence and community representatives, addresses digitally and in person from several invited guests, music provided by Conservatory students, and a speech by Carter. Among those addressing the gathering will be Robert Battle, artistic director of the Alvin Ailey American Dance Theater. The ceremony will be livestreamed for alumni and friends not on campus to watch.
Carter began her tenure at Lawrence in July. The inauguration, the formal investiture ceremony of a new president and one of higher education's grandest traditions, was pushed back from the fall to the spring because of pandemic protocols.
"We're excited to finally be able to gather in the Chapel and officially welcome President Carter to Lawrence," Baumler said.
The May 14 events, meanwhile, will provide a chance to welcome the wider community to campus to join the celebration. Lawrence and Appleton have grown up together, with Lawrence's founding coming six years before Appleton was first incorporated as a municipality and one year before Wisconsin became a state.
At the close of the Brighter Together Picnic, a celebratory observance of the relationship between Lawrence and the community will be held on Main Hall Green. It'll include a nod to local luminaries, and Appleton Mayor Jake Woodford '13 will present a mayoral proclamation about the important connections between the city and his alma mater.
In addition to the Brighter Together Picnic, the day will feature numerous events meant to embrace Lawrence's history and its long-standing relationship with the community. They include:
The annual

Harrison Symposium

, 9 a.m.-12:30 p.m., Main Hall;

LU presidential history exhibit, 10 a.m.-4 p.m., Seeley G. Mudd Library;

Paper Fox Printmaking Workshop and Print & Ceramic Sale, 10 a.m.-4 p.m., Wriston Art Center;

Wriston Art Center Galleries' three spring exhibits:

I picture you, Puerto Rico: a Trigueñitas love letter to PE-ERRE

; The Kathleen R. and Robert K. Bourne Collection of Inuit and Northwest Coast Art; and Nirmal Raja and Lois Bielefeld: On Belonging; 10 a.m.-4 p.m.

Faculty and alumni presentations: Speakers at 12:30 p.m. include Beth Haines, professor of psychology, on mindfulness training in early childhood programs (Steitz Hall 102); Israel Del Toro, assistant professor of biology, on building community (Wriston Auditorium); and Colleen Rortvedt '95, director of Appleton Public Library, on a 21st-century library (Warch Cinema). Speakers at 1:30 p.m. include Stephanie Burdick-Shepherd, associate professor of education, and Michelle Johnson '18 on teaching responsively during times of crisis (Warch Cinema); and Lori Hilt '97, associate professor of psychology, on mindfulness study of adolescents (Wriston Auditorium).

See additional details here

.

Campus and Community—Connections Past and Present, 2:15-3 p.m., Main Hall Green. Includes recognition of luminaries as the relationship between Lawrence and the community is celebrated.

Spring Term production, towards precipice + glacier, 3 and 7 p.m., Stansbury Theatre

(Tickets required; purchase at 

go.lawrence.edu/tickets

. Use discount code Brighter Together);

Jazz Series concert: Mark Guiliana Jazz Quartet, 8 p.m., Memorial Chapel

(Tickets required; purchase at 

go.lawrence.edu/tickets

. Use discount code Brighter Together)
The May 14 events are open to the public. Masks are required for any indoor spaces per pandemic protocols.
Lawrence University is celebrating the 175th anniversary of its founding in 1847, honoring a history of brilliance in the liberal arts and sciences and pointing toward a future bright with possibilities. When founded on January 15, 1847, along the banks of the Fox River in what is now known as Appleton, Wisconsin, Lawrence became one of the first co-educational institutions of higher learning in the country. It continues to build on the vision of its founders, focused on excellence while embracing a liberal arts approach to undergraduate education. With about 1,500 students drawn from nearly every state and more than 40 countries, Lawrence features a college of arts and sciences and a conservatory of music, both annually ranked among the best in the nation. See more at go.lawrence.edu/lu175