Lawrence University is mourning the death of John Ellerman '58, a Board of Trustees emeritus who has been actively engaged with the university for more than six decades.
He died Aug. 20 in Phoenix, Arizona, at the age of 84.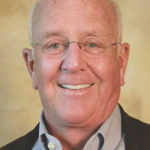 Ellerman, an economics major at Lawrence who went on to great success as a leader and innovator in the insurance industry, joined the Lawrence Board of Trustees in 1983 and continued to serve in various leadership capacities for nearly 40 years. He was elected trustee emeritus in 2016.
"Throughout this remarkable time of service to his alma mater, he provided thoughtful counsel to all as one of Lawrence's most passionate supporters," President Laurie A. Carter said.
Cory Nettles '92, chair of the Board of Trustees, called Ellerman's enthusiasm for all things Lawrence palpable.
"There never was a more committed Lawrentian than John," Nettles said. "His passion for Lawrence knew no bounds."
See obituary for John Ellerman here.
Ellerman served on several Board and Reunion committees and was a champion of the Lawrence Fund.
He brought his insights to the Building and Grounds Committee and Subcommittee, the Committee on Trustees, the Committee on Business Affairs, the Recruitment and Retention Committee, and the Finance Committee, of which he served as vice chair in 2011 and 2012. He also was a longtime member of the Lawrence Corporation of Wisconsin, the Investment Committee, and the Development Committee. 
Ellerman played big roles in multiple Lawrence fundraising campaigns. He served on the Campaign Steering Committee for three comprehensive campaigns: the Lawrence Ahead Campaign, Lawrence 150, and More Light! Those campaigns raised a cumulative $268 million, supporting students, bolstering academic and artistic programs, and helping to fund important building and renovation projects across campus.
His desire to support Lawrence never waned. Most recently, he was part of the leadership team of the Full Speed to Full Need endowed scholarship campaign that was launched as part of the just-concluded Be the Light! Campaign.
Throughout, he led by example.
Philanthropic gifts from him and his wife, Judith, frequently supported the Lawrence Fund, as well as campaigns to bolster Bjorklunden and the arts. He also was a member of the Lawrence-Downer Legacy Circle.
"His personal outreach efforts have strengthened relationships with the university's most generous donors and inspired others to give back," Carter said. "John was one of the university's most passionate supporters, and we are grateful for the thoughtful and candid counsel he has shared over the years with Lawrence trustees, presidents, and staff members."
After graduating from Lawrence, Ellerman forged an impressive career in the insurance industry, first with Northwestern Mutual and later with his own firm, Ellerman Companies Inc., which specialized in estate planning, business insurance, and executive compensation programs. He served for a time as board chair of the Management Compensation Group.
Carter, who began her tenure as Lawrence's 17th president on July 1, said she is saddened she won't get a chance to spend more time with Ellerman. But she can already feel the impact of his loss.
"All speak of his gregarious nature, thoughtful insight, and love of Lawrence," Carter said. "Many people referred to John as Lawrence's most enthusiastic cheerleader. … I will miss having the opportunity to learn from John and feel his immense passion for Lawrence."