Isabella Mariani '21 (left) and Awa Badiane '21 had some fun explaining Wisconsin vocabulary in a video they made in the summer of 2019.
When Lawrence University held its 2021 Commencement on June 13, the Office of Communications bid farewell to two students who worked as student writers for the past two and a half years.
Awa Badiane '21 and Isabella Mariani '21 became important parts of our Communications team. They helped develop the 2 Minutes With … series of student profiles, showcasing the interests and passions of their fellow Lawrentians. They wrote dozens of stories and took part in the making of videos for the news pages at Lawrence.edu, providing student perspectives on living in Appleton and experiencing student life on campus. Their stories added insight to the student journey. They collaborated to compile a list of ways to speak Lawrentian and to share the differences between being on campus and remote during the COVID-19 pandemic.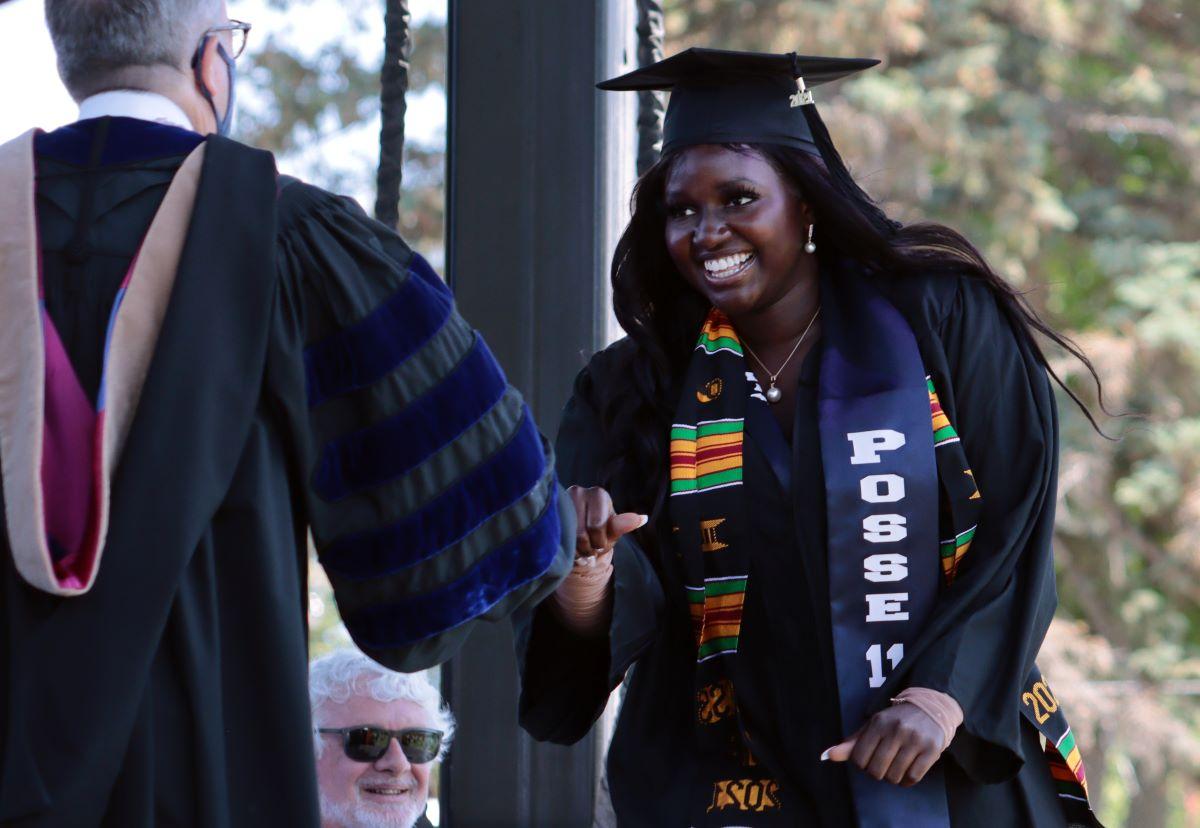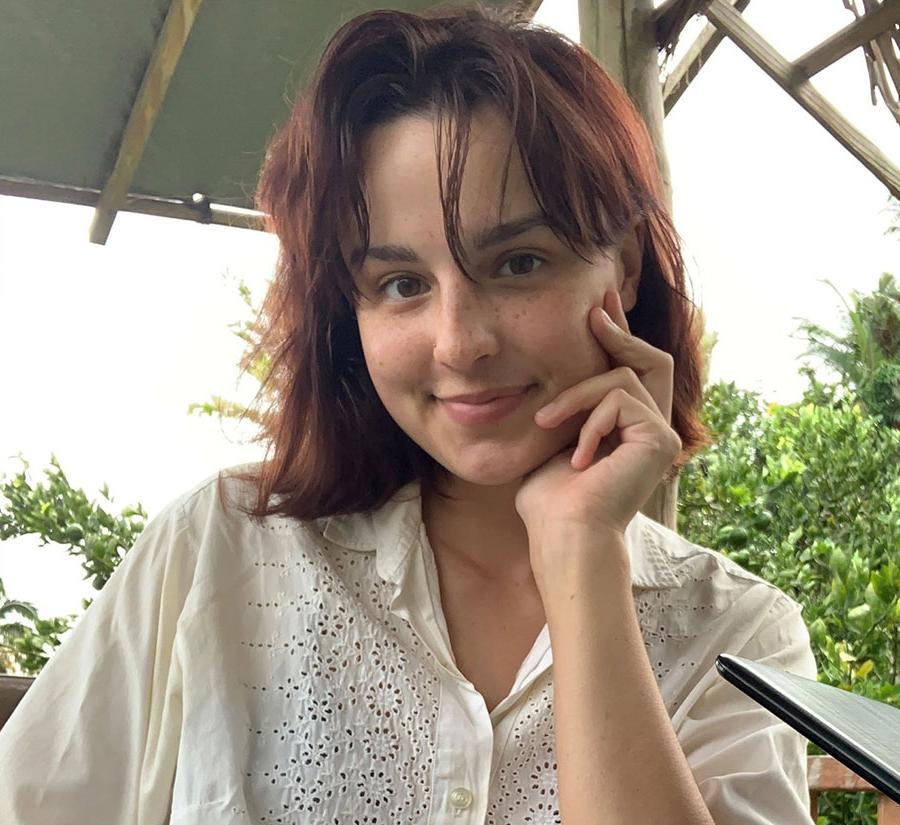 Awa, of New York City, majored in government with a minor in ethnic studies. Isabella, of Sun Prairie, Wisconsin, majored in English with a minor in French. Before they walked the stage at Commencement, we asked them to share with us their favorite stories. Here's what they had to say:
A nod to the French program
Three for three: France teaching assignments a sign of growth for Francophone program
Isabella: With three Lawrence seniors being awarded competitive assistant teaching positions through TAPIF (Teaching Assistant Program in France), it made 2019 a huge year for the French program. As a French minor, it was exciting to do a story on the French Department and a program I'm so familiar with. 
A tasty diversion
Chill out: 9 nearby places Lawrentians can cool down with an ice cream treat
Awa: I think this story speaks for itself! We were looking to showcase a cool (literally) slice of Appleton within walking distance of campus. I remember writing this piece during the summer that Isabella and I stayed on campus. In order to write the story, we HAD to try all of the places mentioned. Right? We had a blast! 
Digging into research
Collaboration keys research into invasive weevils along Lake Michigan shoreline
Isabella: There are so many cool research projects going on with Lawrence students and faculty. This one got me connected with invasive weevils at Whitefish Dunes in Door County through research being led by Assistant Professor of Biology Alyssa Hakes. I love Whitefish Dunes, and I love bugs. 
The draw of summer
Right at home: Discovering the joys of an (almost) endless Appleton summer
Awa: I got to write about all the cool things there are to do in Appleton when you stick around for the summer. The best part of that was making a video at the Appleton Farmers Market, which is held every Saturday in the downtown. The Communications team gave me and student videographer Thuy Tien Tran '20 a fun assignment. They gave us $20 and told us to spend it on the joys of the farmers market, and to make a video of the experience. As we were walking to the farmers market we ran into two other Lawrence students, Carly and Chris, and asked them to join us. The four of us had a blast making the video.
Wait, is that a chimpanzee skeleton?
Chimpanzee skeleton gets a much-needed makeover in LU student's study project
Isabella: I had no idea there was a chimp skeleton on campus, so this was fun. It turns out it's part of a whole lot of cool things in the Anthropology department in Briggs Hall. Talking to Professor Mark Jenike and Claudia Rohr '19 about their work made me want to study primates!
A matter of distance
These 4 Lawrence faculty members push physical limits with ultramarathons
Awa: Before this story, I had little knowledge the world of ultramarathoning even existed, let alone there are multiple faculty members here at Lawrence who run these absurd distances. I chatted with Relena Del Toro Ribbons, Jason Brozek, Megan Pickett, and Douglas Martin, all of whom had recently competed in ultramarathon races, some in the 31-mile range, others stretching as long as 100 miles. It was so fun talking to these professors about a passion they have outside of the classroom.
Having some fun for Giving Day
Giving Day 2019 and the Viking costume 
Awa: This one is different from the other work I was doing with the Communications office. During Giving Day 2019, I had the honor of hosting three Facebook Lives for the Lawrence Facebook page. These were so much fun to do and really got me in the spirit of Giving Day. I was able to work with President Mark Burstein and the host of that year's webcast, Terry Moran '82; we did a speed round interview with students, and I got a behind-the-scenes look at the webcast. Leading up to Giving Day, I was part of the creation of a series of shorts for the Lawrence Instagram page, with Ken Anselment, vice president for enrollment and communications. And, yes, that's me wearing the Lawrence Viking costume.  
Inspiring work abroad
2 Minutes With … Naomi Torres-Solorio: Exploring climate crisis while at sea
Isabella: The 2 Minutes With … student profile series gave us a chance to feature so many great students and their passions. For me, it's always crazy to hear where Lawrence students get to go to study abroad. This one was about a student taking part in SEA Semester, which sends students around the globe to spend a portion of an academic term at sea, studying everything from anthropology to marine science. The idea of living on the boat and doing the watch shift in the early hours of the morning still sticks with me. I'm glad I got to tell Naomi's story.
All about students' passions
2 Minutes With … Justin Williamson: Galaxies collide in simulation project
Isabella: It was always fun to find students to feature in the 2 Minutes With … series. I heard about Justin's project because we were in a French class together. It's cool to hear what someone is working on outside of class, especially work like coding that is so foreign to me. And to see how students are able to utilize Lawrence's Experiential Learning Funds to further their research and academic interests is inspiring.
Stepping up during a pandemic
2 Minutes With … Daniel Toycen: "Emergency" is in the job description 
Awa: Out of all the great students I was able to interview while writing for the 2 Minutes With … series, this story stands out to me the most. First, I think a college student working as an emergency medical technician in the middle of the COVID-19 pandemic is really impressive. Second, this story was turned into a scramble because I lost the interview that I thought I had recorded. That was the first time that happened to me. Daniel was very kind and understanding and agreed to re-do the interview. Don't we just love remote work? The EMT work is a step toward medical school for Daniel. It was fun to be able to tell that story.